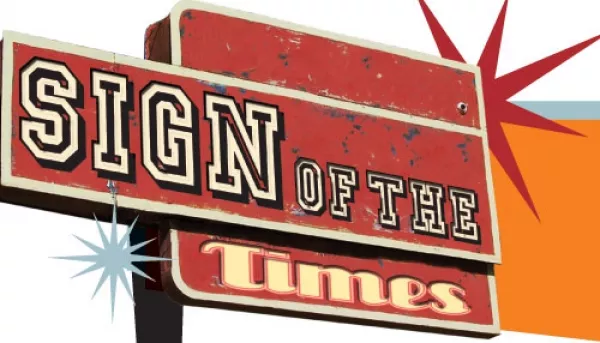 You know that guy—or maybe you are that guy—who occasionally has to push-start his old Volkswagen bus before it goes sputtering down the road. Even though a brand-new car is just a measly down payment and a small monthly installment away from your driveway, you refuse to relegate that VW to the salvage yard because the odometer reflects so much of you and your epic road trips—plus, you just like the way you feel when driving it.
Or maybe you dust off your mother's old green electric frying pan once in a while for a taste of her fried chicken that she whipped up when you were a kid. For you, it's less about filling your gut with a piece of deep-fried chicken than it is about keeping alive that particular dying culinary process and recapturing, in a single meal, the memory of your mother.
It's called nostalgia—people clinging white-knuckled to the past.
Many of us desire to stay connected to the past in some way. For some, that connection nourishes an emotional need, often associated with a time or place in life when the living was simpler, easier and sunnier.
Others court the nostalgic side of life as they mutter to themselves, "They don't make 'em like they used to." That doesn't make them wrinkly curmudgeons. Rather, these are consumers of all ages who want something with character that will last, or at least be worth the effort to make it last.
University of Utah family and consumer-studies professor emeritus John Burton uses his spare time these days to rescue relics from yard sales.
"Sometimes you're buying nostalgia when buying the product itself," Burton says, like the old Erector set he and a friend found while sifting through the detritus of yet another sale.
"I'm buying it to bring me back to my childhood," Burton explains. "It reminds me of a time when I could build things, to build toys I didn't have."
Burton also targets old carpenter tools that he uses himself or handmade items that once meant something to someone. He has a son who keeps a '94 Toyota 4Runner running at great expense because of the memories it holds.
Burton, 74, has a group of friends who, when they get talking about their first cars, wax nostalgic till they can practically see themselves—their younger selves—in the shine of those conversations.
"It's a guy thing," he says. "You will have all kinds of nostalgia about this car or that. … We had an emotional connection to our vehicles, partly because we had to spend so much time keeping the damned things running. We understood what it took to make them run. They were simpler then."
He cuts himself short before going into too much detail about the emotional connection to what went on in the bench-style backseats of those cars.
Analog Past
So, are we in the middle of a nostalgia movement?
Maybe.
Burton says his general observation is that there seems to be more and more consignment stores popping up these days, dealing daily in nostalgia, intentionally or otherwise.
JWT Intelligence is part of a New York City-based marketing communication company that watches consumer trends, noting on its website how adults are increasingly buying classic toys like Lego products, Mega Bloks and Tinkertoys. JWT writer Alec Foege points out that the recession drove some of that increase.
"There's been a steady sales increase in old-fashioned building-block toys since 2007, due in part to adults fondly recalling their own youth," Foege writes. "Major licensing deals are also roping in adults nostalgic for franchises that hark back to their youth, such as Lego's Star Wars and Lord of the Rings lines."
As JWT pointed out in its video spot "10 Trends for 2012 in 2 Minutes," consumers are buying things as a means to connect with or keep in touch with their "analog past."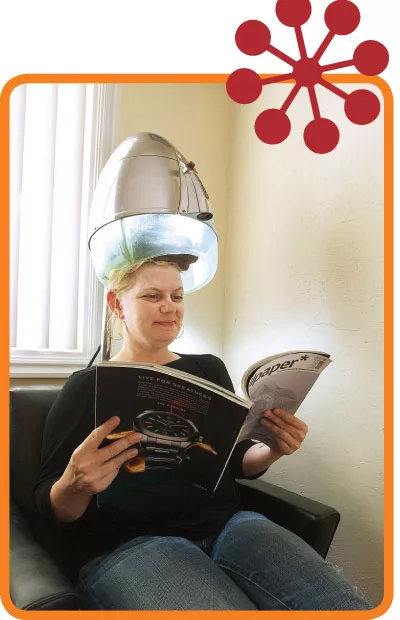 Stephanie Swift keeps five dusty accordions, an old-school salon hair dryer, a full set of aged bowling pins and several hip, old chairs in her Murray home.
"You see the stuff, and it makes you happy," Swift says.
No, she doesn't play the accordion, let alone bowl inside her home. She does sit in the chairs, though.
Oh, and she has a friend who owns over 300 elderly toasters. Toast, anyone?
But Swift hits on the very thing that drives many who flirt with nostalgia: Happiness. And we all want it.
The artist in Swift, a graphic designer by trade, locked into that basic need with her quirky works about five years ago.
She loved taking pictures of old signs, so she parlayed her design skills into making art out of the photos. Swift's sister urged her to enter the work into an arts festival. Bam. She was discovered.
Swift estimates she's sold more than 1,000 framed and unframed pieces of her unique art, which taps into a happiness vein.
Her work (PrettyLittlePixel.com, see p. 18) has won two City Weekly Best of Utah awards and been featured at arts festivals in Salt Lake City, Fort Worth and Omaha, where recently she sold hundreds of pieces.
A common theme has flowed among her buyers from the start. "Everyone had a story," Swift says. "It's all about the story":
They met at Bill and Nada's. They got thrown out of Bar-X. They spent the night at the Scenic Motel (RIP—the landmark's sign on Foothill Boulevard is gone). Their dad took them to Snelgrove's when they were kids.
"That's when I thought, 'Oh, shit,' " Swift says about realizing what she discovered about her photos of old signs.
Brian Webb channeled the feeling when he named his coffee shop, on 100 South, Nostalgia.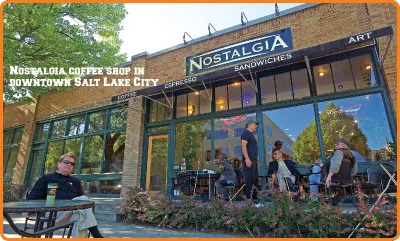 When Webb and his wife at the time were considering names for their business, they recalled the good feelings that an old Salt Lake City coffee shop gave them.
"Basically, it brought back the history of how her and I met," Webb says inside his coffee shop.
The marriage went south, but Nostalgia lives on.
"I think people come to this place and feel the positive vibe," Webb says. "It's like their second home, or their home away from home. Everybody loves the atmosphere."
Webb says that in 10 years or so, couples who might have met at Nostalgia will one day feel that same feeling that is closely associated with a sense of place and, in this case, the aroma of hot water filtered through coffee grounds.
Just as a smell or taste can trigger a powerful nostalgic feeling, so too can a once-forgotten frock from Grandma's closet.
Missy Barber has made a business for the past three years out of selling wearable used vintage clothing at misc. boutique in Salt Lake City. Her specialty eras are the 1950s through the '70s.
She'll visit small towns in Idaho and Oregon or even go poking around Florida in search of well-made, preserved items she thinks will sell. She fantasizes about a cross-country trip that revolves around her deeply rooted interest and love for things that are "beyond my time," gathering items along the way to resell in her store.
Barber sees a lot of return customers, most in their 20s and a few in their 70s.
"They want something that is going to last and that doesn't look like everything else," Barber says.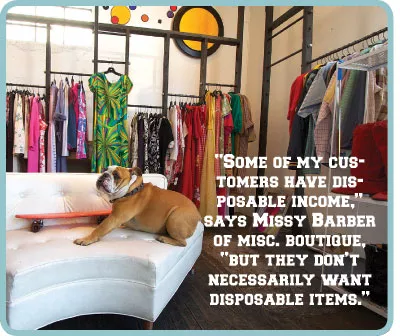 So much today, she adds, is made to throw away when it wears out or breaks down just months after being purchased. These disposable (sometimes cheaper, sometimes more expensive) clothing and other goods are as close as your nearest big-box store, which, no matter how big a nostalgia movement gets, won't be going anywhere anytime soon.
So how do these smaller shops, with their smaller inventories, make it work in the shadow of Target, H&M and Forever 21?
"I'm making enough money to live on," Barber says. "I consider that a success in this economy."
And she'll be ready when—whether you're rich, poor or just frugal—you're ready for the switch to quality vintage.
"Some of my customers have disposable income," she says, "but they don't necessarily want disposable items."
True.