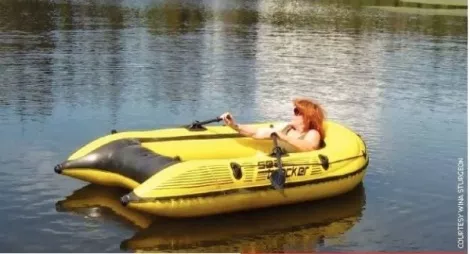 Sometimes you've just got to drop the discipline—take a break from training and pushing your body at the gym and playing the games at work. You've gotta get away from computers and polluted air, away to a place where you don't have to be any particular thing at all.
So think of this: You're floating in an inflatable boat in the middle of a shallow mountain lake, surrounded by green hills and craggy rocks of mountain peaks, with no sign of "civilization." A fishing pole rests between your legs as you drift in the water. A book is in your hands. Every so often, there's a glittering flash in the air as a fish jumps and lands with a plop, disappearing amid rings of ripples. Ducks swim next to you, unconcerned. Moose wander to the shore to take a drink.
Suddenly, there's a shrill zimmm as your line starts singing of a fish. Slowly, you reel it in and put it on the stringer that dangles from one end of the boat. You'll have fresh trout for dinner tonight, garnished with the memory of a day well spent.
The Silver Lake Information Center and nature preserve at the top of Big Cottonwood Canyon, on that last curve before you get to Brighton, is a treasure. It's been completely refurbished, with hundreds more feet of smooth boardwalks through the wetlands and a small nature center. Dusty Baldwin, the naturalist for the center, says more than half the area around the lake is boardwalked, and the rest is a smooth, wide and easily walkable trail about seven-tenths of a mile. There's a museum and exhibits for kids and adults inside the Nature Center. The water is mostly shallow, less than three feet deep around the fishing dock.
Silver Lake is a terrific getaway. It's free, and you can buy a three-person inflatable boat, many with oars, for around $60 (actually, those boats are really just big enough for two, but roomy for one). You'll also want a foot pedal inflator (about $7). An adequate fishing pole, line and hooks go for about $40. A fishing license is $26 a year, $8 for just one day. And once you've got this stuff, you'll have it for years (though the license must be renewed annually). Licensed anglers can catch four fish a day, and there are 15- to 16-inch trout in the lake, which is stocked every two weeks.
But at Silver Lake, you don't have to fish; you can just float around.
Yes, it's a drive to the top of Big Cottonwood, but you drive alongside the creek, still frothing with runoff rushing down from the mountains. Stress fades as you take the lush green turns of the canyon. Pull into the Silver Lake parking lot; inflate the boat; toss in the book, fishing pole, oars and even a few beverages. Finally, ask someone to help carry the lightweight boat to the fishing dock, if needed.
The surprising part is the silence—no traffic noises, no electronic beeps, no voices, no crowds of unhappy looking strangers, no television. Leave your cell phone home. If you need company, there are always people fishing from the dock, such as Glenda and Bill Baker, who drove from Bountiful to get to Silver Lake. Glenda does computer technical support, but she takes frequent Silver Lake breaks because "[i]t's peaceful and beautiful up here, whether you catch anything or not."
Her husband Bill, who owns a plumbing company, said the drive took less than an hour. "I'm going to smoke the fish we catch," he said.
When you're ready to leave, maybe after watching the sunset while you drift slowly over the clear water, you'll find another little gift waiting: The ride back is all downhill. You don't have to step on the gas. Coast all the way down and enjoy the relaxed peace that fills every pore of your being—because as soon as you get back to the city, it will go like the silver fish that flashed in the sun for a moment and then disappeared.