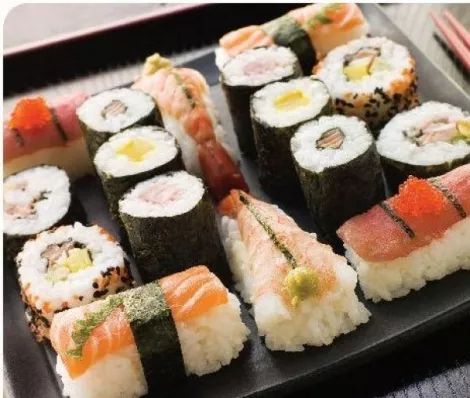 By my count, roughly 86 sushi joints have opened in Salt Lake City this year for every single restaurant not serving sushi. OK, that might be a slight exaggeration, but not by much. Utah loves sushi. And, I think it's fair to say, Utahns also love the all-you-can-eat buffet and fast food. Now, two sushi establishments have opened to cater to both markets: Simply Sushi and Hayai Zushi.

/>
I suppose my first question about all-you-can-eat sushi is: Why? I tend to think of sushi as artful, delicate cuisine—not something you "pig-out" on. There is a certain logic about Chuck-A-Rama that makes sense to me, but Simply Sushi, not so much. The reasoning behind all-you-can-eat sushi just escapes me. But then, I suppose we're all searching for a food bargain. I'm just not so sure Simply Sushi is where to find it.
My advice about Simply Sushi is this: Read the fine print. The overall idea at Simply Sushi really is simple: You get all the sushi you can eat for $14.95 at lunchtime and $19.95 at dinner (after 4 p.m.). Ah, but not so fast, sushi-san. There are rules and regulations about dining at Simply Sushi; you might want to have your attorney present.
First: "No campers." That is, you have just one hour to eat your sushi at Simply Sushi. If you like to linger, like I do, at places like Takashi, Tsunami or I Love Sushi, Simply Sushi might not be for you. But, back to the rules: You must eat all the rice that comes with your order. (Take note of this: It's important.) There's no taking home of sushi leftovers, which makes sense. There's also "absolutely no sharing," which makes no sense. And finally, "Don't order more than you can eat."
Unconsumed sushi rolls will be packed up to go and you'll be charged the a la carte price for them.
So, ready to eat? Oh, one more thing: Not everything on the Simply Sushi menu is available for the all-you-can-eat price. Sashimi, for example, is only available a la carte as are cooked items such as miso, teriyaki dishes and such. However, the sashimi selection is so rudimentary, you'll want to pass on it anyway.
Also, beer and sake are listed on the menu, but Simply Sushi was without a license to sell them when I visited.
Here is what I learned at Simply Sushi: I can't eat enough sushi to come out ahead in the all-you-can-eat deal. Ordering a la carte at dinner, and eating until I'd had my fill, the sushi bill came to less than the $19.95 all-you-can-eat price. One of the reasons for that is rice. Rice is nice, but sashimi is dreamy. And what you pay for at Simply Sushi, more than anything else, is rice. Nigiri rolls, for example, are made with way more rice than you'd normally find at a sushi bar. Rice—even during this rice shortage, price-inflated time—is still cheaper than snapper, tuna, eel or yellowtail. So, at Simply Sushi you primarily fill up on rice (remember, you must eat all of your rice).
There are all the standard maki rolls at Simply Sushi—Playboy, Dragon, California, Philly, etc.—that are of average quality. Missing from the Simply Sushi menu are choices such as fatty tuna (toro), Spanish mackerel, sea urchin, salmon roe, albacore, sweet shrimp, scallops and other more exotic fish and seafood that you'd find at most sushi bars. Simply Sushi is sushi for beginners.
When I asked our sushi chef who "Steve" was—having noted "Steve's Long Roll" and "Steve's Hand Roll" on the Simply Sushi menu—he couldn't understand me. The chef spoke no English, which made communication difficult. So, I asked our server about Steve, who told us this story: Steve was the last great white samurai! Somehow, this didn't seem quite cricket to me. So, on the way out, I asked the cashier/manager about Steve. As it turns out, Steve is the sushi chef at Simply Sushi in West Jordan—not a samurai, white or otherwise.
I've never been in such a sushi rush that I couldn't leave my car to eat. But, should you find yourself in this predicament, there's Hayai Zushi—Utah's (and maybe the planet's) first drive-thru sushi emporium. You can also find Hayai Zushi at Dan's and Dick's supermarkets, but there you'll need to get out of the car. Hayai Zushi is a brainchild of Peggi Whiting and her business partner, Keith Guevara.
You might recall that Peggi was chef/owner of the original Ichiban Sushi in Park City and then, Salt Lake City. I used to sit and watch her artfully make sushi and sashimi at her sushi bar. Now, Whiting specializes in prepackaged sushi for folks on-the-fly. Most of the Hayai Zushi rolls come as four pieces for $2.99 or eight for $5.99. The roll options are slim and fairly predictable: California, eel, Mars, Funky, Jazz, and so on. There's actually very little raw fish available at Hayai Zushi, the not-very-spicy Spicy Tuna roll being one of the few such items. In addition to sushi, there are rice bowls, salads and bento boxes available at Hayai Zushi, along with newly introduced potstickers.
For me, watching a great sushi master practice his or her art at a sushi bar is one of the appealing aspects of eating sushi. At Simply Sushi and Hayai Zushi, it's more about filling up your tank.
Hayai Zushi
307 W. 600 South
801-364-1699
HayaiZushi.com
Simply Sushi
180 W. 400 South
801-746-4445
7117 S. Redwood Road, West Jordan
801-676-7008
SimplySushi.us