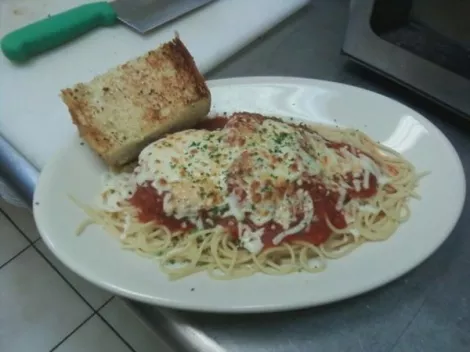 Here we go again: Italian food. As years go by, I'm less and less convinced that Italian food even exists.

Here is a list of things we commonly consider Italian: spaghetti & meatballs, fettuccine Alfredo, pepperoni pizza, shrimp scampi, veal Parmesan and lasagna. Well, did you know that pepperoni is an American creation? Or, that to find fettuccine Alfredo in Italy you pretty much have to go to restaurants catering to American tourists? And, according to some food historians, spaghetti & meatballs was first made by 20th-century Italian immigrants in New York City. So, when we talk about Italian food and Italian restaurants, what are we really talking about? Is the Olive Garden Italian? Pizza Hut? Fazoli's?

I am of the opinion that Italian cuisine is more about attitude than ingredients or recipes. The same goes for "French" and many other cuisines. Sure, there are certain meats, cheeses, pastas and such common to Italian cuisine. But much of what passes for Italian here is more accurately Italian-American. And that's what is served at Siragusa's, a mom & pop "Italian" eatery on Redwood Road. For the record, I am a fan of Italian-American cooking. Few things make me happier than a plate of spaghetti with red "gravy" and meatballs.

Don't let the shabby, run-down shopping center that Siragusa's sits in deter you. Low rent equals low prices, and you can eat until you're stuffed to the gills here and spend very little. "I'd have to charge a lot more if I opened downtown," said Ross Siragusa, who does the cooking, while his wife, April, looks after the business side of the restaurant. Ross is an affable guy who loves to talk about his cooking—he's very proud of it—and seems to know most customers by name. There are a lot of regulars because, once you've eaten at Siragusa's, it's easy to get hooked.

A good place to begin is with the appetizer sampler trio ($9.95). It's a combo plate of breaded and fried finger foods: calamari rings, mozzarella triangles and zucchini ovals, served with homemade marinara sauce and a lighter cucumber-dill sauce. My wife commented on how not greasy this fried food was—the result of carefully (and lightly) coating the zucchini, cheese and calamari with flour, egg and breading (crushed panko breadcrumbs), and then frying at just the right temperature. The wonderfully crispy, crunchy appetizer trio disappeared in a flash.

Less satisfying was a cup of minestrone soup ($2.95) ordered with lunch. There was nothing wrong with the minestrone itself, a tasty mélange of white beans, green beans, celery, greens and such in a hearty broth. However, my soup had clearly been previously frozen, because I got a spoonful of minestrone that still had ice crystals. Not good. However, for the most part, I loved my veal Parmesan ($10.95). It was a very large piece of veal with crisp breading, bathed in Siragusa's homemade marinara sauce, mozzarella and Parmesan cheeses, served over a bed of fettuccine. Overall, the dish was very satisfying (and filling), except that I thought the sauce was just a tad too tangy—too much tomato paste, it tasted to me. Just slightly off.

Returning to Siragusa's at dinnertime with the hope that I'd find other sauces I liked better, I found candles on each table, and checkered tablecloths. The restaurant is dimly lit, so bring your reading glasses if you use them. But it's quaint, unique and appealing in a way that a place like Macaroni Grill never is. The servers are extremely friendly; one called me "hon" about a dozen times during a visit. The entire vibe is like you've been invited into the Siragusa family home for a meal.

Ross uses sweet potatoes to make his gnocchi, something I initially thought a little odd. "They don't fall apart as much with sweet potatoes," he said to me. And indeed, these gnocchi are sturdy, dense little gnocchi bombs, which is precisely how I like them. They are lightly tossed in a silky cream and cheese Alfredo sauce, served atop a bed of spinach, tomatoes, mushrooms and slivered onions ($9.95). This was gnocchi greatness. I might never be able to return to plain-old potato gnocchi.

With Italian tunes playing softly in the background, I cut into "Grandpa Tom's Osso Bucco" ($12.50), named for Ross's dad, who loved this dish. It's a meaty, 16-ounce pork shank that is roasted with tomatoes and veggies for at least six hours, served on a bed of fettuccine, with garlic bread on the side. The pork was wonderfully tender and juicy—really delicious. Unfortunately, the fettuccine was tender, too. The pastas I've had at Siragusa's have all been (except the gnocchi) just slightly overcooked. I think dishes that are good would become great with a little more attention to the pasta; al dente is in order.

Another excellent dish is the chicken Marsala ($10.95). Many Marsala sauces (made from Marsala wine) are too sweet. Siragusa gets it right: The sauce is just slightly sweet, balanced nicely with sautéed mushrooms and onions. The boneless pieces of chicken were tender and juicy, served in the Marsala sauce over farfalle (bow-tie pasta).

Ross Siragusa cringes at the thought of serving something like pre-breaded appetizers from a Sysco truck, or tiramisu ($4.95) that isn't homemade. Espresso-soaked ladyfingers are layered with sweet, creamed mascarpone cheese and dusted with cocoa to make his delectable tiramisu. And it's a hefty piece, plenty for two or more to share.

I wish the wine list were better, but at least there is wine and beer available. I suggest bringing your own, though. The rich flavors of the Italian-American food served up at Siragusa's deserve to be enjoyed with say, a nice Chianti or American Zinfandel.
SIRAGUSA'S
4115 S. Redwood Road
801-268-1520
Siragusas.com