We want to keep Utah up to speed on local nightlife. Submit tips about club openings, closures, remodels, special events, drink recipes and noteworthy changes to comments@cityweekly.net
A View From the Top: Sky Bar Elevates the Action with Friday Fever
The Sky Bar, located on the top level of The Red Lion (161 W. 600 South), is the best place to dance above the city lights. Friday Night Fever is one of the better nights to attend, when DJ Bad Boy Brian and DJ Kato man the steel wheels to get the floor hot. Just push the elevator button for the penthouse.
G Elect Presents: Fresh 'n Free Downloadable Track
DJ JSJ of G Elect Records is one of the better-known cub DJs in town, performing everywhere from the Trapp Door to W Lounge. JSJ recently pressed a new danceable track called "Phancy Cristofer," freely available at http://gelect.wordpress.com. Put it on to put you in the mood to shake 'n' pop.
Need a beer from India? The Bayou has it
The Taj Mahal is one of the Seven Wonders of the World and, arguably, so is its namesake beer—a fragrant brew available at The Bayou (645 S. State) which boasts 236 bottles and 31 drafts on tap. It's also one of the only joints in town that knows how to make mean sweet potato fries (with its signature Cajun-spiced Bayou sauce). Or, try a deep fried Twinkie if you're feeling indulgent and exceptionally Southern. Club Matters caught two-thirds of The Black Hens (Glade Sowards and David Williams) bellying up to the Bayou's bar, working on some musical edits while we snapped some candid pics [below].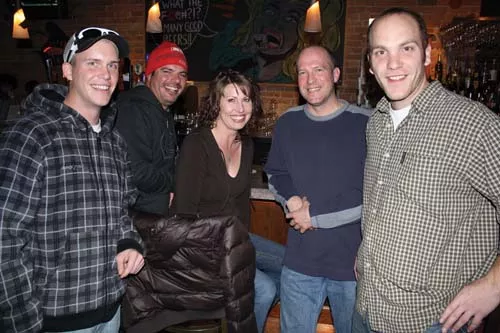 1. Ronald Burgundy, Matt Hunter, Andrea Partridge, Russ Ward, Will Reiser

2. Callie Capps making a Black & Tan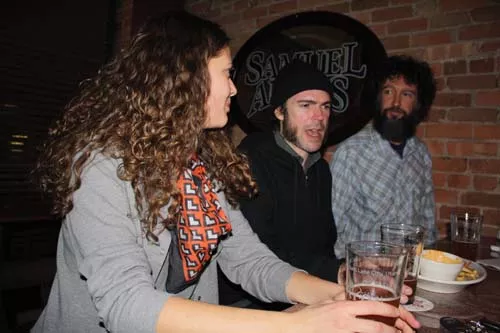 3. Shannon Hatch, Glade Sowards, David Williams