<< Back to SLAMMYS page
n n n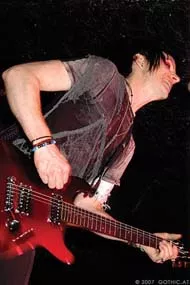 n
After years of dreaming and plugging away, hitting every dive with a space big enough to pass for a stage, my band
Tragic Black
received an invitation to tour Europe. Sweet! The initial excitement quickly gave way to a barrage of questions, concerns and tiny details. What we learned just might help your band navigate the ups and downs of overseas shows.
Road Map
Luckily, we had the opportunity to work with a reputable touring/booking agency well experienced in our genre. They set up shows at the proper venues and provided transportation with a driver who handled most of the communication. Listening to him argue nightly in rapid-fire German with surly club owners made me really glad we didn't try to set up everything ourselves. Since our tour covered five countries in three weeks, he was a priceless resource in overcoming the language barrier. Most of the people we worked with spoke English, so communication was easy, but learning a few key phrases was helpful and endeared us to the fans. Actually finding the venues would have been difficult without the global positioning system in our van. It told us exactly where to go in a calm and reassuring voice, but we lost connection once, and we spent an hour trying to decipher German maps.

Check In/Gear
All our equipment needs were laid out in clear, simple form. Big problem: Most venues never got the form from our touring agency. Phone calls to the venue a few hours before our arrival ensured they were prepared for us, although often the gear was not exactly what we asked for. Had we not checked in early in the day, some shows would have been five guys on an empty stage. We learned to be flexible and creative with what we got.

Publicity
Our record label hooked us up with a ton of magazine and Web interviews prior to our departure, plus it placed magazine ads for the tour. It sent posters and flyers to each venue well in advance, and, though we did a lot of promotion through our MySpace page, we would have done well to utilize local message boards and street teams. A little research and reaching out well in advance could mean the difference between a decent crowd and a packed house.

Lodging
Most venues provided one or two rooms with bunk beds. Forget about privacy. Sometimes friends let us crash in their flats. One night in Berlin, we shared floor space with "the largest albino python in Western Europe." A friend let us use an empty flat in Frankfurt as an ad-hoc home base on our days off, and this saved us hundreds of euros in hotel fees. Hostels are cheap and prevalent in Europe but don't offer much security for gear.

The Essentials
Backpacks are your best friend. They're easily stacked in the back of a van, quick to throw on and off or drag onto a train or taxi, and they make great pillows on hardwood floors or airport benches. Pack only what you need—then remove half of it, since you'll hate lugging it around by the end of the tour. Bring power converters for electronic equipment and a good book or magazines—you won't find much to read in non-English-speaking countries. Most important is ensuring your cell phone will work in Europe. We missed a flight to Italy and spent hours on the phone trying to coordinate a back-up plan.

Cash Money
Transportation expenses were taken from our guarantees, including flights, the van, gas and our driver—of which guarantees we usually received less than half our required sum due to missing contracts, poor turnout or additional costs. Sometimes, merchandise sales were the only money we made. Our most lucrative sales came from the night we spent in an airport in Norway. Never underestimate the generosity and compassion of strangers!
Logistically, it's easier to tour Europe than America as there are so many cities within a few hours of each other. But gas is much more expensive. We paid around 150 euro ($210) for each day in the van, and that was just fuel, not to mention food. Of course, you can make a meal of a few bottles of German beer, and it's cheaper than water, so be sure to stock up. Travel is much cheaper by train as the rail system is very good and most promoters will pay your taxi fare.

Ask first! And Remember …
Reach out to fans and send promotional material. Know who your contacts are at each venue and be clear about what you need and what is to be provided. Get contracts signed in advance and keep copies with you. Print out maps and get additional directions from the promoters. Have contingency agreements in the event of cancellations. Be sure you know which airport to go to, and have the venues cover transportation costs if possible. Communication, planning and flexibility are key. Small oversights can leave you with empty pockets at the end of the day.
Don't just take my word for it—take this sheet and rock.
Jesse James Burnitt is a City Weekly classified representative and Tragic Black's lead guitar player.