What's the most difficult aspect of cooking? Finding a perfect combination of herbs, spices and fresh ingredients, and having the guts to take risks. Five local chefs showcased their skills at City Weekly's cooking challenge "homage" to the Food Network show Chopped. Harmons offered its state-of-the-art cooking-school kitchen at the Farmington Station Park store, and each chef was given four local ingredients—Pepperlane First & Last "Date" roasted-garlic jalapeño preserves, Morgan Valley Lamb, peaches from C.K. Farms and Lehi Roller Mills Hotcake Mix—plus 45 minutes and whatever they could find in the Harmons pantry to make some magic.
Chef Nathan Powers
With a passion for Ferraris and collecting Italian bicycles, chef Nathan Powers runs Bambara in the historic Continental Bank Building lobby, now part of the Hotel Monaco. After being dared by a fellow classmate at the Culinary Institute of America, Powers asked foodie legend Mark Franz of Stars restaurant in San Francisco for an externship. While under Franz's watch, Powers mastered the time-honored techniques applied to the best seasonal ingredients.

What did you end up making?
There was berry & jalapeño jam with chanterelle-mushroom "doughnuts"; a peach, marrow, roquette and Beehive cheddar salad; and then a lamb shoulder sliced thin like a flank steak. Shoulder chops are not the most tender pieces of meat, but if you cook it right and slice it thin, it can be really great—like a flank steak. You know, if you try to eat flank steak like a New York steak, it's going to be too tough. If you slice it thin with a razor-sharp knife and fan it, it will really help the tenderness.
How did you make the dish?
I took the lamb shoulder and crusted it with herbs, peppercorns and salt, then seared it rare to medium-rare. I took the marrowbone and rendered it to use as a salad dressing. I also made a sauce from the rendered marrowbone, some chicken stock, blackberries, a little bit of caramelized onion and rosemary and finished it with butter—almost like au jus [translated roughly from French: "with its own juice"]. Then, I grilled the peaches with balsamic, thyme, salt, pepper and olive oil. I sliced them and used them in my salad with roquette—or arugula—and local Beehive cheddar. I simmered the jalapeño jam with whole blackberries, kind of crushing the berries as they softened. I seasoned that with a little bit of sherry vinegar and black pepper. I took the pancake batter and made it a little thinner than normal—almost like a tempura batter—then dipped some chanterelles in it and deep-fried the wild mushrooms: It was kind of a twist on doughnuts and jelly, garnished with a little scallion for some bite, and sea salt.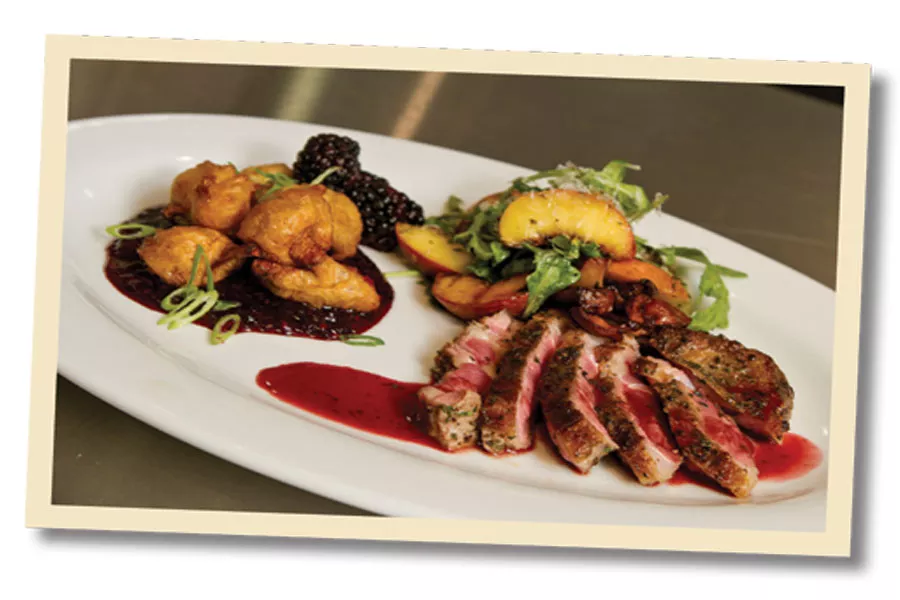 What was your most challenging ingredient?
I was trying to figure out what to do with the pancake batter. That's what threw me. But as soon as I saw the blackberries and how big and beautiful they were, I thought to myself, "I'd like to make a twist on the blackberries with that jam."
How did the dish represent your style as a chef?
If you just looked at [the dish], it was exceptionally visually appealing, but it wasn't very foo-foo and arranged with tweezers and shit. It was a combination of elegance and simplicity, prepared as minimally as possible; too many cooks spoil the broth by taking away an ingredient's simplicity.

Chef Matthew Lake
Culinary Institute of America grad Matthew Lake's impressive career blossomed under mentor Mark Miller of Coyote Café in Sante Fe, N.M. Miller showed Lake how to literally follow his gut by trusting his palate. After gracing five stellar restaurants on the East Coast and being named one of Food & Wine's Best New Chefs in America, Lake recently opened Zy Restaurant with Salt Lake City entrepreneur Sean Slatter, serving flavorful creations in the historic Brooks Arcade building.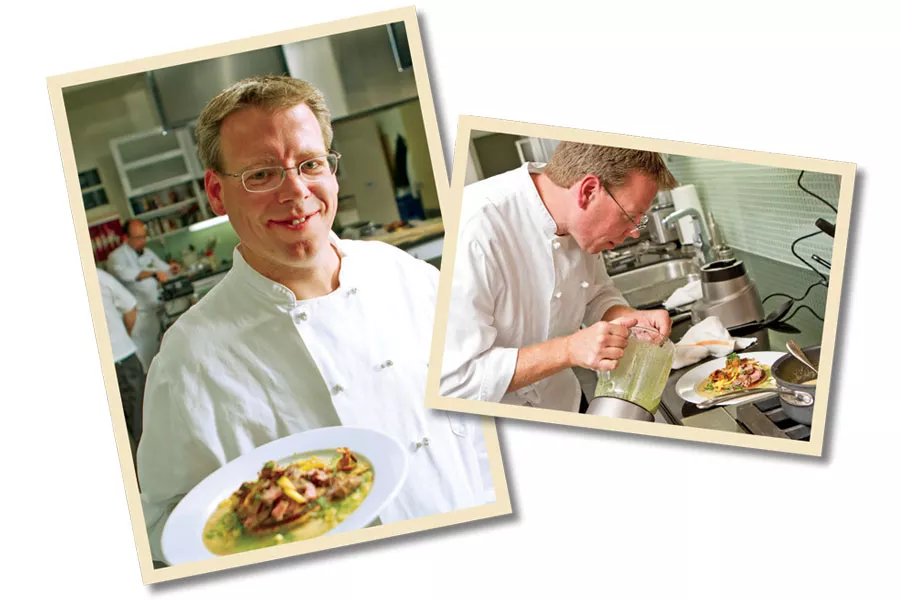 What would you call your dish?
Seared Morgan Valley Lamb with coconut-milk poached chanterelles and peaches. … It's so hard to put a name to a dish.
Poached? Coconut milk?
I poached the peaches and the chanterelles together in the coconut milk just to balance the flavors. I was sort of playing with sweet and savory together because the secret ingredient of the jalapeño jam had the same concept. So, I wanted to play off the inherent sweet and savory tug of war that was going on in that jam. And the coconut milk—I like clean, bright flavors. So I saw the coconut milk and, knowing that I had the green chili, went sweet and savory again. And adding the chanterelle mushrooms, well, it made sense to me.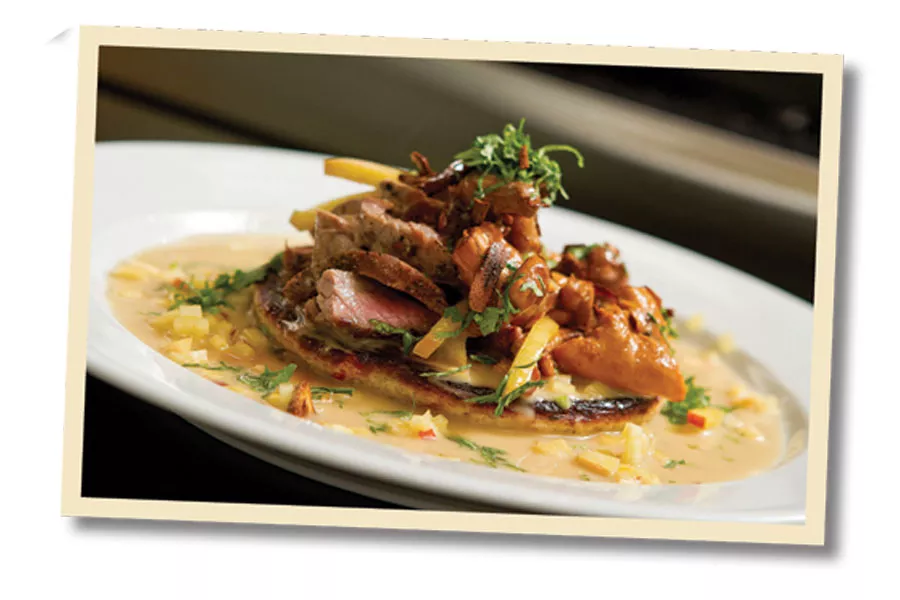 What was the most difficult ingredient for you?
Definitely the pancake batter. It was totally unexpected. I thought to myself, "OK, we have lamb and pancake batter—lamb and pancakes?" You see the pancake batter and you naturally want to make pancakes, which is exactly what I did: a savory pancake. That was so shocking to see. After I pulled out the peaches, I was like, "A box? What's in the box?"
How did this dish represent your style as a chef?
Stylistically, it would be the brightness of it. If I use an ingredient, I like the sharpness and the vibrancy to really come through. I try to use those vibrant ingredients mixed together in a unique way, but not really tamper with them. I try not to smother the freshness of things. I'll never make a chanterelle taste better than a perfect chanterelle out of the ground. So, my thinking was, why not play off that and see what matches? And that's what I really try to do: surprise people with creative combinations while keeping all of the flavors fresh and identifiable.
Chef Jerry Liedtke
Jerry Liedtke started his career at age 12, slinging gyros at his family's traditional Greek food booth at the Utah Arts Festival. After working his way into a kitchen, Liedtke, a punk-rock kid, realized that food could be a medium for artistic expression. Later, a program at the Culinary Institute of America in Napa Valley, a Parisian apartment-turned-culinary school and world travels all inspired Liedtke, his wife, Kestrel, and their friend Robin Fairchild to present fine cuisine in an approachable manner. Together, they opened the Tin Angel Cafe five years ago.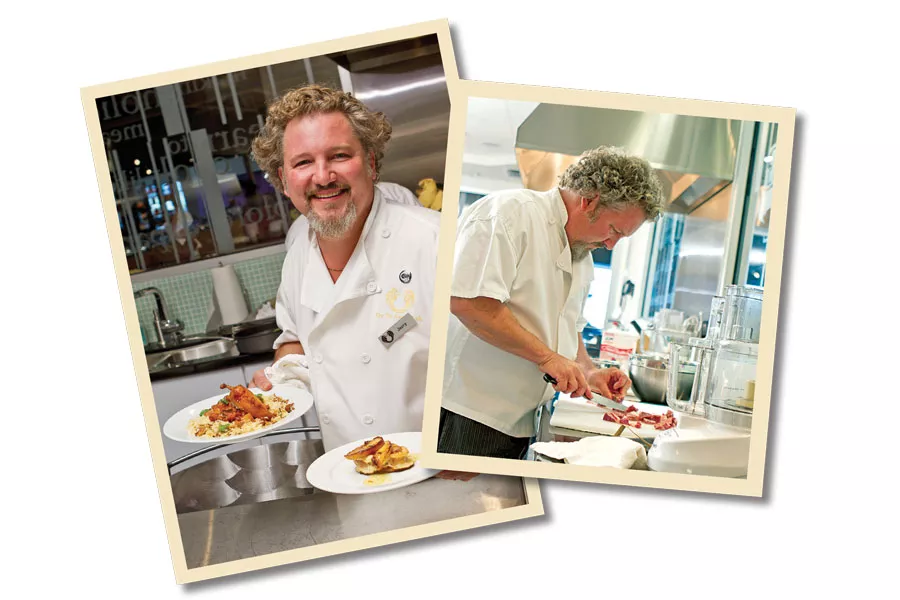 What did you make?
I saw the lamb, and it was a tougher piece, and as a Grecian, I instantly thought of stews, so I did a tagine. I chopped up [the lamb] and stewed it with the peaches, tomatoes, peppers and a little bit of cinnamon—another family Greek thing. I saw some couscous and I knew couscous is really quick, so I made a lobster and chanterelle-mushroom couscous with the tagine over it. I stuffed and fried a pepper with blue cheese, trying to make something with the pancake batter after my idea to make a crepe didn't work out very well. The dessert plate was also a last thought. I thought of savory French toast when I saw the baguette to use with the sweet, deep flavor of the jam. I caramelized some peaches and used a little orange juice to make the syrup, drizzled with a nice extra-virgin olive oil. I seasoned it with fresh herbs, thyme and rosemary just to give it a bit of savory flavor, but still be dessert-y.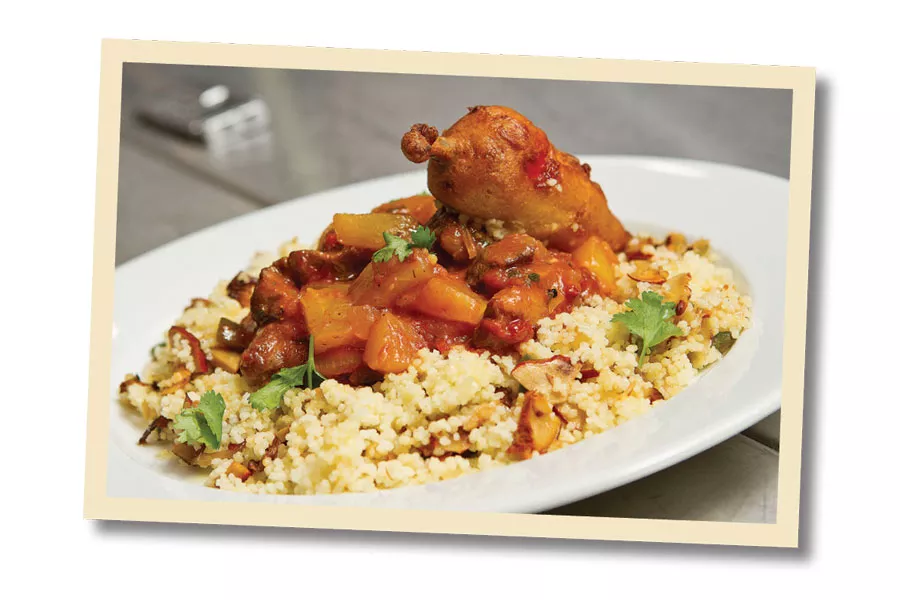 What was going through your mind when your crepes didn't work out?
When you're doing this type of stuff, it's important to know when an element in your dish is not working out and try not to force it. I like to try unique things because I want to have something exciting come from it. The Dalai Lama says: "Approach love and cooking with reckless abandon," and that's what we do: start making stuff, bringing ingredients together and smelling things, and when it's working, it's working. And when it's not, you should know it's not, and bail out—try to do something you're more comfortable with, because you don't want to feed anyone crap. I want the cooks, not the chefs, to know that it's really up to them to deliver a great dish.
What inspired your dish?
I tend to mirror the restaurant. Our cuisine is different at Tin Angel because we travel around Europe and get to go places that keep us going. I love Spanish food and Mexican food, but what I know and what's comfortable for me is the Mediterranean food that we do. It was really nice that, in this cooking challenge, everyone did something a little different. And I like that; I like restaurants to have their own style. You know, "save the good fish for sushi restaurants" kind of thing.

Chef Bob Bryant
You can catch Bryant wearing his tall toque hat around the Harmons Cooking School; he loves to cook and loves to teach cooking. Bryant may have gotten his humble charm from Phil DeMotte, whose style and techniques challenged Bryant to experiment with flavor using only his palate. After opening Café Rude in downtown Salt Lake City and then starting a catering company, Bryant cooked for a ranch in Antimony, Utah, before returning to the Wasatch Front and helping create the Harmons cooking schools.
What did you make?
I started by braising the lamb shoulder in natural broth with Marsala wine; I also added yams, and at the end of the cooking process, when the lamb had broken down, I pureed the yams left over from the broth and used it in the sauce. To go with it, I mixed pureed, roasted poblano peppers in with couscous. I added some fresh tomato to that to bring out an acid pop and add some color. I brazed radishes in butter and stock, adding some fresh thyme at the end. In my humble opinion—like I have any "humble" opinions about food—the fresh herb tied everything in with the lamb. And dessert! Fresh peaches, fresh grilled peaches. They were a little green, so grilling them helped break down and caramelize the immature sugars. I decided to make a fritter out of the pancake batter by adding some cardamom, pistachios and a little bit of the jalapeño jam. I drizzled a passion-fruit-honey puree on top of the peaches with extra jalapeño jam to dip everything in.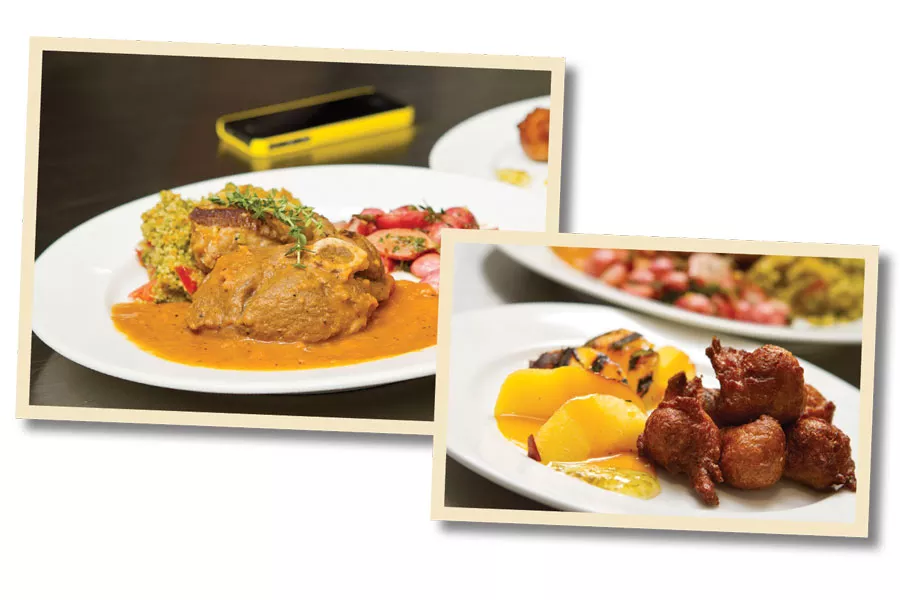 What was the toughest ingredient to work with?
It was probably the lamb, simply based on the cut. Shoulder chops have to either be braised very well so that it's falling off the bone, or be very rare. If it's rare and you happen to have the wrong shoulder chop, it's going to be stringy and tough. And if you don't have enough time to braise the shoulder well, it's going to be tight and tough instead of falling off the bone. So, my biggest challenge was making the decision of which route to go with that. I really wanted to go with a heartier dish, so I stuck my neck out.
How does this dish represent your style as a chef?


Chef Billy Sotelo
A winner of the Nicholas & Co. Ultimate Chef Competition, Billy Sotelo is the executive chef for LaSalle Restaurant Group, and his passion for cooking with fresh, local ingredients is evident on the menus at Faustina and Oasis Café. Sotelo began his career in Tuscon, Ariz., at the Loews Ventana Canyon resort, and later moved to top-notch restaurants in Salt Lake City and Deer Valley.
What did you make?
I made a lobster-mushroom cheesy risotto and took the Morgan Valley Lamb and crusted it with the meal from the pancake batter seasoned with herbs, salt and pepper. I guess you could call it a batter—not batter, kind of a dry rub. And then I tried crusting it up in the pan with a butter-and-herb finish. I sautéed the onions in the olive oil with some peppers. I added a little bit of wine and reduced that down together with apple juice, onions and pears, mostly to thin it out and give better flavor to the jam and make it more syrupy. Then, I folded in the jalapeño relish to use as a topping for the lamb and bring everything together.
What was your thinking with the lobster mushrooms?
I figured lobster mushrooms would bring it all together, and I added a little bit of citrus—some zest from the orange juice. I was trying to figure out how to bring it back together and make one complete dish. That mushroom puree turned out to be my yin-yang to that dish. You have the sweet, and you have a little bit of sour. The lamb itself was very musky, so that was an easy pair with the mushrooms, as well.
What ingredient was most challenging for you?
I thought to myself: "Oh, my God. Am I making crepes today?" I had no idea what to do with the pancake mix originally, but I think it ended up working in my favor. I really liked how the lamb tasted, you know. It made a nice crust.
What was the best part about cooking in this challenge?
We always try to have a lot of fun with our food [at the restaurants]. I probably wouldn't use all of these ingredients together again, but it was fun. What made it great, I guess, [was] getting over the fear of doing something you're not so sure of. Taking a combination and trying to figure out how to make them pair up with each other.