Page 2 of 3
Chef Jerry Liedtke
Jerry Liedtke started his career at age 12, slinging gyros at his family's traditional Greek food booth at the Utah Arts Festival. After working his way into a kitchen, Liedtke, a punk-rock kid, realized that food could be a medium for artistic expression. Later, a program at the Culinary Institute of America in Napa Valley, a Parisian apartment-turned-culinary school and world travels all inspired Liedtke, his wife, Kestrel, and their friend Robin Fairchild to present fine cuisine in an approachable manner. Together, they opened the Tin Angel Cafe five years ago.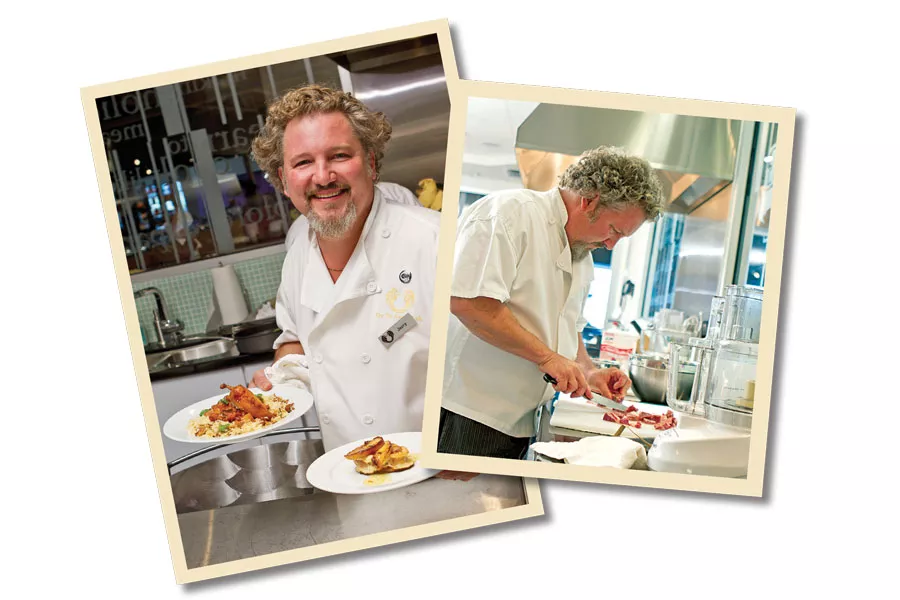 What did you make?
I saw the lamb, and it was a tougher piece, and as a Grecian, I instantly thought of stews, so I did a tagine. I chopped up [the lamb] and stewed it with the peaches, tomatoes, peppers and a little bit of cinnamon—another family Greek thing. I saw some couscous and I knew couscous is really quick, so I made a lobster and chanterelle-mushroom couscous with the tagine over it. I stuffed and fried a pepper with blue cheese, trying to make something with the pancake batter after my idea to make a crepe didn't work out very well. The dessert plate was also a last thought. I thought of savory French toast when I saw the baguette to use with the sweet, deep flavor of the jam. I caramelized some peaches and used a little orange juice to make the syrup, drizzled with a nice extra-virgin olive oil. I seasoned it with fresh herbs, thyme and rosemary just to give it a bit of savory flavor, but still be dessert-y.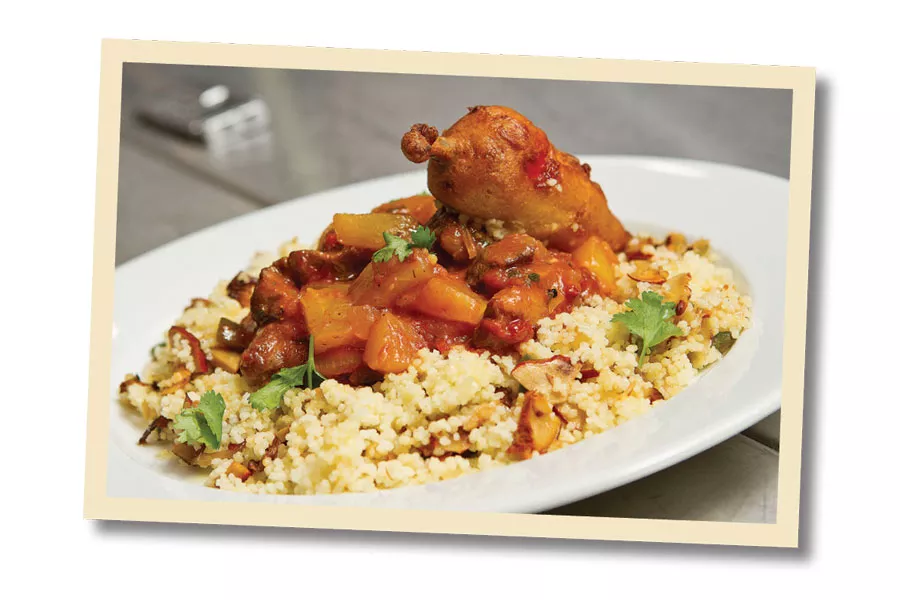 What was going through your mind when your crepes didn't work out?
When you're doing this type of stuff, it's important to know when an element in your dish is not working out and try not to force it. I like to try unique things because I want to have something exciting come from it. The Dalai Lama says: "Approach love and cooking with reckless abandon," and that's what we do: start making stuff, bringing ingredients together and smelling things, and when it's working, it's working. And when it's not, you should know it's not, and bail out—try to do something you're more comfortable with, because you don't want to feed anyone crap. I want the cooks, not the chefs, to know that it's really up to them to deliver a great dish.
What inspired your dish?
I tend to mirror the restaurant. Our cuisine is different at Tin Angel because we travel around Europe and get to go places that keep us going. I love Spanish food and Mexican food, but what I know and what's comfortable for me is the Mediterranean food that we do. It was really nice that, in this cooking challenge, everyone did something a little different. And I like that; I like restaurants to have their own style. You know, "save the good fish for sushi restaurants" kind of thing.

Chef Bob Bryant
You can catch Bryant wearing his tall toque hat around the Harmons Cooking School; he loves to cook and loves to teach cooking. Bryant may have gotten his humble charm from Phil DeMotte, whose style and techniques challenged Bryant to experiment with flavor using only his palate. After opening Café Rude in downtown Salt Lake City and then starting a catering company, Bryant cooked for a ranch in Antimony, Utah, before returning to the Wasatch Front and helping create the Harmons cooking schools.
What did you make?
I started by braising the lamb shoulder in natural broth with Marsala wine; I also added yams, and at the end of the cooking process, when the lamb had broken down, I pureed the yams left over from the broth and used it in the sauce. To go with it, I mixed pureed, roasted poblano peppers in with couscous. I added some fresh tomato to that to bring out an acid pop and add some color. I brazed radishes in butter and stock, adding some fresh thyme at the end. In my humble opinion—like I have any "humble" opinions about food—the fresh herb tied everything in with the lamb. And dessert! Fresh peaches, fresh grilled peaches. They were a little green, so grilling them helped break down and caramelize the immature sugars. I decided to make a fritter out of the pancake batter by adding some cardamom, pistachios and a little bit of the jalapeño jam. I drizzled a passion-fruit-honey puree on top of the peaches with extra jalapeño jam to dip everything in.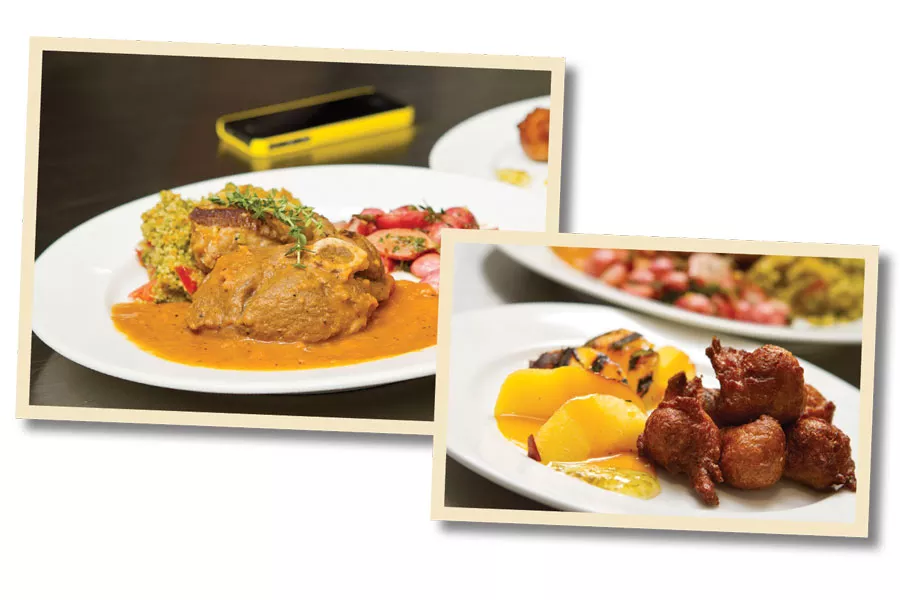 What was the toughest ingredient to work with?
It was probably the lamb, simply based on the cut. Shoulder chops have to either be braised very well so that it's falling off the bone, or be very rare. If it's rare and you happen to have the wrong shoulder chop, it's going to be stringy and tough. And if you don't have enough time to braise the shoulder well, it's going to be tight and tough instead of falling off the bone. So, my biggest challenge was making the decision of which route to go with that. I really wanted to go with a heartier dish, so I stuck my neck out.
How does this dish represent your style as a chef?