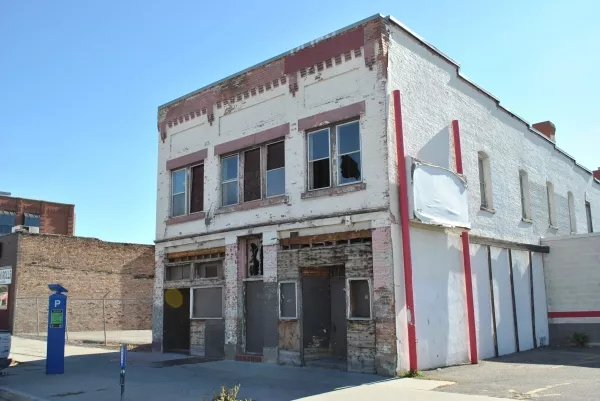 Eric S. Peterson
A Salt Lake City ordinance could allow the city to assess fees against developers who let vacant properties become eyesores
All it takes to ruin the fun for all the developers in town is for one company to kick tenants to the curb, knock down an iconic block of Salt Lake City and then fill the crater only with empty promises. In 2007, developer Craig Mecham did just that, razing a block of Salt Lake City's eclectic Sugar House neighborhood with plans for a development that fell through when the economy tanked. Developers say the "Sugar Hole" crater was bombed by a frightened market instead of a developer's reckless ambition, but years later, the Salt Lake City Council is moving closer to adopting an ordinance to put more regulations in front of developers' wrecking balls to prevent future "Sugar Holes."

The ordinance pushed by District 7 (covering Sugar House) Councilman Soren Simonsen has been proposed and knocked down several times. In 2009, the ordinance sought to require developers seeking demolition to have a full building-permit application approved for the site before they could demolish. That version of the ordinance, however, tripped up council members, who worried that developers would choose the blight and leave vacant buildings up instead of vacant lots.

The ordinance Simonsen now is proposing would require a building-permit application for the new use of property only to have been submitted, not approved. The ordinance also seeks to clarify penalties for developers who let their vacant properties go to blight. This go-round, Simonsen is the council chair, and he's more optimistic about the ordinance's passage.

"Right now, you can simply submit for building demolition with no requirement of what constitutes a legitimate re-use of the property, and there's no specific requirement for how a property is maintained once the demolition occurs—that's the area that's problematic," Simonsen says.

Simonsen hopes that requiring a performance bond or levying fines against developers who let their vacant properties fester will help keep vacant buildings from becoming eyesores. Currently, the city code has anti-blight language, but it's inconsistent and practically unenforceable. The new ordinance will set parameters that require developers to maintain landscaping of their properties, will allow the city to inspect vacant properties to make sure they haven't gone to blight—and will penalize the developers if they have.

"That was one of the core purposes of the ordinance," Simonsen says. "Whether the building is standing or removed, we want to have some tool for maintaining properties so it doesn't drag down the value of surrounding properties."

For those in the brokerage and development business, like Vasilios Priskos, founder of InterNet Properties, the blight battle doesn't change the fact that demolition restrictions will force developers to leave ugly buildings standing, as opposed to doing an intermediate development, such as knocking down the building and putting in a surface-level parking lot. Priskos points to the old Shamrock building, located on 200 South between 200 and 300 West. That building remains a zombie of the former commercial business it once was, since its unusually small lot size makes it hard for a developer to find a use for it. Lacking a developer's vision on how to reinvent it, for the time being, the dilapidated building will stay standing, as decrepit as ever.

"You don't have a re-use for that small of a property like that," Priskos says. "In the meantime, everyone says, 'Look at that blight!' but the reality is that owners are handcuffed in what they can do about it. It's a blighted building that just looks terrible, but is that better than a surface parking lot with maybe some landscape in front of it?"

Realtors like Priskos, as well as the Downtown Alliance, have argued that fighting blight is the right thing to do for residents and developers in the city, but that trapping wrecking balls in red tape isn't the solution. Developers and the Downtown Alliance say they agree that if the city allowed for more surface-level parking lots, developers would have more freedom to knock down an old building and provide parking while they wait for investor money and other resources to allow commercial developments to come together.

Downtown Alliance Executive Director Jason Mathis says the city needs to be more flexible, since many developments aren't always as simple as buying one property, tearing it down and putting a new building in its place. In cases of large projects, like a hotel, for example, Mathis points out that a number of parcels will all have to be bought before they can be developed into a new project.

Councilman Luke Garrott, whose District 4 covers downtown and is home to a number of blighted buildings like the Shamrock, says that the ordinance is not overly strict for developers wanting to amass parcels. He points out it's also a complaint of national big-box retail stores who try to bully cities into approving "cookie-cutter" project developments.

While Garrott understands it's cheaper for businesses to develop when they don't have to worry about liabilities of vacant buildings—including the potential of the building becoming home to squatters or burning down—he says Salt Lake City is not unique in this kind of ordinance.

"We don't have to suffer their path of least resistance," Garrott says. "Believe it or not, but development standards are a lot stricter in many other American cities."

Parking lots as interim developments are favored by Mathis as well as developers, though Priskos says the current city council is averse to them and has favored restrictions that make it hard to develop them. He points out that developments like the downtown Harmons grocery store and the 222 Main office building were surface parking lots before they were developed. The city is not well suited to try and micromanage developments, he says.

"To come along and say, 'We should develop properties just to develop them,' that's the wrong way to do it," Priskos says. "It should happen organically when the market calls for it." Priskos says there are many unknowns to a project that developers don't know about until a site is torn down, such as whether the soil beneath an old building can support the weight of a new project, or if steam tunnels crisscross the project area, or what an environmental analysis might say about a project's viability.

Simonsen's voters are still sore about the Sugar Hole, but he says it's a citywide problem, one that he and other council members are still trying to resolve. But for all the need to keep commercial projects viable, Sorensen says the city also needs to make sure a developer doesn't just demolish first and ask questions later. Requiring a permit application gives developers a checklist that includes engineering, design and public-health requirements, among other conditions.

"Checking off all those things ensures a project is viable and seems to be a more appropriate start than just asking if you've got an idea for development," Simonsen says.