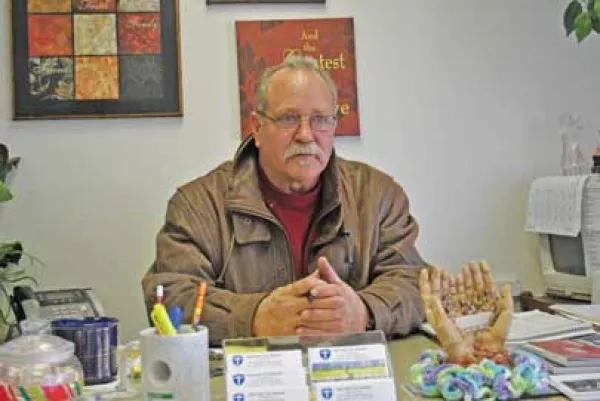 Salt Lake City Mission spokesman Brad Jaques
Salt Lake City Mission spokesman Brad Jaques has acquired an appreciation for God's uncanny timing—often answering a prayer at the last possible moment. Jaques, 57, has lived a riches-to-rags life, having once lived in a "house on the hill" with six decks, a sport court and a Land Rover in the driveway. He had everything and nothing at the same time, and it wasn't until after his fourth failed suicide attempt that Jaques discovered that his prayers were perhaps heard up better from rock bottom than anywhere else.
Now working as a spokesman for the Salt Lake City Mission, a nondenominational Christian nonprofit, Jaques' passion is godly PR, spreading the good gospel of the mission's work—especially through the Salt Lake Street News, a monthly newspaper with articles and poems written by homeless contributors from Utah and the nation.
Jaques speaks with the laid-back good humor of an aging hippie. Though he once counted Jimi Hendrix and Jim Morrison as idols, he's now an unabashed "Jesus freak" who plays guitar in a Christian rock band called Changed Hearts. While Jaques was raised as a member of The Church of Jesus Christ of Latter-day Saints, he says he's a believer in Jesus, but not religion. He also believes that if more people understood how the twists and turns of life can put people on the streets and into dire straits, more people would be willing to help. That's why he's been a strong advocate of the mission's Salt Lake Street News, which gives the homeless a chance to earn money and, hopefully, get off the streets, without panhandling.
The publication was started in Salt Lake City in 2010 and currently is a member of the International Network of Street Papers, a group that provides free articles to be used in publications that help homeless people across the United States and the globe earn a living. The program is ideal for those who struggle with finding regular employment. Those who participate as vendors receive training and become independent contractors. They get their first 40 papers for free and sell them for a suggested $1 donation. Afterward, they pay 25 cents for the papers they buy and resell.
Jaques says the mission has at least five vendors who live off the newspapers they sell, and as many as 20 other vendors who sell fairly regularly. He's delighted by the success stories and keeps in touch with a man who sold enough papers to move back to his home in Milwaukee, get a place, get remarried and rebuild his life. Another man he knows who was crippled in an injury aboard an Alaskan crab boat has also become a successful vendor, making $300 in one night of paper sales alone. As a former insurance salesman, Jaques likes to impart tips and mantras of his former trade to vendors, sayings like, "If you conceive it and believe it, you can achieve it."
"I was in sales for years," Jaques says. "I don't care if these guys become millionaires; I just want them to get their feet back on the ground and get better."
Jaques knows from experience how anybody can fall from grace and find their fortunes reversed. Jaques grew up in Washington, D.C., in an affluent home, where his father worked as a congressional attorney. Throughout his life, he wanted for nothing and moved in well-to-do circles. After moving to Utah, he prospered in business, selling everything from car stereos to insurance and even owning a company that made and sold a product used to keep floors from becoming slippery. But he struggled with addiction and despair, and attempted suicide four times. He once drained a bottle of Jack Daniels and passed out in a bathtub while holding a plugged-in blow dryer. Inexplicably, he was not electrocuted, though when he awoke and stepped out of the tub, he face-planted on the floor, where police found him unconscious but alive.
He decided his final attempt, in late 2002, would be foolproof. He washed a handful of pills down with an unhealthy amount of Everclear and was about to tape a bag around his head and hang himself from an electrical-cord noose when his mother knocked on the door. She had a feeling he was in trouble. He says if his mother had not come at that time and rushed him to the hospital, he doubts the doctors would have been able to clear the pills and alcohol from his system.
After that, he wound up at the mission and, after much prayer, enrolled in its Christian discipleship program, which he says gave him the skills to beat his addiction. It was a path that led to recovery, and now full-time employment.
"What the devil meant for bad, the Lord has turned around for the good," he says.
Jaques relates a recent project he was working on, trying to collect donations for a holiday gift basket to give to the homeless. Donations were far below the goal, and he was up against a deadline.
"Back in my mind, I kept hearing God saying, 'Don't worry, I got your back,'" Jaques says. After a short prayer, Jaques received a phone call from a grocer who had purchased $20,000 worth of honey-cured hams that would soon go bad and needed to be donated.
The last-minute hams from heaven is a story that makes Jaques laugh, but he considers the prayer's answer with the same gratitude as the one that saved his own life.
While Jaques' father may have worked with the Capitol's elite and helped with ambassadors' work, Jaques feels his father, were he still alive, would be proud of his son for doing his own kind of diplomatic work.
"I get to be an ambassador for the King of Kings and the Lord of Lords, and I didn't have to go to college for nine years to get there," Jaques says with a laugh, before adding, "Well, maybe nine or … 20 years at the school of hard knocks."