Page 2 of 2
Staying Classy
Every now and again, you might want to dress to the nines and step out somewhere swanky. Might be for a date. Could be for a business "meeting." We don't think you need an excuse to enjoy the finer things in life, like a well-made martini. And Salt Lake City has you covered.
The Red Door is a cozy spot with a giant Che painted on the wall, chill tunes that let you hear your conversation and a creepy stuffed monkey overlooking the action from his post in the corner. A large menu of fine scotch and a number of specialty martinis (try the Mescal-ini) make this a fine spot for hipsters and suits alike. 57 W. 200 South, 801-363-6030, BehindTheRedDoor.com
Bambara bar inside the Hotel Monaco is officially called the Vault, but nobody calls it that; Bambara bar will suffice, and the joint's skilled bartenders make a stop before dinner at the Bambara restaurant, or a show at the Capitol Theatre, a must. 202 S. Main, 801-363-5454, bambara-slc.com
The Circle Lounge caters to a young, sophisticated crowd, with its in-house sushi bar, tasty cocktails and blend of jazz and house music keeping the place humming and the dance floor full late-night. 328 S. State, 801-531-5400, MyCircleLounge.com
Market Street Oyster Bar fills for happy hour nightly and gets hopping before most major events downtown, from Jazz games to concerts. 54 W. Market St., 801-531-6044, MarketStreetOysterBar.com
Kristauf's Martini Bar has a fine martini waiting for you either right after work or late in the evening, when DJs fill the room with trance and house music. The proximity to one of Salt Lake City's best Japanese restaurants—Takashi, right next door—is a bonus. 16 W. Market St., 801-366-9490, MartiniBarSLC.com
Sk
y Bar at the top of the Red Lion hotel mixes top-tier grub with a party vibe that regularly fills the bar dance floor, thanks to nightly drink specials and the sounds of hip-hop and R&B. 161 W. 600 South, 801-530-1313, SkyBarSLC.com
Habits offers a mid-valley option for upscale drinks, dancing and dining. 832 E. 3900 South, 801-268-2228, ClubHabits.com
Sports Bars
In many Americans' lives—young and old, men and women—hunkering down in front of a TV for a ball game becomes part of the schedule at least once in a while. And for some of us, it's a regular part of a week's watching. Getting out of the house—particularly to a place with cheap beer and decent grub to go with an array of hi-def TVs—is always preferable to staying home. Why should roommates, spouses and siblings be the only ones to appreciate your witty verbal daggers thrown at the refs who just screwed your team, right? Here are nine sports-friendly joints to use for your next fantasy drafts in SLC.
Fiddler's Elbow The Sugar House institution has every NFL game to go with one of the best sports-bar brunches around. 1063 E. 2100 South, 801-463-9393, FiddlersElbowSLC.com
Legends Tasty grub, close to a TRAX line and next door to Brewvies, Legends can be the start or end of a good day downtown. 677 S. 200 West, 801-355-3598, WhyLegends.com
Batters Up Don't let the windowless barracks exterior fool you. Inside, Batters Up has a ton of screens, pool tables and dirt-cheap breakfast on weekends. 1717 S. Main, 801-467-9436
Iggy's The wings are none too shabby, and with nine locations dotting the Wasatch Front, you're rarely far from an Iggy's. Downtown: 423 W. 300 South, 801-532-9999, IggysSportsGrill.com
The Huddle The strip-mall location might throw you, but once you step inside The Huddle, it's TV sports in every direction you look. 2400 E. Fort Union Blvd., 801-438-8300
Lumpy's The original Lumpy's is a Ute bar through and through, and the lengthy grub menu, walls covered in Utah memorabilia and two story-plus patio size keep Lumpy's a go-to game stop. 3000 S. Highland Drive, 801-484-5597, LumpysBar.com
Lumpy's Downtown The hi-def TVs at every booth made the younger Lumpy's an immediate favorite when it opened, and late night it makes the tricky switch to a DJ-led, dance-fueled hook-up spot. 145 W. Pierpont Ave., 801-938-3070, MySpace.com/LumpysDowntown
First Press Inside the Salt Lake City Sheraton, First Press serves the traveling businessmen and neighborhood insiders with a large bar and full menu. 150 West 500 South, 801-323-7576
Gracie's The proprietors of Gracie's might blanch at seeing their gastropub listed as a "sports bar," but with all their sports TV packages you need and a brunch menu full of yummy twists on eggs Benedict, we like weekend mornings at Gracie's. 326 S. West Temple, 801-819-7565, GraciesSLC.com
'Bout Time Pub & Grub This sports bar boasts a spacious interior, so you can go wild watching one of the many TVs without bumping elbows with an opposing fan. 'Bout Time also has daily drink specials and three locations for south-valley sports fans to enjoy. 3778 W. Center View Way, No. 150, West Jordan, 801-280-1000; 6522 S. 3000 East, Holladay, 801-733-0228; 5592 S. Redwood Road, Taylorsville, 801-968-1444, BoutTimePub.com
Oscars The south end of the valley has historically been slim pickins for bars, but Oscars has been offering up a worthy sports bar for years. 8136 S. State, 801-566-3222
Get out of Downtown
While the cultural life of Salt Lake City revolves around downtown, there are plenty of spots outside of the city that are worth a jaunt, either via cab or with a designated driver in tow.
A Bar Named Sue is a basement strip-mall bar, but boasts an endless menu of whiskeys and bourbons, plus entertainment ranging from live tunes to free pool to trivia contests. 3928 S. Highland Drive, 877-848-6009, A-Bar-Named-Sue.com
Duces Wild is considered by many of its regulars "Cheers with boobs," because while the exotic dancers are certainly the main draw, daily lunch and drink specials and various bar games at this "relaxed gentleman's club" make it a friendly neighborhood stop as well, even if you aren't paying attention to the action on stage. 2750 S. 300 West, 801-467-4600, DucesWildSLC.com
The Hog Wallow is a valley favorite for a number of reasons. There's the rootsy tunes Wednesday through Sunday nights. There's the expansive, wooded patio stretching up the hill out back. And there's the tasty grub. Put all that together and you have a place that thrives both in the summer and for the apres-ski crowd in the winter. 3200 E. Big Cottonwood Canyon Road, Cottonwood Heights, 801-733-5567, TheHogWallow.com
Maggie McGee's There's plenty of room to spread out in this Cottonwood-area sports bar. Enjoy a game on one of the TVs in the main room, slide over to the side for a game on one of the six pool tables, or throw some electronic darts. Sunday and Monday Texas Hold 'Em tournaments and post-game karaoke are also part of the entertainment menu. 6253 S. Highland Drive, Salt Lake City, 801-273-9899
The Leprechaun Inn will fool you from the outside, where it looks deceptively like a tiny strip-mall bar. Inside, though, it's a spacious joint full of pool tables, TVs for the big game and some of the best bar grub in town. 4700 S. 900 East, No. 6, 801-268-3294
Club 90 brings more than 30 years of experience supplying the party for Sandy and its surrounding neighborhoods. Cover bands bring the classic rock and dance music on weekends, and weeknights and weekend days are built for sports, with menus offering breakfast, lunch and dinner—whatever you need to get through the day. 9065 Monroe St., Sandy, 801-566-3254, Club90SLC.com
Allure is designed for the Saturday Night Fever-obsessed, with an interactive dance floor that triggers the kind of light show typically reserved for a Laser Floyd show. 8925 S. 255 West, Sandy, 801-255-2078, MySpace.com/AllureSLC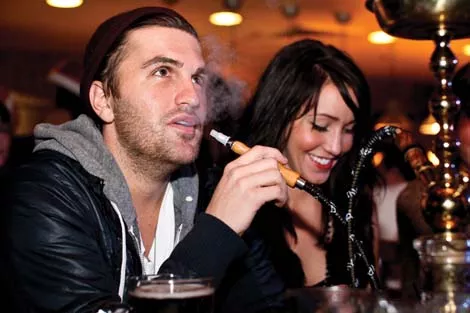 Huka Bar & Grill is a happening spot in the mid-valley, boasting water pipes galore, a bevy of beautiful people and a late-night all-ages cafe attached for the kids who can't get in to hear some reggae or dance to the regular DJs. 151 E. 6100 South, Murray, 801-281-4852, MySpace.com/TheHukaBar
The Westerner beckons the country-inclined with live music, dancing and mechanical bull rides. Even folks who don't like their music twangy will find something to love in the enormous Westerner space, either in the kitchen serving an extensive food menu, in the room dedicated to karaoke or on the dance floor full of cowboys and cowgals. 3360 S. Redwood Road, West Valley City, 801-972-5447, MySpace.com/The_Westerner