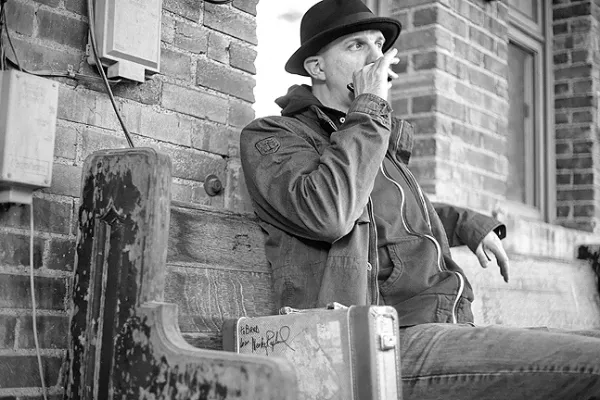 Angela Brown
'Bad' Brad Wheeler
Most musical instruments are not primarily associated with one particular style of music, especially in these days of cross-cultural collaborative adventures.
The exception is the harmonica.
Sure, notable harmonica artists can be found in country, folk, jazz, Irish, bluegrass and even hip-hop, but outside of blues, the harp (from the moniker "mouth harp") just really isn't the musician's instrument of choice. Rock has a goodly number of harp players, but mostly they're just playing solos and accents. For full-time, full-on harmonica, blues is where it's at, hands down.
Indeed, the explosion of the blues in the 1950s was fueled by the talents of such great harp players as Sonny Boy Williamson II, Little Walter Jacobs and Big Walter Horton, and Muddy Waters always insisted on having a harmonica player in his bands. The blues flame got a renewed flare in the late '60s through James Cotton, the late Paul Butterfield and John Mayall, and today continues to burn brightly with such masters as Charlie Musselwhite, Kim Wilson, Mark Hummel and, until his death in 2009, Norton Buffalo.
Still, the mainstream limelight just never quite shines on harmonica players.
Standing tall both literally and figuratively, Brad Wheeler fights that obscurity. A popular DJ on KRCL Radio (90.9 FM), he is also half of local band The Legendary Porch Pounders. Wheeler's harp stylings helped propel the group to a win in the 2005 City Weekly Showdown to SXSW competition, and since then have also kept him busy on the side with a variety of guest slots for bands around town. "Bad Brad" taught in an educational program for elementary students in the Davis and Weber County school districts called Blues in the Schools, in which he estimates over 50,000 kids were introduced to the harmonica.
Regarding the harp's apparent MIA status, Wheeler agrees. "Mostly, it is found in the blues. But because blues is the root of American music—a powerful, universal language—I find it touches so many people." When asked if, as a Universal Life Church minister, he takes to heart the famous Blues Brothers directive, Wheeler is emphatic. "Absolutely! I'm on a mission from God—a mission for the blues. Giving kids a harp is the most amazing thing. It's shown me that music is therapy, that playing can change a kid socially and give him a real source of pride. Harp may be hidden, but I know that there's a wave of kids coming up."
Harmonica playing probably wouldn't be something most people would associate with Kurt Bestor, the talented, Emmy Award-winning, local composer best known for his long-running Christmas concerts, as well as a lengthy discography and film-scoring credits. "I have 30 harps; it's the poor-boy's oboe. It's true—other than the blues, you don't hear it featured a lot. But it adds color and is authentic—a bit of Americana."
In a moment of life imitating art, Bestor learned to play harmonica in Yugoslavia (on another sort of "mission from God") from an LDS-mission companion while hitchhiking through the country, reminiscent of Kristofferson's classic harp song "Me & Bobby McGee." "It's easy to play quickly," he says, "but hard to play well. It adds an unmistakable feel, just the perfect accent."
Rick Anderson has played harmonica for over 30 years, known from a long stint with former locals The Tempo Timers to his last band, Hoodoo Blues. "I might not be the only harp player in Utah County," he says with a laugh, "but I haven't heard of anybody else." Anderson has played a variety of musical styles including country, but feels that harmonica is mostly the province of the blues. "It's where I heard the players who really move me. I took up harp, as there were not too many others playing it—mostly just lots of guitarists."
As for harmonica players in Utah, Mickey Raphael was only partly kidding with his reply: "Are there any?" From his 30-plus years of playing with Willie Nelson, Raphael is probably one of the best-known harp men outside of the blues. "I'm an anomaly," he says of his playing. "I'm trying to change the stereotypical impression and make it so there are not so many parameters for harmonica."
Raphael, a native of Dallas, Texas, is doing just that through his outside gigs with U2, Elton John, Mötley Crüe and Neil Young, among others. Still, while certainly prestigious, his 2011 nomination for the Academy of Country Music Award for Top Specialty Instrument Player of the Year doesn't point to much acknowledgment of those eclectic efforts. Raphael spends half his time in Nashville and the other half with his girlfriend, Brenda, in Cottonwood Heights, "but I don't really do any jamming or playing in Salt Lake City except with Willie."
Harry Lee & the Back Alley Blues Band have been a staple around town for 23 years. "I started playing when I was 16," Lee says, "when I found a harp at a party and the guy never came back for it." Lee agrees that blues, not surprisingly, is where harmonica is mostly found. "You'll hear it in folk," he notes, "but with a different technique and scale. For dynamic, reed-bending playing, it's definitely the blues."
For 22 years, Howard Horwitz has worked passionately on his harmonica playing when not teaching English at the University of Utah. "I've played in a lot of different bands, like Mr. Lucky and The Daily Blues," Horwitz says. "Right now, I'm with Tony Holiday & the Velvetones, and that's sort of a Texas-bluesy style."
Horowitz understands why blues is pretty much the main place harp is found. "It's the nature of the instrument," he explains. "People don't actually study it—there's not a lot of music for harmonica—and so they start with it and then get lost. Blues is what they hear with the harmonica, and where they hear it."
While not abundant, there are several good local harp players to be found, including Robby Kap with the Kap Brothers Band, Nick Greco and Blues on First, Chris Condie, and Snakey Jake playing with Zach Parrish.
For me, each time I replay "The Santa Train," a short harmonica riff Buffalo played so wonderfully on my telephone message recorder one Christmas morning, it forever keeps the harp—and him—front and center.