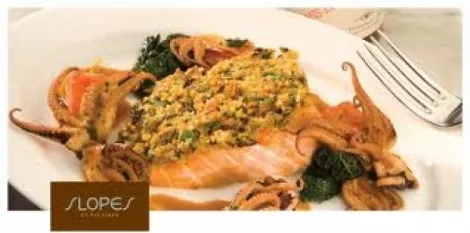 The improvements at Canyons resort since Talisker Corp. took over have been many—most notably with regard to the eating options there. I've already given ink to some of the newer Canyons dining destinations, such as Cloud Dine, Alpine House, Umbrella Bar, Red Tail Grill, the all-kosher Bistro and, of course, the resort's excellent signature restaurant: The Farm. Well, now that Talisker has teamed up with the Park City Waldorf Astoria in the dining department, there is even more to love. New to the Waldorf Astoria this season is Crave Coffee Shop, Scoop Poolside Café and the hotel's fine-dining spot, the somewhat-clunkily named Slopes by Talisker. We'll just call it Slopes.
Folks who were fans of Spruce restaurant will feel right at home in Slopes. The décor in the dining room and lounge is virtually the same; nothing much has changed except for new flooring, which helped to subdue some of the restaurant's noise. I'm glad that Talisker didn't do a major makeover of Spruce; if it ain't broke, don't fix it. Spruce was one of Utah's most elegant and attractive restaurants. And now, Slopes is.
Some of the Spruce wait staff and management still remains, and some have moved on. One thing is certain: You can fully expect top-notch, professional service at Slopes. Servers and managers are very knowledgeable about the menus and wine selection, and this is the only Utah restaurant I know where you'll see fresh tablecloths being ironed between seatings. And yet, all this elegance comes without stuffiness. Some folks at Slopes dress up for a hot night out, but there are also guys in baseball caps and ski hats. Fashion-wise, anything goes.
The menu, of course, has been completely redone since Spruce by John Murcko, Talisker executive chef, and Clement Gelas, Slopes head chef. If the Gelas name sounds familiar, it might be because he served in the kitchens at Grappa, Wahso and Ghidotti's in Park City, along with working at The Cabin, Talisker on Main and, most recently, Talisker's Tuhaye Table Cafe. He's originally from Boege, France, just a stone's throw from Lake Geneva. Gelas came here to ski, originally, but found a home in some of the best restaurant kitchens in Summit County.
The cuisine at Slopes spotlights Gelas' French cooking techniques in combination with American ingredients—local, whenever possible. So, for example, a tuna paillard starter ($16) is thinly sliced rounds of raw tuna topped with shelling beans and pine-nut tahini, along with a nod to France: picholine olive tapenade. It's a remarkable way to begin a meal. The same can be said for the rich and wonderful smoked-duck ravioli, which was actually more like tortelloni—freshly made pasta stuffed with house-smoked duck and Napa cabbage in a shallow pool of heavenly mushroom broth ($14). The "display of winter beets" appetizer ($13) is a work of art, an absolutely gorgeous mélange of yellow and red beets with shaved baby carrots, pistachio-dill pesto, olive-oil-braised jicama, frisée and micro cilantro. It's so gorgeous you'd like to hang it on your living-room wall.
As I alluded to already, service at Slopes was flawless, from bussers who quietly keep bread plates and water glasses full to managers who eagerly help with wine-pairing suggestions and food recommendations. I don't recall ever encountering better service in Utah. And the wine, beer and cocktail selection is terrific—one of the best beverage lists in a town brimming with great wine lists. Throughout our meal, successful (and creative) wine pairings included Zind Humbrecht Riesling with the smoked-duck ravioli, Cakebread Chardonnay with the winter-beet salad, Schramsberg Blanc de Blancs bubbly alongside the tuna paillard and a lovely, Burgundy-style Pinot Noir from Alexana Winery in Willamette Valley paired with Berkshire pork tenderloin.
Another beautifully composed dish is Gelas' arctic char treatment ($35). It is seared Yukon Territory arctic char on a "Tuscan vegetable sauté," with a smear of artichoke purée on the plate, haricots verts, black-olive sauce and topped with a dash of spicy tomato "jam." It's delicious and gorgeous, to boot.
I would estimate that about 99 percent of pork chops or pork tenderloins I get in restaurants are overcooked. Not so at Slopes, where the Berkshire pork tenderloin medallions ($33) are juicy and slightly pink—perfectly cooked. They sit atop a bed of Dijon mustard spaetzle, caramelized onions and a vivid cranberry gastrique with local greens. Like the arctic char, the pork tenderloin is a good example of what Gelas does so well: He doesn't interfere. By that, I mean that his sauces, sides and such serve to enhance the main ingredient, not bury it. So, the pork tenderloin actually tastes first and foremost like pork, not the sauce that hides it. Same with the char. This is the kind of cooking I love, where a game-hen fricassee ($32) tastes of game hen (along with sweet-potato gnocchi) and turbot tastes like turbot, albeit kicked up a notch with a New England clam fumet.
One final, eclectic wine suggestion served as a beverage bridge between an after-dinner cheese plate and a dessert assortment: Les Clos de Paulilles Banyuls Rimage, a Port-like dessert wine with chocolatey overtones and flavors of dark cherries and raisins. Another spot-on recommendation.
Obviously, you can't dine like this every day. Slopes, for most of us anyway, is a special-occasion restaurant. So, since we're already in luxury mode, I suggest going whole hog and booking one of the beautifully appointed rooms at the Waldorf Astoria for the night, along with a treatment at the Waldorf's world-class Golden Door Spa. Chef Gelas' cuisine is already a glorious gastronomic getaway for the palate, so you might as well indulge the rest of the body. You deserve it.
SLOPES BY TALISKER
2100 Frostwood Drive (Waldorf Astoria), Park City
435-647-5566
ParkCityWaldorfAstoria.com