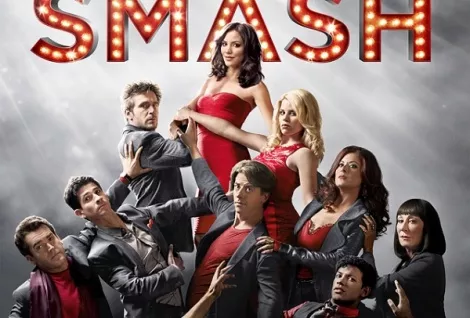 Smash
Monday, Feb. 6 (NBC)
Series Debut: What does TV need? More singing shows! Fortunately, Smash isn't The Voice, American Idol, The X Factor (remember that?) or even Glee. OK, it's a little like Season 1 Glee (deft mix of humor, drama and music), mashed-up with Studio 60 on the Sunset Strip (backstage intrigue that's more interesting than what's happening onstage, liberal exposition on The Importance of Art, etc.). Smash follows the start-up production of a Marilyn Monroe musical, an idea somehow struck right after songwriter Julia (Debra Messing) has delivered a mini-monologue about the lack of fresh ideas on Broadway. Soon, she and writing partner Tom (Legally Blonde: The Musical's Christian Borle) have attracted the interest of a troubled producer (Anjelica Houston) and a brilliant/sleazy director (Jack Davenport), as well as a tough lead-actress choice between a stage vet (9 to 5: The Musical's Megan Hilty) and a hungry newbie (American Idol runner-up Katherine McPhee). Despite a few wincingly cheesy original numbers and hard-luck-artist clichés (you can almost hear someone yelling "Fame costs, Leroy!" off-screen), Smash looks like the prestige hit (not gonna say "smash") NBC desperately needs, or at least the surprisingly effective McPhee's ticket out of the ex-Idol ghetto.
---

Delocated
Thursday, Feb. 2 (Adult Swim)
Season Premiere: There are more ridiculous reality shows than the fictional one depicted in Delocated: A family in the Witness Protection Program signs up to star in a reality show, and they have to wear ski masks on-camera to avoid being IDed by the Russian mobsters who are out to kill them—don't think there's not a shouting match going on at TLC over "Why the hell didn't we get this first?!" Besides moving to Thursday nights, where fellow live-action oddities Eagleheart and Childrens Hospital have established an audience of discerning stoners, the other big news for the third season of Delocated is the addition of Janeane Garofalo as the head of the show-within-the-show's TV network. Adult Swim is where it's at—as soon as NBC dumps Community, this is where it really belongs.
Metal Evolution
Saturday, Feb. 4 (VH1 Classic)
Series Finale: It's not just the best heavy-metal documentary series, but one of the best musical overviews ever produced, period. Get the 11-part Metal Evolution on iTunes, headbangers. Now.
The Voice
Sunday, Feb. 5 (NBC)
Season Premiere: What does TV need? More singing shows! The second season of 2011's inexplicable karaoke hit The Voice premieres after Super Bowl 46—that's right, I said 46, not XLVI. We're in the 21st damned century; there is absolutely no reason to use Roman numerals for anything, least of all lending false dignity to a hyper-commercialized cockfight between overpaid steroid cases being watched by millions of fat "athletic supporters" busting out of straining team jerseys while pouring nachos and Bud Light into their gaping faceholes, all breathlessly waiting for some geriatric pop has-beens to crap out a lip-synced medley of fossilized hits at halftime. Oh yeah, back to terrible music: The Voice … it's on after the Super Bowl.

The River
Tuesday, Feb. 7 (ABC)
Series Debut: A supernatural-tinged mystery series about being Lost in the wilderness? This is something entirely new for ABC. Beloved wildlife TV personality Emmet Cole (Bruce Greenwood) goes missing in the Amazon and is presumed deader than Steve Irwin—until his emergency beacon turns on six months later. When Emmet's wife, son and a motley camera crew head into the rainforest to find him, bizarre incidents and gruesome deaths (documented shakily by said camera crew) ensue in Paranormal Activity-like fashion—coincidentally, The River was co-created by Paranormal Activity's Oren Peli. The real selling point: It's only eight episodes long.