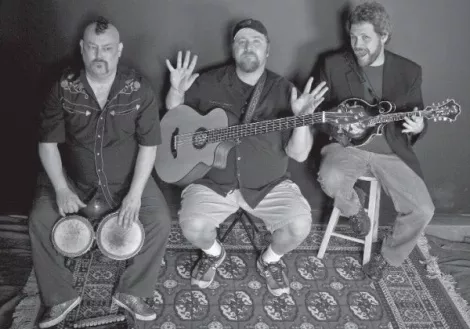 If you've been to Portland, Ore., recently, you may have seen Sneakin' Out performing outside of a gas station, at a bus stop, coffee shop, the park—anywhere the unlikely trio of mandolin, acoustic bass and everything-but-the-kitchen-sink percussion can demonstrate their eclectic sound.

Mike Schmitt, Don Henson and David Gerow first crossed paths in Michigan through a mutual friend and a series of somewhat serendipitous events. Two out of three reunited years later in the Northwest when Gerow called Schmitt out of the blue.
"I got wind that he was coming back, and I barely knew him," says Schmitt. "He said, 'It's Dave. Remember me? I moved to Portland. I don't know anybody. I'm bored and broke. I'm hungry—can I come over?'"
That night, Gerow moved into Schmitt's house—and never left. "We started working on this duo that had, at that time, no name, no repertoire, no nothing," says Schmitt. "Dave didn't even know how to play the bass."
Within a couple of weeks, with four songs under their belt, they took to the streets. Gerow played familiar melodies on mandolin and Mike eked out simple bass lines. "Everyone who walked by would say pretty much the same thing: 'I've never heard anything like this,'" Gerow recalls.

Encouraged by the response, they continued to play. Constantly.
Gerow, in his mid-30s, new to town, an unemployed musician, saw his opportunity to make something of his fledgling music career.

"I've got 25 years experience, and I've got this eager, enthusiastic guy who will just follow me anywhere—it didn't matter what it was for, or how long," Gerow says. "He didn't have a vehicle or any money himself. So he would carry this full-scale upright bass, without a gig-bag, on a bicycle, under his arm and ride 20, 30 blocks to where I said, 'Meet me at 7 o'clock in the morning so we can play these four songs for $2 apiece and a cup of coffee. Maybe.'"

By the time Henson returned to Portland from Michigan two months later, Schmitt and Gerow had worked up a set of 12 songs. It didn't take long before those songs inspired Sneakin' Out to become a bona fide band.
On the morning of their first gig as a trio, Gerow suggested they play an improv version of Pink Floyd's "Money." The venue owner grabbed a cheap Easter basket from a nearby shelf filled with miscellaneous percussion instruments—claves, maracas, a tiny tambourine and random toys. He handed it to Henson and said, "Hey, you might as well join in." Henson sat on the curb and dug through the basket. He pulled out a couple of items and, with zero preparation, launched into the song's familiar cash-register intro.

"I'm not sure what he did, between the shakers and the tambourine and whatever he had. There was a service bell. With all these things he just came up with the intro," Gerow says. "And everybody knew just instantly exactly what it was, and even the look on Don's face was, 'What the hell is going on?' Mike came in with the bass line and I came in with my part and that was the first song that we ever all three played together. It was so serendipitous. And from that point on, we have been pedal to the metal, nonstop, in pursuit of that moment."

SNEAKIN' OUT


Urban Lounge
241 S. 500 East
Saturday, May 16
10 p.m.