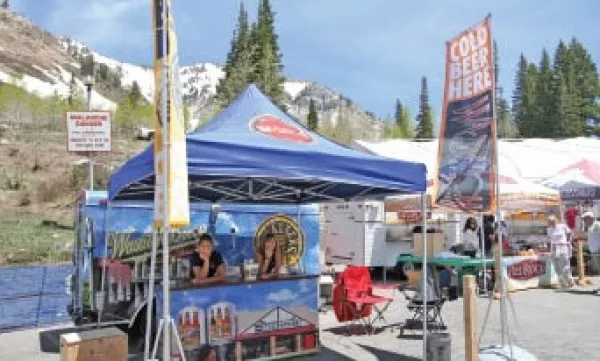 Looking for something unique to get dear old dad this Father's Day? Hint: He doesn't need another necktie. How about a trip up to scenic Snowbird Ski & Summer Resort for the fourth-annual Brewfest instead? On Father's Day weekend, June 16 to 17, Brewfest returns to Snowbird with an array of beer-flavored events, tastings and activities, not to mention Snowbird's stunning alpine views.
Snowbird's Brewfest takes place on Saturday and Sunday from noon to 7 p.m., and will feature 10 local breweries offering samples of their suds. Each 3-ounce sample of 3.2 beer is $1, but beer over 3.2 may cost more. Breweries participating in Brewfest include Bohemian, Red Rock Brewery, Uinta, Hoppers, Ruby River, Moab Brewing, Wasatch, Squatters, Roosters and Epic. Brewfest will take place on the Plaza Deck and the Upper Circle at Snowbird Center. Admission is free.
On Saturday, Snowbird will provide a selection of food stations, and on Sunday, for Father's Day, a celebratory barbecue will take place from 11 a.m. to 7 p.m. on the Plaza Deck. The cost for the barbecue is $18.95 for adults and $10.95 for kids age 6 to 12; children 5 and under eat free. Dad's Day barbecue menu options include Southern-style baby back ribs, ginger-and-honey-glazed salmon, corn on the cob, minted cut watermelon and more. In addition, each barbecue ticket includes a free Aerial Tram ride.
New to this year's Brewfest is a Brewer Dinner, where brewers and other representatives from local breweries will assist with food and beer pairings and be on hand to discuss their beers, the art of brewing and more. Along with talented local brewers, the X96 Radio From Hell crew—Kerry Jackson, Bill Allred and Gina Barberi—will also be in attendance and mingling with guests.
"The Brewer Dinner is a great opportunity to socialize with other beer enthusiasts and meet the Radio from Hell crew and some of the best brewers in the state," says Bret Johnson, Snowbird's director of food and beverage.
In consultation with brewers, Snowbird chefs will create "brew-inspired food" for the Brewer Dinner, where dishes will be paired with beer from Ruby River, Hoppers, Uinta, Epic, Wasatch, Squatters and Bohemian breweries. The buffet-style dinner will be held on the Atrium patio in Snowbird's Cliff Lodge on Saturday evening, from 6 to 10 p.m. Dinner and beer costs $49 per person, or you can enjoy the dinner and a night's stay at The Cliff Lodge for $99 per person. Each Brewer Dinner attendee will also receive a Snowbird Aerial Tram foot-passenger ticket and a commemorative Brewfest mug.
On both days of Brewfest, food and drink will be accompanied by live music from noon to 7 p.m., featuring the sounds of Folk Hogan, AM Bump Trio, Bastard Redheads, Max Pain & the Groovies, Swagger and Marinade. In addition, Snowbird summer activities will be in operation, including the Aerial Tram, Alpine Slide, Mountain Flyer, bungee trampolines, a ropes course, climbing wall, Air Jumper, mechanical bull and more. Snowbird is also offering food and drink specials in The Aerie: $3 draft beers all day and half-price appetizers from 5 to 6 p.m. daily. On Sundays, The Aerie sushi bar offers $3 hot sake, $4 hot purple haze sake, $5 tempura roll of the day and $6 ceviche from 5 to 10 p.m.