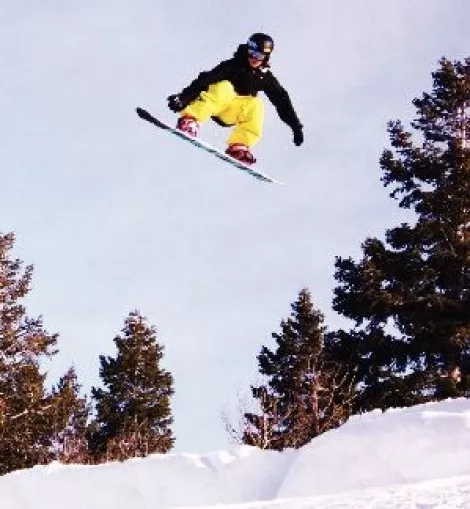 How's this for a dream come true for snowboarders: You (or your kid) gets accepted to Team Utah. As a team member, there's personalized coaching for $10 an hour, six hours a day, six days a week—you choose the days and the hours. You have a team room to hang out in, where you (or your sons or daughters) can play video games with your teammates and get expert video analysis of your own runs in the park or halfpipe. You can also go on group trips to other resorts for a fraction of what it would cost you on your own. You can learn filming and how to get a job in the snowboard industry, at no extra charge.
That's Team Utah, a new statewide, nonprofit organization just established at five resorts: Park City, Snowbird, Sundance, Brighton and The Canyons. Riders can choose any resort at which to train.
Park City head coach Jacob Levine says, "We have the goal of making high-level snowboard training accessible to Utah residents. There will definitely be future Olympians from Team Utah."
The team begins where resort instruction ends. "The top level of a lesson you can take from a snowboard instructor is just below our lowest level of development coaching for our athletes," Levine says. In other words, if you're past the intermediate level of snowboarding, you may be ready for Team Utah.
At the very least, you'll get a free hour with one of the coaches. To sign up, first go to TeamUtah.org, and learn about the team. Then call 888-887-3282, where you can choose your preferred resort. You'll be put through to the head coach at that resort— choose Park City, for example, and you'll get Levine on the phone. Then you schedule an assessment with one of the coaches, who will ride with you for an hour. Levine says that having a passion for the sport and a desire to take it to the next level—whatever that level may be—is as important as ability.
Because the program is so new, there are currently fewer than 50 total riders at all the resorts—and 10 coaches. Every rider's coaching is developed on an individual basis. If, for example, you want halfpipe or park training, your personal coach will develop a training program that keeps you moving to a higher level of excellence, and work with you to achieve it. You have chances to compete in contests, though competition is not required. But you get the same level of coaching as, say, Shaun White got as he was developing as an athlete.
Qualified riders who join for the season (Dec. 1 to March 31) sign a release and then pay $10 an hour for whatever coaching they choose. Those fees include insurance. Best of all, sometimes you get a private session because none of your teammates show up for those hours. But if you want a private session with a coach, that's only $30—much less than a group snowboard lesson at most resorts.
Team Utah helps their athletes become sponsored and also has a program called "Path To Pro." Levine says, "If it's your dream to be involved in the snowboard industry, there's a lot of different ways to do it. So, part of our training is professional and character building. When it's time for one of our riders to be exposed to the industry, we help make those initial contacts. These days, you need to be able to offer companies something besides just being a good snowboarder. Some of our athletes are doing internships with the park crew, or learning about filming, or being a tech rep."
It's like being on a feeder team for the U.S. Snowboard Team. Besides the hard work, it's about the most fun you can have with your board on.