Page 3 of 3
So You Kind of Hate Doing The News …
Bipolar disorder and anxiety disorder bring separate challenges to my job, but neither seems advantageous.
Being bipolar, the biggest obstacle is perhaps more for my co-workers, who don't know which distinct variety of Ryan Cunningham they may be getting on any given day—or hour. At one point during the day, I could be incredibly cheerful and energetic, and I'll hold conversations until no one is talking back. But maybe a few hours later, I may be quick to snap at everyone or paranoid about the intentions of my colleagues. Sometimes I become completely sapped of energy, and I conserve to the point of simply performing the minimal requirements of my job.
While bipolar disorder feels like something that would affect the people around me more, anxiety disorder seems more like an internal nuisance. When I'm at the office, it can creep up into my limbs and try to trap my heart, and I have to get up and pace around to shake it off.
The hardest part of my job, though, is also the most important part: human interaction. A reporter has to talk to a lot of humans. And there are times when those people are reluctant to talk, and they don't care how hard it was for me to work up the courage to call them.
The legislative session is a different beast of a journalistic beat, especially for someone who mentally and physically falls apart outside of his own comfort zone. Over the course of the 2014 session, I had a pretty bad cold. I slept like an elderly man, and I ate so many grilled-cheese sandwiches that I started to turn into one.
One day, feeling particularly low, irritable and just flat-out exhausted, I snapped.
I came into the KCPW studio to pick up some equipment before heading to the Capitol, and the first person I saw was our station's CEO. He complimented my appearance, as I was wearing a suit and tie.
It was a nice thing to do. But my response was, "OK! I have to dress nice for the Capitol! Are we over it?!"
I apologized almost immediately, and our news director came over to me to ask if anything was wrong. I knew what was wrong. I was feeling terrible all over. I was falling into a depressive state, and my nerves were too weak to deal with just about anything outside of my job.
Instead, with tears welling in my eyes, I told my news director I was going through something "personal," and he just needed to be patient with me. He obliged.
The last day of the legislative session was capped off by an interview with Gov. Gary Herbert.
I couldn't do that interview. It would've been physically impossible for me to sit across from Gov. Herbert, ask him the questions he deserves to be asked, and appear to be a stable human being. All I could think about was projectile-vomiting grilled-cheese sandwiches all over the governor of Utah for 12 uninterrupted minutes.
But against all odds, I did the interview.
In an attempt to move things along, the interviews were conducted by pairs of reporters. I was paired up with Michelle Price of the Associated Press. While awaiting our golden moment with Utah's main man, Michelle admitted that she was also nervous, and that when she had to do this same interview in 2013, she had a bad case of dry mouth. Just that simple admission put me at a sub-nauseous level of ease.
The other thing that saved me: Klonopin. That's right. I interviewed the governor under the influence of a tranquilizer.
I used to take Klonopin with regularity, but three years ago, I began abusing it with alcohol. Needless to say, the drug lost its potency, and I lost the confidence in myself to use it responsibly. I went cold turkey, and I never used it again.
Never, that is, until about 45 minutes before my chat with Gov. Herbert. And, thank goodness, it worked like a charm. With Klonopin, all physical signs of my anxiety—the trembling, the twitching, the shaky voice, the shortness of breath—went away. I was still anxious, but the anxiety didn't take control of my body.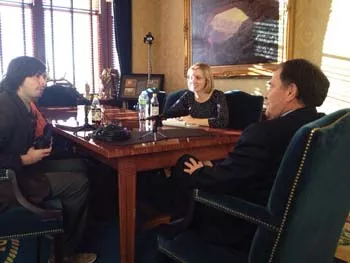 So You Think You Know Who I Am…
Since I started working on this piece, a lot of people have lauded me for having the courage to tell my story. I'm never good with compliments, but I'm always appreciative regardless. Still, I have to admit that I don't feel courageous. I'm rather audaciously presuming that my life story will be interesting to everyone, and that somehow what I do on a daily basis warrants front-page attention on a major local newspaper. That doesn't sound like courage to me.
But how about this for courage: How many people do you know for a fact fight mental illness at your workplace? If you're struggling to think of anyone, then you're either self-employed, or you live in a culture that still isn't totally comfortable with acknowledging one of the most debilitating sets of ailments imaginable. Because here's the simple truth: There's next to no chance that you won't interact with someone touched by mental illness today.
Think about that the next time you leave your house. Think about that when you go to the grocery store and someone gives you a dirty look in the cereal aisle. Think about all the times when you interact with another human being, and you're perplexed by someone's rudeness or despondence or uncomfortable elation.
Understanding mental illness is not about saying the right things or having the most progressive, enlightened perspective informed by a cutting-edge blog. Understanding mental illness is about the most basic principle of human dignity: kindness. Be kind, assume nothing and know that the guy you sit next to at the office might be trying to decide whether to answer all of his e-mails or go cry in the bathroom. Your own brother or sister or mother or father could have self-inflicted scars that they're hiding, even from the people that would love them no matter what. Anyone you bump into on the street could have just conducted a failed suicide attempt—an attempt they'll never tell anyone about.
And a public-radio reporter, interviewing you for one of his mundane daily reports, could have been very close to taking his own life a few years ago.
My name's Ryan. It's nice to meet you.
May is mental-health awareness month. Visit the local chapter of the National Alliance on Mental Illness at NAMIUt.org for information on special events and classes.