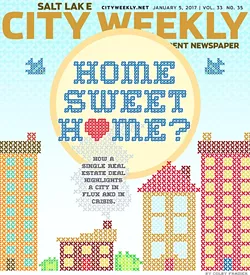 Cover, Jan. 5, "Home Sweet Home?
"The rents on that place are waaaaaaay below market value. Very nice that the previous owners were gracious, but you're insane if you expect that kind of charity to last forever.
Mike Glenn
Via Facebook
Why do people think that they should be able to live in nice areas for cheap when everyone else is having to pay fair market value? If you want to live cheap, then move to cheap areas.
Robert "Bob" Smith
Via Facebook
Build a homeless shelter next to it.
Chelc Dizzle
Via Facebook
Seriously, after paying close to $500 in application fees—only two of which were refunded—and no room for my family and pets, we were nearly homeless. [I'm a] working professional [with] nine years on the job, bad credit with student loans, and I couldn't qualify for a loan. Imagine now lower-income families, students, etc.
@kirstie_booper
Via Instagram
I love this story. I actually lived in the SULA—apartment 62A to be exact—from 1976-1978. It was my first apartment, I was a University of Utah student and I loved the building for all the reasons Colby Frazier and the other tenants cited. Plus, the Third Avenue bus line straight to the U campus and regular takeout Chinese food from the Pagoda. My memory of the owners/landlords has faded, but given the timeline Colby provided, I realized it had to have been Dick and Jean Raybould. Like the tenants interviewed in the story, I recall a neat and well-maintained building with the added benefit of great neighbors.
New owners, higher rents—this made me sad. Thanks for the dip into nostalgia and some great memories, though. Nice work, Colby.
Holly Mullen
Via cityweekly.net
News, Jan. 5, "Biskupski: The First Year"
Biskupski has my vote. I think she is looking in the long-term and will leave a lasting legacy on SLC.
Shaun Bowen
Via Facebook
No regrets here. Still glad I voted for her. Expecting great things from her in 2017.
N. Shane Cutler
Via Facebook
She has proven that on the homeless shelters issue she can lie to the public and make backroom deals with the best of them.
Bob Shultz
Via Facebook
Her firing of the director of public works has gone from a bad move to a terrible move. Anybody happy or satisfied with the condition of the streets, sidewalks and parking in downtown SLC, the Aves, 9th & 9th (or anywhere else in the city) since snow began falling on Christmas Eve?
Bob Benson
Via Facebook
Opinion, Jan. 5, "Gone to Pot"
I applaud Dr. Shiozawa for his effort to provide relief alongside research. But the number of patients that would be in the study group may not provide the numbers that researchers are looking for, unless the research were to be greatly expanded. In addition, Dr. Shiozawa's bill, like several others, was turned down for support by the Health and Human Services Committee in the Utah House.

Sadly, his bill may be trampled by a bill being offered by the chair of that committee, Brad Daw. Daw's bill is a poorly written "vendor bill," creating a position of "Cannabis Payment Provider" for a lucky company that would be the sole processor of any transactions if a Utah cannabis program were to ever be created. Oddly enough, there happens to be a former state representative that works for such a company.
The same payment processing system, word for word, is also within the bill presented by Sen. Evan Vickers, who happens to be a pharmacist in southern Utah. But in addition to a payment processor clause, Vickers has created a job niche for his fellow pharmacists, by requiring a pharmacist be employed on staff for every dispensary.
A combination of Shiozawa's and Gage Froerer's bill may hold hope for suffering patients, but I doubt it has little chance of passing.
It may take years to get past the blinders being worn by many of our legislators. The studies are out there; spending 10 minutes with Google will prove that. In the meantime, patients are still prevented from accessing a viable option for numerous ailments—from cancer to epilepsy.
Doug Rice
Via Facebook
In Oregon, it's legal. I don't feel like the usage has increased. I don't run out to my local dispensary and purchase it, just as I don't buy cigarettes. When I choose to buy alcohol, I choose to be responsible. I do love that CBD oil is available to help with anxiety and autism as well as other illnesses. The legal stuff is strictly monitored and taxed like crazy, yet still affordable. Cheaper than buying it from a dealer (sources say).
Annie Robertson
Via Facebook
Stan Rosenzweig asks, "What's the worst that could happen if Utah legalized marijuana?"Let me suggest an answer: Lots of civil and religious authorities who've been listing the evils of marijuana for decades—how evil and unhealthy and immoral it is, and so on—could be shown to be very wrong.
I've never heard of any moralist—particularly a religious one—who's anything other than extremely uncomfortable at being shown to be wrong.
Howard Karten,
Sandy
Schools could be funded by taxing weed instead of property tax.
Ryan West
Via Facebook
We'd have too much tax revenue. It would suck bad.
Mike Gromer
Via Facebook
We can't even get liquor to work in a normal fashion. Utah liquor laws are ludicrous and embarrassing.
@MerileeParis
Via Twitter
Let's start with making liquor available to us as if we are adults.
Scott Frandsen
Via Facebook
Yes, commenters, the alcohol content of your beverage is more important than slowing my genetic eye disease that leads to blindness, to help chemo patients vomit their guts up less, and to medicate the various terrible anxiety disorders, conditions and diseases people suffer from.
Zachary Olson
Via Facebook
Blog, Jan. 11, "Despite opposition cries, city is firm on Simpson Ave. shelter"
The mayor, city council and selection committee should have definitely asked for public input before locking in the sites. That being said, I think regardless of where the sites are there will always be a group of people who aren't happy with it.
I agree with the mayor that there needs to be different shelters for different subsets of the homeless population (i.e. women, families, men, etc.). From what I understand, Simpson Ave. may become the site for the women and children's shelter.
I have lived downtown in District 4, just a few blocks from The Road Home, for the last two and a half years with my husband and two kids. We frequently walk around the area and ride Trax with many of the city's homeless populations without issue. The reason our homeless population is so visible downtown is because our shelter is way over burdened and can't absorb the 1200-plus homeless population during the day. It is essential that we have shelters that house smaller populations and provide services not just at night but in the daytime hours, which is what these new shelters/resource shelters will provide.
Simpson Ave. will simply not become Rio Grande Street or 500 West. It will look more like the YWCA or youth shelter on 400 West and 900 South.
The mayor should apologize for not being inclusive in the decision making process. But coming from someone who lives by the current homeless shelter, I can tell you it is not as bad or "scary" as it sounds.
Amanda Stewart
Via Facebook
There goes our neighborhood. Biskupski has turned her back on not only the Democratic process she's sworn to uphold, but also many of her young liberal constituents who voted her into that position. Shameful.
Lana Linhart
Via Facebook
Wake up, people, and have some compassion. [Residents] don't want [homeless resource centers] in their neighborhoods, so they blame the Mayor. Sorry-ass people.
Earth Storm Jacobs
Via Facebook
You would never understand unless this is happening to you and your neighborhood. Has nothing to do with compassion.
Monte David
Via Facebook
I am also firm in supporting Mayor Biskupski and her team on their choice. I was at the gathering at South Salt Lake Community College last night, and I suggested that if they want to change the location to go through the Legislation avenue.
Carl E. Spitzmacher
Via Facebook