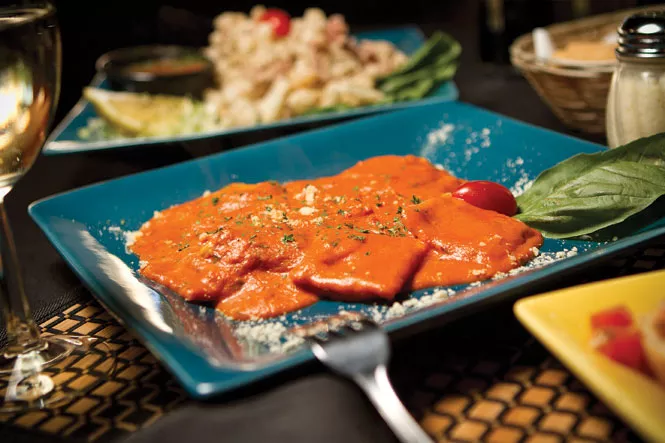 If you've ever dined at Amici restaurant in Cottonwood Heights, with its roughly 40-person capacity, you know that it can be a challenge to get a seat on a busy night. Well, that's certainly not the case at the sprawling Sole Mio restaurant in Sandy, which could probably contain and feed the entire University of Utah football squad, plus their friends, families and fans.
Former Amici partner "Chef Franco" was looking for a bit more room in which to ply his trade, and so he opened Sole Mio in the Willow Creek Shopping Plaza location that was formerly home to the Fox Hole II. Sole Mio is not an intimate space—and yet, the service is so friendly and inviting that, like at Amici, you feel like you've joined an Italian family for dinner.
It's probably not politically correct, but I noticed lots of people on the Internet affectionately referring to the cuisine at Sole Mio as "goomba" food. And, I think the extended family that runs and owns the restaurant would probably be OK with that description. The food isn't pretentious or precious, but the dishes are generous and the prices are modest. If you're in the mood for hearty Sicilian fare, in a place where Grandma is in the kitchen and the grandkids are waiting on tables, Sole Mio is for you.
You won't go home hungry or ruin your budget at Sole Mio, where the most expensive menu item tops out at $17.95—and that's for bistecca alla campagnola, a grilled New York steak on an arugula bed, topped with shaved Parmesan and balsamic vinegar, with veggies on the side.
The arancini ($5.95) are hard to resist as a meal starter. Unlike the more standard Italian "rice balls" that are the size of tangerines, at Sole Mio the arancini is a single softball-size sphere with rice, peas, mozzarella and meaty Bolognese sauce, all rolled into a big ball and deep-fried in oil. As much as I enjoyed the arancini, I did find it a little dry, and would have liked some sauce alongside for dipping. It would be hard to improve, however, on the calamari e gamberi fritti ($9.95)—a big plate of fried squid and small shrimp, with breading so light and airy it's nearly translucent, but oh-so tasty, served with chopped greens and marinara sauce on the side. The most popular appetizer, of course, is mozzarella in carrozza ($7.95). Hey, who doesn't love deep-fried cheese?
At any given time, it seems like there are about a dozen of Chef Franco's family members working at Sole Mio. There's Giuseppe, his son, waiting on tables, and Franco's wife helping out in the dining room. Another son or brother (I forget which) is making pizzas; the son of partner Ali is a super-friendly server; "honorary cousin" Kristy serves and helps us to sort out the genealogical underpinnings of Sole Mio. Since it's a mostly Italian affair, it always seems like either a fight or a feast could break out at any minute. It's all part of the charm of dining in this Sicilian restaurant: It's sort of dinner theater, if you will.
The soups (zuppa) are hearty, with offerings like bean soup (fagioli) with pancetta, celery, potatoes, carrots, tomato and pasta ($7.95); and rib-sticking zuppa alla Siciliana, a hefty meatball soup with potatoes, basil and tomatoes ($8.95). Seafood lovers will appreciate the plentiful combination of mussels, clams, shrimp and squid in the zuppa marinara ($11.95).
The pastas are so generously portioned that I recommend sharing them. We especially enjoyed the ravioli spinaci ($13.95), which is a plate of 10 or so large house-made ravioli stuffed with a puree of ricotta, spinach and Parmesan, and served in a silky, rich tomato-cream sauce. I ordered spaghetti alla carbonara ($11.95), made with pancetta, eggs, Parmesan and cream, and could barely put a dent in the piled-high plate of spaghetti, the leftovers of which made for a decadent midnight snack.
A seafood risotto special ($15.95) one evening was a bit odd. First, it wasn't made with high-starch, short-grain Arborio rice, which is pretty much the definition of risotto. And second, it wasn't creamy like most risotto, but more like a rice-and-seafood jambalaya, texture-wise. That said, it was still a delicious mélange of scallops, shrimp, squid and salmon cooked up with fragrant, saffron-infused rice. I'm just not sure I'd call it risotto.
There's a small, adequate wine selection at Sole Mio, which includes Bibi Graetz Casamatta Morgante Nero D'Avola and Donnafugata white wine. However, if you want to enjoy a Super Tuscan or nice bottle of Gavi with your meal, you'd better bring your own.
When I spotted spiedini on the menu, I was sold. It's not something you see in Utah's Italian restaurants much. The spiedini di carne ($14.95) was four rolls of veal, breaded and stuffed with pine nuts, raisins, breadcrumbs, ham and cheese, then deep-fried and served on a mountain of fresh greens. As with the arancini, I loved the flavor and texture of the spiedini, but wish there had been a smidgeon of sauce alongside for dipping.
Don't overlook the pizzas at Sole Mio, which range from an excellent Margherita ($9.95) to Giuseppe's favorite, the Siciliana ($12.95) with sausage, peppers, mozzarella, eggplant, onions and basil. And when your server asks if you've saved room for dessert, answer with a resounding "Yes!" and order the incomparable housemade tiramisu. You're welcome.