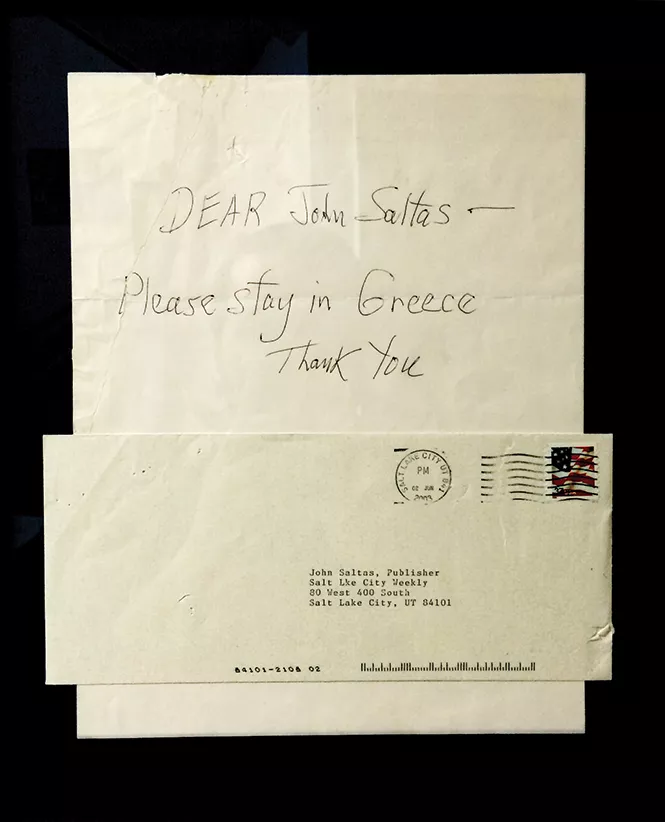 One of the greatest letters I ever got from a reader only had nine words. Each was hand-written in the scratchy, wobbly penmanship of an elderly or very young person. I can't say if the sender was indeed elderly or young, or if someone were trying to disguise the text to look as if that were so. There was no return address on the envelope that contained the letter and what was addressed to me was typewritten. It was so James Bondish, I had the letter and the envelope framed and for the past dozen years or so, hanging right at my office door entry, it's greeted every visitor to my office.
The letter reads: "Dear John Saltas. Please stay in Greece. Thank you."
I had been in Greece for several weeks and wrote some columns from there. It was no surprise, really. Greeks have been told by their loving Utah neighbors since the day they arrived to go back home. Even 100 years after my grandparents "got off the boat," some Utahns just can't accept that the state is better off for them and their thousands of fellow Greek immigrants who helped make it so.
It's better off, too, because the Italians came (Tony and Joe Caputo—one a deli-Jedi master, the other, his cousin, a decorated Vietnam Marine and occasional softball player). Or because the Slavs came (Croatian Ron Yengich, Utah's best known criminal-defense attorney, and Serb Mike Dmitrich, long a stalwart on Capitol Hill—a Carbon County icon). Or the Japanese (state Rep. Curt Oda, whom I seldom agree with, or Wat Misaka, member of the University of Utah's 1947 NIT championship team and uncle of the graceful dancer, Tina). Or the Mexicans (the Cardenas family of Red Iguana fame, the three Bingham boys who died in Vietnam—Jimmy Martinez, Tommy Gonzales, and LeRoy Tafoya—plus Utah Reps. Rebecca Chavez-Houck and Mark Archuleta Wheatley).
And the Basques. The Germans. The Austrians. The Scandinavians. The Polynesians. The Vietnamese. The Chinese. The Somalis. The Iranians. The Lebanese (Raffi—yea, Cedars of Lebanon). And all the rest—too many to properly credit.
Yes, Utah is simply a better fabric because of all of them, all of us. I'm reminded of this today, thanks to a particularly orthogonal piece of information. The day's top news story is that Utah State Sen. Mark Madsen has announced he is leaving Utah after this legislative session ends. Madsen sponsored a medical-marijuana bill that was summarily executed yesterday by the House Health and Human Services Committee that is comprised of members so heartless they are said to be the echo inside the Tin Man of Oz' empty chest. And echo they do. When their master said to vote no, they did so. We can be gamey here and pretend they are independent thinkers, but they are not. We can also be coy and pretend we don't know who their master is, but we will not.
Madsen's bill died in committee because the LDS Church wanted it to die in committee. Everyone knows that from the wheezing, crippled and pain-ridden people who have found relief by ingesting—most often illegally, thank you very much—medical-marijuana products, or even smoking very illegally the weed itself, all the way down to the committee members themselves who voted against the public will, cowards that they be: Stewart Barlow, Melvin Brown, Michael Kennedy, Kay McIff, Paul Ray, Edward Redd, Robert Spendlove and Norman Thurston. It should not surprise you that each is a "let them die and let God sort it out" Republican.
Voting in favor of the bill were the committee's only two Democrats, Rebecca Chavez-Houck and Sandra Hollins. They were joined by the two bravest men in Utah today, Craig Hall and Raymond Ward, both Republicans, who voted in favor of doing the honorable thing, voted for their ailing constituents and voted to at least give medical marijuana the same regard as Utah's burgeoning fake health juice and supplement business. To be fair to the cowardly eight, let's just suppose that they know something we don't, like, they are just biding time to get all their stock shell companies in order so that when medical marijuana does become legal, they will properly benefit financially. They will say the feds are in the way. Don't believe it. They are in the way.
So, what does this have to do with Madsen moving? This: Utah is indeed much better off because of the many immigrants who came here and helped build our state. But it could have been better. Many thousands of others left long before it came to this—sick of kowtowing to the local culture, tired of the smirks, the remarks, the phony and smug religiosity of too many locals. They moved to make better lives for themselves in cities as disparate as Modesto, where many Utah Greeks would build great farms and vineyards; to Chicago, where books would be written by Harry Mark Petrakis; to Washington, D.C., where members of the Manatos and Korologos families became national political game changers.
When Madsen leaves, Utah will be worse off. Utah needs people like Madsen to stay, not leave. He's embittered and to that, Utahns who have been excluded or shunned can totally relate—because for the first time in his life, he wears their shoes. I may not even agree with Madsen—who historically is no stranger to self-righteousness—I just know he fought a gallant fight. One of the most personal ever witnessed on Capitol Hill. He fought the machine. The machine doesn't like that. Join the club.
Maybe he'll get rich in South American or wherever starting his very own marijuana farm and, if he does, more power to him. He'll taste his first bowl of outsider stew and, maybe one day, he'll get a letter that says, "Dear Mark Madsen. Please stay in Uruguay. Thank you." CW
Send comments to john@cityweekly.net
Editor's note: The story has been updated from its original version to note that dancer Tina Masaka is not the daughter of Wat Masaka, but rather his niece.