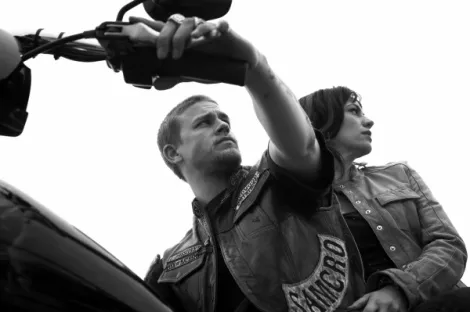 Sons of Anarchy
Tuesday, Sept. 6 (FX)
Season Premiere: Fourteen months after most of the SAMCRO biker gang went to prison last season, their little town of Charming has been infiltrated by a tougher local police regime and, even worse, impending condo and strip-mall gentrification. Of course, this doesn't sit well with president Clay (Ron Perlman) and the Sons, fresh out of orange jumpsuits and ready to rage against the new machine—except for VP Jax (Charlie Hunnam). Now that he's the father of two and reunited with Tara (Maggie Siff), Jax is reverting back to his Season 1 mindset of "We gotta get the hell out of this town/club/lifestyle." This season's initially unimpressive Designated Villain aside (Ray McKinnon as an ADA who seems to be auditioning for the Hans Gruber role in a musical-theater adaptation of Die Hard), Sons of Anarchy is as brutal as ever; the body count in the season premiere is so high, you have to wonder how many they'll stack up for the finale. [See the Sons of Anarchy season premiere on the big screen at Brewvies, 677 S. 200 West, on Tuesday, Sept. 6 at 8 p.m., free]

Rescue Me
Wednesday, Sept. 7 (FX)
Series Finale: Even the though the last episode of firefighter dramedy Rescue Me contains two of The Only TV Column That Matters™'s most despised plot clichés—the fake-out "dream" sequence and the conveniently timed childbirth—it's still a satisfying sendoff, even if Denis Leary didn't land the finale on Sept. 11. Not everybody gets out alive, not every story thread is tied up, and The End seems a little upbeat for a group of hyper-dysfunctional characters who've been clawing their way through hell for seven years. So, how about an Emmy for Sheila (Callie Thorne) and/or John Scurti (Lou), now?

Ringer
Tuesday, Sept. 13 (The CW)
Series Debut: Sarah Michelle Gellar (Buffy the Vampire Slayer) returns to TV as a stripper/junkie on the lam from a Wyoming(?) crime lord—wait, there's more! When her estranged New York socialite twin sister (oh, the awkward split-screen acting) disappears after an apparent suicide, she assumes her identity and soon learns that city sis has been living in a 1980s General Hospital subplot of lies, affairs and uptight British husbands (Ioan Gruffudd). But! Is stripper sister actually being set up by socialite sister to take the fall for something even more sinister? And enough with all the mirrors—we get it. Double-life intrigue didn't work out for last year's spectacularly failed Lone Star, but Ringer has a certain trashy/soapy appeal that will probably carry it beyond two episodes, even though Gellar is 10 years past The CW's demographic (and 15 past ABC Family's, where this show really belongs).
Up All Night, Free Agents
Wednesday, Sept. 14 (NBC)
Series Debuts: How can you go wrong with a comedy (Up All Night) starring Will Arnett, Christina Applegate and Maya Rudolph, produced by the brains behind 30 Rock? Base it around a needy baby. Likewise, how can you miss with a comedy (Free Agents) starring Hank Azaria, Katherine Hahn and Natasha Leggero? Base it around needy PR reps. Proceed with caution.



H8R
Wednesday, Sept. 14 (The CW)
Series Debut: Preceding the season premiere of America's Next Top Model, worthless reality trash like Snooki and Kim Kardashian get to confront their most vocal H8Rs (haters—get it?) and ask, "Yo, why you calling me worthless reality trash?" Will the nadirs and the H8Rs hug it out, or slug it out? Exactly: meh. Sadly, I'm sure this will be canceled long before they get to the Episode 8 shouting match I taped with the Cake Boss. Hate that guy …