Ray Howze
Daniel Mattis, 85, escaped the Nazis' march on Western Europe when he was a young boy thanks to Portuguese consul Aristides de Sousa Mendes, who signed thousands of visas for fleeing Jews.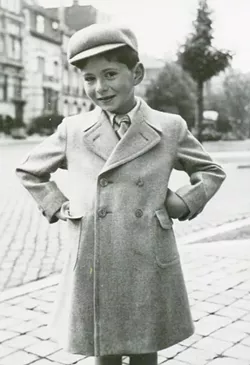 Daniel Mattis knew why he and his family were fleeing Europe. Adolf Hitler and his Nazi regime were on their tail.
For decades, though, he didn't quite know exactly how they escaped.
It wasn't until Mattis attended a Holocaust remembrance event at the Salt Palace in the late 1990s that he finally heard the man's name who gave his family a new chance at life:
Aristides de Sousa Mendes.
"[My wife] says to me, 'Now you have to identify yourself,'" Mattis recalls, tearing up slightly. "But I couldn't. I lost my voice."
Mattis, now 85, and his wife, Noemi, 81, were at an event for international consuls who helped rescue Jews during the Holocaust. One, Chiune Sugihara, was a Japanese government official who served as vice consul for the Japanese Empire in Lithuania. Sugihara issued thousands of transit visas to help fleeing Jews during World War II.
Then, Mattis heard the story behind Sousa Mendes, piquing his interest.
Sousa Mendes' story—for Mattis—was only just getting started.

Sousa Mendes' beginnings
In 1940, Mattis, who was just 7 years old at the time, was led by his savvy father in his family's escape from Europe.
"The Germans bombed Belgium that morning and by noon we were on the train to Paris," Mattis says.
His father had an idea of what they were up against and had already been making plans how they would flee.
The family, who then went by the last name Matuzewitz, made their way to Bordeaux, France, where they awaited their next move.
At the same time, Sousa Mendes, a consul with Portugal, was also stationed in Bordeaux and crossed paths with a rabbi named Chaim Kruger. He offered the rabbi a visa to cross Spain and get to Portugal. However, the rabbi wouldn't accept the visa unless all of his "brothers and sisters"—those stranded in the streets of Bordeaux—could also secure safe passage, according to Mordecai Paldiel's book The Righteous Among the Nations: Rescuers of Jews During the Holocaust.
This put Sousa Mendes in a moral dilemma. His orders from António de Oliveira Salazar, ruler of Portugal during the war, were to deny visas to fleeing Jews. The country was trying to straddle the neutral line and didn't want to upset Hitler. But Sousa Mendes could see the thousands of refugees that needed help. He mulled it over for days.
Then, on June 17, 1940, Sousa Mendes announced he would issue the visas to everyone and created an assembly line to sign the documents. Mattis' father, who had built the family's wealth as a leather wholesaler, was able to secure the family visas to Brazil through Portugal. As a result, Mattis was able to eventually get to the United States and Salt Lake City where he lives today and spent his career as a professor at the University of Utah.
The number of people Sousa Mendes helped is undetermined, Paldiel says, but is in the thousands with some estimates ranging from 10,000 to as many as 30,000. Sousa Mendes' decision, though, was immeasurable.
"We are told laws have to be obeyed," Paldiel told City Weekly by phone. "You have to obey instructions—if everyone was to make a personal decision on what is right and wrong, you would have chaos.
"But then there are times when you realize when a certain order, a certain instruction, is so inhumane, one is obligated not to follow that instruction because it goes against rules of civilization and humanity."
However, it didn't turn out well for Sousa Mendes' family. For years, he was disowned by Portugal and ended up dying in poverty. It created a significant burden on his children, some who came to the US.
"He never regretted what he did," Paldiel says, who himself was rescued by a Catholic priest. "He felt simply he had to do it as a human being—this is what makes his case different than so many others who also helped Jewish people to escape."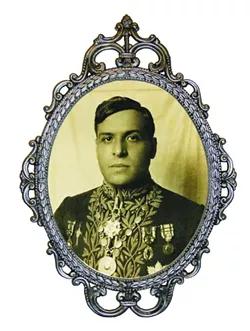 Sousa Mendes Legacy in Utah
Years after Mattis first learned of Sousa Mendes, he turned on the TV at his home, which also had a French satellite. A French movie had already begun, but Mattis soon knew what it was about.
"The movie has started, I don't know the title of the movie, there's nothing," Mattis says. "But the context is so clear—it's the story of Sousa Mendes."
Mattis recorded the film, which he later learned was titled in English as Disobedience, and found out how to get in touch with the producers. There, he learned there was a Sousa Mendes Foundation in France. That started the wheels moving stateside.
Mattis' daughter, Olivia, was working in academic administration at Stony Brook University in New York. He had to share the exciting news with his daughter, who heard of the story while growing up, but says she never understood its magnitude.
"I realized this is about the man who saved my father's life," Olivia Mattis says. "[Dad] forwarded this exchange to me and it was like a ton of bricks—I just started looking around Facebook if there were any [Sousa Mendes] groups, I probably Googled as well to educate myself and pretty soon, I was in touch with all of these grandchildren of Sousa Mendes who were looking for families like mine that had been rescued by him."
Sure enough, Olivia Mattis knew it was time to switch careers. In 2010, she founded the stateside Sousa Mendes Foundation and started compiling the thousands of descendants who were saved by the consul.
Of course, she knew her father living in Utah was one of them, but she didn't know one of Sousa Mendes' grandsons by the same name also lived in the state.
Aristides Mendes, who grew up in New York City, moved to Utah in the 2000s and even met Daniel Mattis with help from Olivia. KSL Channel 5 covered their meeting in 2010.
Eight years later, Olivia Mattis is bringing the foundation back to Utah on Saturday, Jan. 27, International Holocaust Remembrance Day. The foundation will host its world premiere oratorio, Circular 14: The Apotheosis of Aristides, about Sousa Mendes with a children's choir and full orchestra at the Salt Lake Tabernacle. The performance is free, but tickets must be reserved through the LDS church.
Now her life's work, Olivia Mattis says starting the foundation has been more than worth it and hopes people take something positive from the performance.
"One person can make a difference," she says, "a pretty universal difference. [Mendes] had a very small, limited amount of power and he saw he had it and could use it for good.
"Every one of us has the power to make a difference in somebody's life."

What: Circular 14: The Apotheosis of Aristides
When: Saturday, Jan. 27, 7 p.m
Where: The Tabernacle at Temple Square