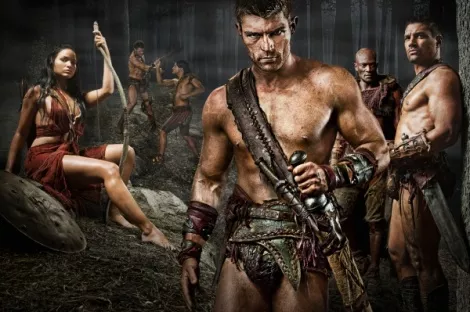 Spartacus: Vengeance
Friday, Jan. 27 (Starz)
Season Premiere: The long, weird trip of Spartacus continues—after one proper season, one slapped-together "prequel" season, one deceased star and The Fate of Starz Original Programming riding on it all, how does Vengeance stack up? New Spartacus Liam McIntyre replicates the late Andy Whitfield's smoldering blankness well enough but, more importantly, Lucy Lawless (whose Lucretia somehow survived the literal bloodbath that closed Season 1) is back, as is the stylized 300-on-a-budget ultraviolence (and ultrasex) that established it as the funniest Starz series since Party Down. Sure, they call it a "historical drama," but Spartacus makes The Tudors look like Downton Abbey (hey, finally worked in a reference).
Chuck
Friday, Jan. 27 (NBC)
Series Finale: It could be argued that Chuck should have ended a season (or two) ago, that the once-charming comedy about a regular nerd (Zachary Levi) who's thrown into the international spy game overnight lost its direction and tension once Chuck hooked up with his handler (Yvonne Strahovski … The Only TV Column That Matters™ will miss you most of all). Or when it became a 45-minute infomercial for Subway. Or when they started trying to make "Jeffster" happen. So many jumped sharks, but the fifth and final season of Chuck has been surprisingly solid, more like a victory lap than a death march, and tonight's "Chuck vs. the Goodbye" is a more satisfying sendoff than most NBC veterans (ahem, Community) have gotten recently.
Swamp Volcano
Saturday, Jan. 28 (Syfy)
Movie: Ever notice that almost every Syfy Saturday disaster movie involves Corporate America's lust for fossil or nuclear energy sources pissing off Mother Nature? You're probably never going to see Solar Panel Tsunami or Attack of the Vegetable-Oil Hippie Vans. In Swamp Volcano (which would be a great name for a stoner-metal band), oil-rig drillers in the Gulf of Mexico accidentally hit an subterranean lava flow and turn Miami into a volcano, wreaking havoc and boiling many a spring-break bikini babe. Naturally, it's up to a model-like scientist (model-like Rachel Hunter) to expose the greed-heads who caused it and save the world, or at least Disney World.
Luck
Sunday, Jan. 29 (HBO)
Series Debut: David Milch has created epic (Deadwood) and epically failed (John From Cincinnati) series for HBO, so there's no reason to believe that his new gambling drama Luck will be anything less than, well, epic. Milch fans also know that he unfolds stories on his own damned timetable—for a show about betting on fast horses, Luck moves as slowly and deliberately as only he could get away with on TV (sorry, it's HBO). Luck also piles on the horse-track minutiae surrounding owners, trainers, jockeys and gamblers at Santa Anita Park without much in the way of explanation of what the hell's going on, but how often did Deadwood spell out Old West politics? You'll figure it out, Milch-heads.

Key & Peele
Tuesday, Jan. 31 (Comedy Central)
Series Debut: The promos are funny, but how does Keegan-Michael Key and Jordan Peele's sketch-comedy show hold up as a 30-minute whole? Better than most of Comedy Central's attempts to fill slots behind hits like Tosh.0 and South Park—anybody remember Chocolate News? Like the underrated Nick Swardson's Pretend Time, Key & Peele takes standard setups and twists them to bizarre extremes; unlike Swardson, Key and Peele effortlessly "slap some black on it" (they're both biracial, actually) better than anyone on Comedy Central since Dave Chappelle. Best of all, after almost a full term, we finally have a decent Obama impression, 'Merica.