It's 11 a.m. on a sunny Thursday morning, hours before Under Current Bar usually opens to customers. Beyoncé's "Run The World (Girls)" is pumping through the speakers, providing a thumping backdrop to the clink of ice sliding into glasses and the spit-fire swoosh-clack swoosh-clack of metal cocktail shakers. Behind the bar, local booze-slingers Arianna Hone (Tinwell) and Joslyn Pust (Zest) are dancing and singing along to Queen Bey while they each assemble four different cocktails simultaneously, a stopwatch tracking every split second. It takes lightning-fast reflexes and serious ambidextrous skills working a shaker in one hand while stirring and pouring drinks with the other.
Standing in as practice "judges," fellow bartenders Kacie Wilks (Bambara) and Anna Thorn (free agent) are cheering them on. Acting as timekeeper, Under Current bartender Jessica Sandberg shouts out, "One minute down!" Hone tosses ice out of two coupe glasses chilling on the bar, slaps metal strainers over two shakers, pours her drinks and throws her hands in the air with a shout of, "Done!" Everyone shouts encouragement to Pust as she finishes her drinks only a few seconds later.
Pust and Hone double-high-five and hug. We all cheer. It's a Valkyrie girl-power moment, for sure.
Kacie Wilks shuffles through a tall stack of flashcards with classic cocktails written on each—like Sidecar, Manhattan, Old Fashioned, Paloma, Ramos Fizz, Last Word, Hemingway Daiquiri—and pulls out four new drink names as Sandberg and Thorn take their places behind the bar for a turn.
"This is way earlier than most of us are usually up, but it's the only time we can coordinate crazy bartender schedules to get together," Sandberg tells me as she takes a generous sip of coffee from her mug, leaving behind a bright pink lip-print on the white rim. "It's like herding cats."
And if you're thinking I'm the lucky duck who gets to sample eight cocktails at a time for quality control, you'd be wrong: the practice bottles all contain water (cue sad trombone), totally free and a more easily cleaned-up liquid than booze. Going on her third year of competing in Speed Rack—an international competition founded, led and supported by female bartenders raising funds to fight breast cancer—Sandberg is the veteran and mentor for the crew gathered to practice today. She shares some competition tips on how to more efficiently set up their behind-bar station—the ubiquitous stainless steel "speed rack" housing a bar's most commonly-used ingredients—to adapt to their next cocktail flight. During competition they'll have just three minutes to set up spirits bottles, mixers, glassware and equipment after learning what four drinks they'll be making. Through round-robin elimination, two women at a time vie for fastest time until eight finalists are chosen to move on to the main stage. Sandberg points out to the crew instances where judges might penalize a bartender's cocktail for a short pour, ingredient error, or not enough time spent shaking or stirring. "You have to shake a 'Last Word' for-fucking-ever," she warns. "If it's short from lack of dilution [the judges] can add up to 20 seconds" to the final scored time.
During Speed Rack competitions, some of the top experts of cocktail world sample each (actual, made with liquor) drink to check for correct ingredients, flavor balance and volume. Participants are expected to know more than 80 cocktail classics, and be ready to create on-the-fly original cocktails in a roulette style based on the judge's specifications.
What started out as a New York-based fundraising event in 2011 by founders Ivy Mix and Lynette Marrero has now expanded into a competition bringing together women in the bar industry from all over the globe. The apocryphal story goes something like this: Bartenders Mix and Marrero were watching the Super Bowl and about gave themselves eyeroll-induced concussions watching commercials featuring bikini-clad women shaking up drinks. They decided to highlight women's skills as respected professionals in the industry, reclaiming the double-entendre of every bar's "speed rack" by embracing female identity and pride in the workplace, while also raising money to fight breast cancer. In the first year, the organization raised $69,000 for breast cancer research, prevention and education. "They raise a shit-ton of money for breast cancer programs," Sandberg says, noting the events now average $100,000 raised annually. Industry sponsors like Jameson Irish whiskey, Altos tequila and Four Roses bourbon cover overhead and contribute funds for travel costs as competitors advance through national and international competition.
Ten of Utah's growing cadre of kickass female bartenders are hoping to compete and/or cheer on their sassy sisterhood at the Speed Rack southwest regional competition on Feb. 18 in Phoenix, smack dab in the middle of breast cancer awareness month and Arizona Cocktail Week. The event selection committee chooses only 22 women out of all applicants from the massive and talented Southwest region: Utah, Nevada, Arizona, Colorado, New Mexico, Oklahoma, Kansas, and part of Texas. In addition to Sandberg, bartenders Carly Bringhurst (White Horse) and Shantelle Ellsworth (Area 51) went to regionals last year. "It would be amazing if we had a bunch of Utah bartenders there again," Sandberg says. She believes SLC bartenders in general have finally been getting much-deserved national attention for their skills. "We want to make sure everyone is as prepared as possible if they get called up to compete," she says.
Of the hundreds of people who attend the regional competition, she anticipates the usual eyebrows-up incredulous response: "They're like, 'What the fuck is going on with all these badasses from Salt Lake City?'"
Badasses like ...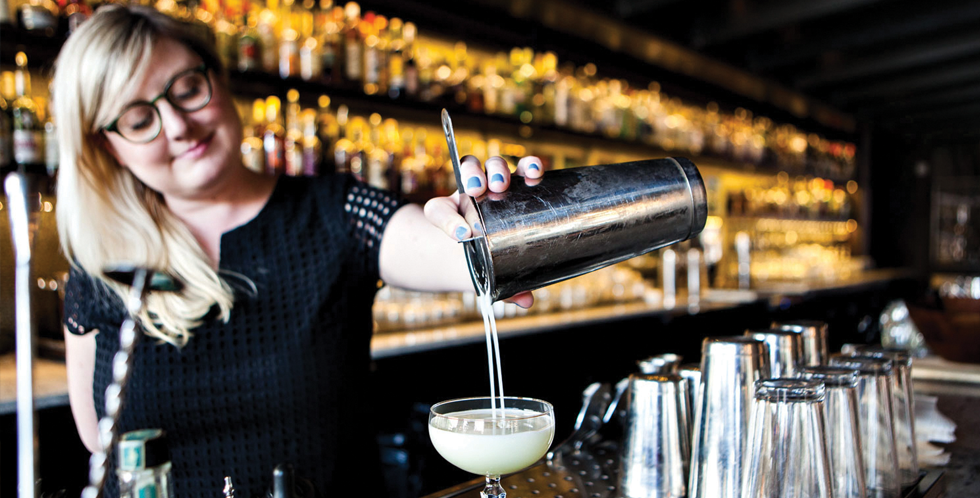 Amy Eldredge
Under Current Bar
Eldredge, Under Current Bar's managing partner, has judged similar competitions and applied to compete at Speed Rack for the first time this year. She points out the framework used at speed cocktail events focuses on quickness and precision and has a practical grounding in a bartender's tool box. It's something she learned early on in her career from her mentor, the late Sasha Petraske of New York's Milk & Honey. "His philosophy is the same model I use to train my bartenders," she says. "They need to be fast and consistent. If a table orders four different cocktails, each of those drinks need to be made at the same time so they all arrive to the customers as fresh and as quickly as possible." According to Sandberg, it's a preparation method that relies upon bartenders' keen memory and organizational skills. "If you're making four cocktails and three of them call for lime juice, you should only pick up lime juice once during the set, she says. "Not three different times." And, if a drink sits too long on the counter while other drinks are being made it "dies," meaning it can go flat, warm or become over-diluted quickly. "It's all about exceptional quality and customer service," Eldredge says. Known nationally as a doyenne of drinks, Eldredge revels in the fun-natured spirit of it all. "Watching all these girls practice together every week has been really inspiring. I love their camaraderie," Eldredge concludes.
Jessica Sandberg
Under Current Bar
During Speed Rack season six last year, Sandberg garnered huge support from Utahns (and more than a few compatriots from neighboring states), to win enough social media votes to grab a wildcard spot and advance to the national competition in New York. She joined 15 other female bartenders who qualified out of hundreds of competitors in the U.S. As part of the competition tour, Sandberg traveled gratis with other finalists to Guadalajara, Mexico, and Dublin, Ireland, courtesy of event sponsors. But more than the world travel and thrill of competition, Sandberg credits the experience with giving her more confidence in her work overall. "The biggest misconception that people have about women bartenders is that we're just doing this to get to somewhere else" or fund college. "This is my career, I love it," she says. "That's not to say that Sandberg's not still intimidated by the level of skill brought to Speed Rack each season. "My first year, I was disappointed in my performance; I wasn't quite sure what to expect," she says. "Last year went much better—that's why I'm working with girls who might go as first-timers this season." It's a mentorship she hopes will give them more confidence when it's their turn to go head-to-head. As for Sandberg? If practice rounds are any indication, she's in top fighting form. During one round, I saw her make a complex four-cocktail set in 56 seconds flat. BOOM.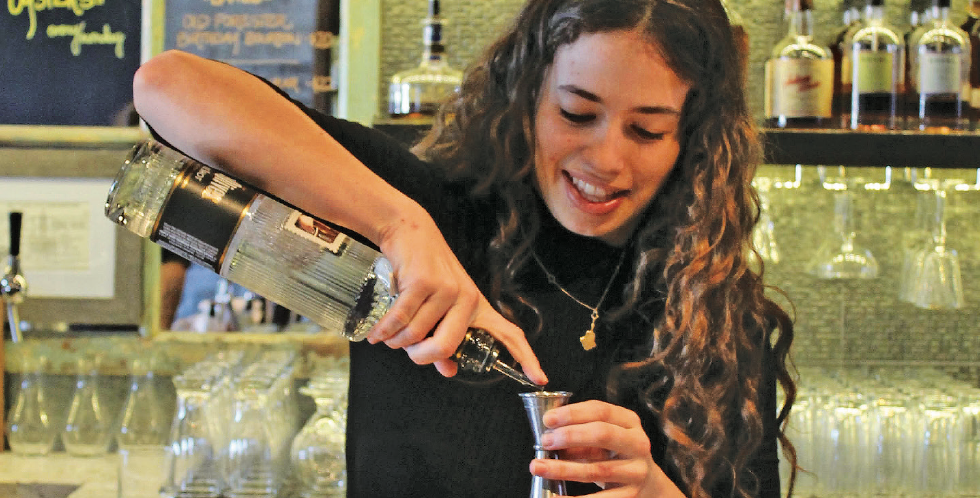 Arianna Hone
Tinwell Bar
Hone is one of those women hoping to get the nod to compete at Speed Rack regionals for the first time. She started working at Tinwell last year, and, as she says, "studied my booty off," to move up from bar back to bartender in a matter of months. Hone credits mentorship at Tinwell from Katy Willis and boss Tristan Loughlin, and their strong advocacy for women in the bar industry for getting her up to speed. Hone's favorite part about bartending, besides proving to skeptical customers that this young woman knows her shit behind the bar, is learning about cocktail and spirits history. "Booze has been a part of the human experience for what seems like forever. It's exciting to learn where things originate from and how spirits and cocktails have evolved throughout time." A self-described fiercely competitive human, Hone would love to battle at Speed Rack just for the hell of it. However, she says, the opportunity to connect with other women in a male-dominated industry is a huge motivator. "I am so grateful for Jessica Sandberg and that she has taken time out of her impossibly busy schedule to run these practices. It is so nice to grow alongside the women in my community and to create friendships while becoming a speedy fast bartender," Hone says. When she's not shaking and stirring at Tinwell, you can find her around town sampling her fave cocktail: the Paloma. Her recommendation? The one at Chile-Tepin. "I could live off Palomas for the rest of my life," she says. Same.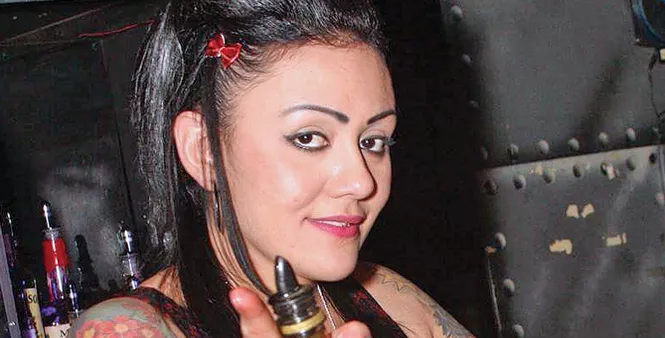 Shantelle "Shanthrax" Ellsworth
Area 51
"There's a huge stigma with women behind the bar, still," Ellsworth says of the ever-present hyper-sexualization of and condescension toward female bartenders. "This is my craft, my profession. I'm not here just to shake my boobs and make money." Adding to the challenge of how women are seen in the industry, Ellsworth notes that she was two months pregnant during last year's Speed Rack regional competition, which didn't slow her down in the slightest, nor does having a family conflict with bartending. "I have a 'real' job that can take me around the world," she muses. "I want to be able to go anywhere; bartending allows me to do that." Ellsworth (known to her customers as "Shanthrax") credits working in the compact and super high-speed bar environment at Area 51 as great preparation for Speed Rack regionals last year. Working fast and efficiently has served her well in the nine years she's been part of Area 51's bar program. She's hoping to put this strategy to work again this year: "There are some incredibly strong women who compete at Speed Rack. I really enjoyed the female solidarity, with everyone cheering each other on," she says. "There are some seriously badass women bartenders coming from Utah. People think of difficult liquor laws and Mormons coming from here; before, we weren't seen as a serious threat. That's changing."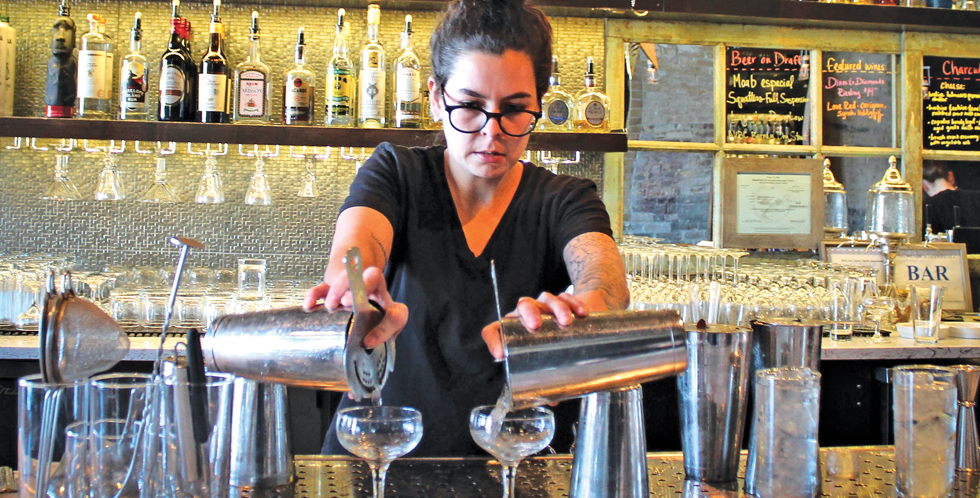 Anna Thorn
Free Agent
Thorn started her bartending career three years ago under the tutelage of Frankie Mealy at Whiskey Street, and that whiskey-forward focus has been seriously imprinted on her own cocktail preferences. "I love nerding out about spirits, and playing around with what flavors complement one another," she says. "I also very honestly love working with customers to help create, and cultivate, a wonderful experience." The downside? "The biggest pain in the ass can be shitty customers who don't recognize that it may take a second to make a very nice, quality cocktail." Thorn has been especially loving the jaw-cracking early training sessions with the other ladies of SLC liquor-land in prep for Speed Rack, and reminisced with me a little about the first time she and Sandberg met up IRL: "She and I met at a Utah Bartenders' Guild event two years ago, and drunkenly confessed our love for each other and for having lady bartender crushes on one another ... It was love at first sight." Through the weeks of training, Thorn notes that most of the crew's bartenders have earned consistent personal bests with times under 90 seconds. "We have a bomb lady crew training for Speed Rack this year," Thorn says, "and Jess Sandberg certainly deserves a shout-out for organizing and recruiting such a strong group of contenders." Thorn told me her personal beverage of choice is a shot of really great whiskey. But, she equivocates saying, "Since I began my career as a bartender at a whiskey bar, I veer toward really strong whiskey cocktails." Her favorite is the classic Manhattan. One she's been drinking pretty frequently at home? Pikesville rye, Cocchi di Tornio and Workhorse Rye aromatic coffee bitters. Hell yes.
Carly Bringhurst
White Horse, Water Witch
Bringhurst knows how to pull through. "Last year [before regionals], I didn't get into Denver until after midnight, and, um, stayed up quite a bit later," she says. "[But] I was totally: Game On" when it came time to compete. Although Bringhurst was taken out in the first round, she told me that the actual few minutes spent competing was a small part of the whole raucous Speed Rack experience, especially being there with good friends and with event sponsors handing out free shots to competitors after every round (making it doubtful that SLC will ever host a Speed Rack regionals). "There are some incredibly talented people that go on that stage. It's a really supportive environment, everyone's cheering you on." When her good friend Sandberg won fourth place, Bringhurst says she had tears running down her face. "I was so proud of her! Later, when she got knocked out by the eventual winner, I was totally outraged on behalf of Jess." Bringhurst believes that training for Speed Rack last year made her a better bartender because she really got back to basics practicing the classics repertoire. While she's the epitome of calm, cool and collected behind the bar, Bringhurst is also an accomplished musician, playing guitar and accordion along with her distinctively growly-twangy killer vocals.
Joslyn Pust
Zest
"My favorite thing about making cocktails is that it's something that people unite over," says Pust, who started bartending a couple of years ago and was mentored by colleagues Matt Pfohl and Johnny Williams. "Johnny taught me that if someone sits at your bar, you already have something in common," she continues. "It's a humbling and compassionate thought." At Zest, Pust has become known as the fastest bartender of their crew, and has been pushing herself to get even quicker in preparation for Speed Rack by practicing weekly with Sandberg and posse at Under Current. For about an hour a night on her own, she studies the classics. She's planning to go to the event in Phoenix even if she's not tapped to compete. "I want to meet other badass ladies, learn what I can, and support the girls I love." She's grateful to Casey Staker, Tristan Loughlin and the whole Zest team for supporting her intense training. Pust particularly enjoys the food science aspect of bartending, especially with the creative environment at Zest, where she's been experimenting with aquafaba—a chickpea derivative often used as a vegan substitute for eggs. As for her personal favorite drink? "I'm a sucker for anything that's spirit, lime and simple syrup. I always go to gimlets or Wray-daiqs,"—that wouldd be a classic daiquiri made with Wray & Nephew overproof rum. Yes, please. Make that two.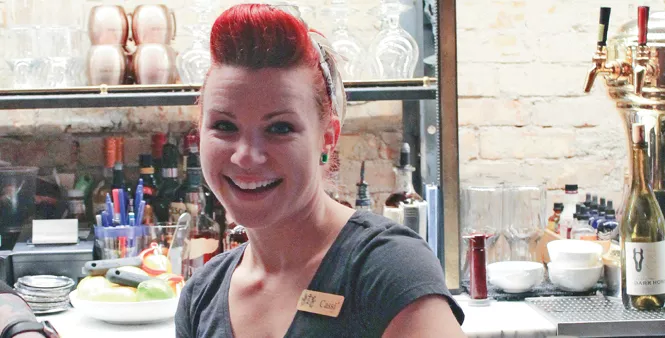 Cassi Bliss
White Horse
"Improv is a big part of bartending," Bliss says as she describes the flexibility and ingenuity necessary to be a good bartender. Bliss started bartending when she was 23, and especially loves the portability of her job, as she's now worked in several states. "I'm naturally creative, and a hard worker. So it's fun to be in an environment where you can create, but create quickly." She'd never heard of Speed Rack until she met Sandberg, who after watching her at work, encouraged her to apply for the competition. Her personal choice of beverage is one many other bartenders bemoan making due to all of the lime squeezing and muddling involved. For Bliss, it's worth the effort: "My favorite cocktail to make is probably a mojito. They look and taste refreshing. And reminds me of being at the beach with my husband and dogs."
Kacie Wilks
Bambara
Although Wilks started bartending in North Carolina four years ago, she credits SLC as the place where she's dialed in her craft. She was especially eager to work with Eldredge, "As soon as I found out her background, I basically begged her to teach me. I hope to be as badass as she is someday." Like many people, Wilks came to Salt Lake thinking she'd only be here for a year. "Then," she told me, "I got involved in the food and beverage industry downtown and fell in love and just signed on for my fourth year. Grateful to be a part of it." She's been training with the Speed Rack crew, however, she won't be able to compete this year because the national event schedule conflicts with her other passion: working with Opposition Gallery Series. Wilks describes herself as "super competitive," but believes that she's more effective as a teacher and likes to stay out of the spotlight. After learning so much from other female bartenders, she's glad to pass on her knowledge, and encourage people to be the best they can be. Few things get her more excited than Japanese whiskey, supporting SLC's tight bartending community and especially helping her besties prep for Speed Rack. Even with such a strong cadre of women in SLC's bar scene, Wilks still gets sideswiped with frustration, saying that the "Biggest pain is the sexism and condescending talk that happens on the regular. Some of the most amazing bartenders in the world are women. Get over it dudes, the future is female." Cheers to that, Kacie!
Crystal Daniels
Takashi
"I've been attending Speed Rack events for years, and I'm super excited to go again this year," Daniels, who was waitlisted for Speed Rack regionals last year, says. A native of Utah County, Daniels spent her formative bartending years in Seattle. She moved back to SLC three years ago and was immediately blown away by the leaps and bounds the local bar scene has grown. "I got a job right away at Under Current, and Amy Eldredge, having such a rad bar program, really inspired me," she says. "She pushed me to be a better bartender." Daniels also credits Utah's chapter of the U.S. Bartenders' Guild for promoting serious spirits education programming and for supporting bartender travel to up individuals' skills game, with recent trips to Mexico and Kentucky's bourbon country. Daniels loves bartending not just for the flexible schedule and ability to travel at the drop of a hat, but also for the social aspect of the profession. "I'm actually an introvert, but as a bartender there's an expected level of communication that I'm comfortable with," she says. "It helps me get out of my shell a little more than I probably would otherwise." Traveling all over the world for cocktail events, Daniels often hears, "What's up, uh...Utah?" To which she says she always replies, "Yeah, Utah is awesome!"
Editor's note: Going to press, the Speed Rack selection committee tapped Eldredge, Sandberg, Thorn, Hone and Daniels to compete in Phoenix next month, making this Utah's strongest and largest showing to date. Pust, Ellsworth, Bringhurst and Bliss were also selected for the competition wait list. The winner of the regional competition bracket plus a wildcard finalist determined by social media votes will go on to U.S. national finals in Chicago this May. Watch live footage of the regional competition on Feb. 18 streaming at facebook.com/speedrackinfo.