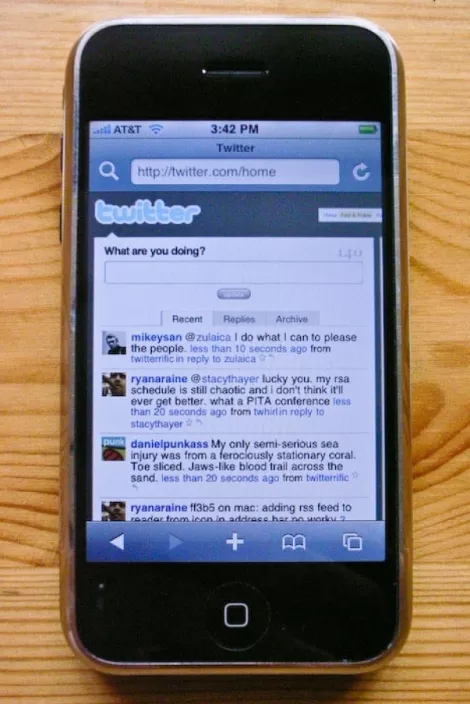 In just seven days, I have twice as many Twitter followers as I had one week ago. When I wrote about joining Twitter last week, I had 26 Twitter followers. Seven days later, I have 52. What does that mean? That I'm still a nobody on Twitter, that's what. It also means that of the nearly 100,000 people who saw and read City Weekly last week, very few want to associate their good names with my bad one. That's OK. The best way to find a new friend is with an open bar tab.
There's no way to know that those followers of mine came to me via that column. I know a few did because they called me or sent e-mails asking the same question that probably all Twitters ask when they get started: Now what? I'm no Twitter Yoda, so I wasn't of much help. Some of them came from within Twitter itself. That's one beauty of social media that is hard to miss—we really are separated by just six degrees. In no time at all, people you haven't heard from in years find you on these social-media vehicles via common friends who didn't know you knew—or despised—each other. Or something like that.
Last week, I was a tweeter virgin. A week later, I've tweeted a couple dozen times or more on my own tweet (spikemall) and that of City Weekly.

Some of those tweets and the links they led to were quite interesting. Others clearly were not. I'm still learning. I've pretty much resisted the temptation to tweet something like, "Marmalade, jelly or jam? The smell of burnt toast takes me back to my dear Nana's kitchen." Reading similar messages on Facebook (yeah, I have a FB page, too) gives me the vapors. By God's grace, Twitter messages are only 140 characters long, making them a bit more bearable. I admit to the occasional nod of approval upon reading a shared burnt-toast memory, but there's always one particularly smarmy message that nearly causes me to give a fist to my computer screen. If you can tolerate them, good for you.
My takeaway from Twitter so far is that just because everyone using Twitter thinks they're doing it right doesn't mean they're all doing it wrong. Which isn't a bad thing—if Twitter and similar social media do eventually replace some traditional media, it will be better for it to develop a model without the age-old constraints that come with "old" media. For example, when this column is published, I'll tweet it, and within seconds, people will read it online. I actually can't say if they do read it, but I will know when they click on it. It takes an audit to do that with a newspaper.

I should warn all of my 52 Twitter followers that I've put more arrows in my quiver. I've added the TweetMic and Tweetie apps to my iPhone. Now I can leave audio tweets, and I can tweet from anywhere with my phone. One of the first tweets I'm going to leave with those apps will announce that I'm sitting in a bar somewhere. I think my followers can click on a recording that will say, "Get your butt down here. I'm buying for the next hour." Really, it's just a way for me to find out who my friends really are. After that, I'll get serious.
I like the search feature of Twitter. With it, I don't have to wait to find trouble. Trouble is, the people I want to tweet aren't on Twitter. I've found Sen. Orrin Hatch and Rep. Jason Chaffetz. I don't have anything to tell them, though. I have a thing or two to tell Salt Lake County Mayor Peter Corroon, County Councilman Randy Horiuchi and Salt Lake City Mayor Ralph Becker, but they're not on Twitter. I'd thank Corroon for adding me to his Facebook friends. I'd tell Horiuchi I hope he's found a place to smoke his cigars.
With two characters to spare, I'd tweet about Becker, "Geezomeezo, Mayor! What the hell are you thinking? Destroy SLC's beautiful Library Square for a cop shop? Are you the same RB we elected?" My followers will read that. Then their followers. And their followers. Becker will have to concede that the cop shop should actually be located on Pelican Island, not at Library Square. That's how social media works. In our minds, anyway.

Meanwhile, Becker's just going to have to read that I'm not to happy about his Library Square decision right here. When he gets around to it.