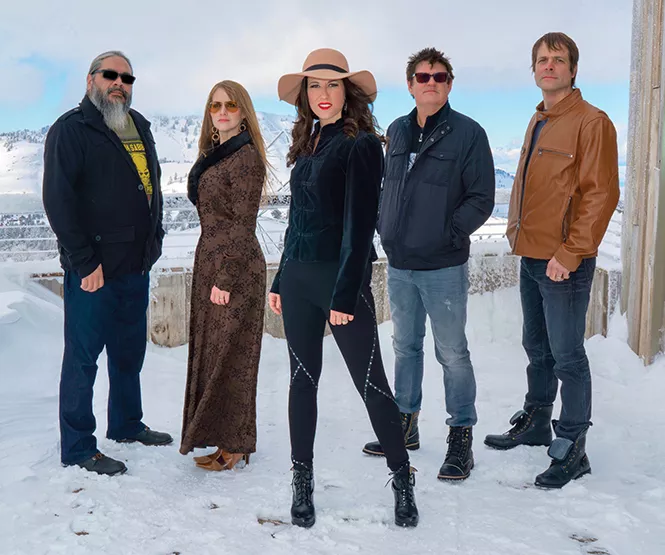 With a veritable treasure trove of writing and production credits, musicians and songwriters Anna Wilson and Monty Powell have been behind the scenes of some of the biggest country hits of the past two decades. The list includes a number of Top 5 songs for artists like Tim McGraw ("One of These Days"), Bryan White, Keith Urban (the No. 1 hits "Days Go By," "Sweet Thing," "Who Wouldn't Wanna Be Me") and Billy Ray Cyrus ("Could've Been Me"). The upshot of their partnership is one incredible statistic: Wilson and Powell's work is featured on albums that have sold a combined 70 million copies worldwide.
The two met in Nashville during the early '90s. Wilson was doing publicity for the band Diamond Rio, whose albums Close to the Edge and Love a Little Stronger were being produced by Powell. They hit it off romantically and creatively, and opted to join forces. Their love of skiing and the outdoors led them to relocate to Utah, where they've become a proud part of the Salt Lake and Park City music scenes with a band they've dubbed Troubadour 77. Along with drummer Nathan Chappell and the husband-wife pair of guitarist Austin Weyand and bassist Kassie Weyand, they're releasing their debut album, Selma Avenue (Transfer), on Dec. 1.
Clearly, the pair has a knack for popular music of the chart-topping variety. But they're not purveying the Nashville sound on Selma. Wilson and Powell are serious about reinventing the breezy late '60s/early '70s singer-songwriter vibe of Southern California's Laurel Canyon. This return to their roots was the impetus for initiating T77.
"The music business is and has always been focused almost exclusively on young people," Powell says in an email interview. "This formula has left behind [baby] boomers to either get down with their kids' and grandkids' music, or to wear ourselves out listening to 'Free Bird' for the thousandth time. Why can't there be recordings that sound familiar, lyrics that you not only can understand, but speak to where we are at in life and not just to kids?"
Wilson is even more emphatic. "T77 is an attempt to try and change the culture and conversation of who gets to have a seat at the table," she says.
Selma's title pays tribute to the street where the now-shuttered Los Angeles studio Criterion Music Corp. was located and "the troubadours that walked through the doors." It's where Jackson Browne created his early demos, and where Linda Ronstadt, J.D. Souther and members of the Eagles used to hang out and draw inspiration. Wilson cites all of the above, as well as Carole King, Stevie Nicks, James Taylor and Tom Petty (RIP) as influences. Their presence permeates Selma's grooves, particularly in the title track, where Wilson sings in her mellifluous, goosebumps-inducing voice: "On Selma Avenue/ There were a chosen few/ ... / and when their dreams came true/ I discovered "Blue Bayou"/ so I saved my nickels/ and I saved my dimes/ yeah, I was dreamin' / of the day I'd catch a ride/ to Selma Avenue."
"I was only five years old in 1977 when they were hitting their stride," she says. "I'm fortunate to be here in 2017, attempting to carry their torch."
As for Powell, he grew up enamored with John Denver and Alice Cooper, which further diversifies T77's sound. "It made for a real melting pot of musical inspiration to pull from," he says.
Even the band's name reflects this music and its era. A troubadour, obviously, is a traveling singer, poet or performer, while Wilson says that the numerical component is a tribute to 1977, "one of the most watershed years in musical history, just before the dawn of disco and the ebb of classic rock bands and singer-songwriters."
To that end, T77 strives to create a sound that baby boomers can relate to, while simultaneously enticing millennials with messages about timely social issues like gun control ("I Got A Gun") and civil rights ("Freedom Rider"). "We are trying to appeal to anyone who likes a good song with a melody and a lyric, created in a classic-sounding production," Wilson says. "It's less about the sonics and more about organically delivering the message."
The band succeeds wildly on all counts. Selma Avenue is a nostalgic time-warp back to the '70s for those of us who were there. It's also an immersive, cinematic, laser-accurate period piece that will convince younger audiences they were there, too, while reminding them what matters now.
Wilson even made a playlist where she mixed T77 songs among tunes by her influences just to see if they fit, and if they had the same effect on her younger self, the dreamer. "To me, it does," she says. It's also more satisfying than writing for other artists in Nashville work-for-hire, where she often had to compromise her soul or her message. "Some people write their best songs in their 20s; I think I'm writing my best work now. I'm just giddy."