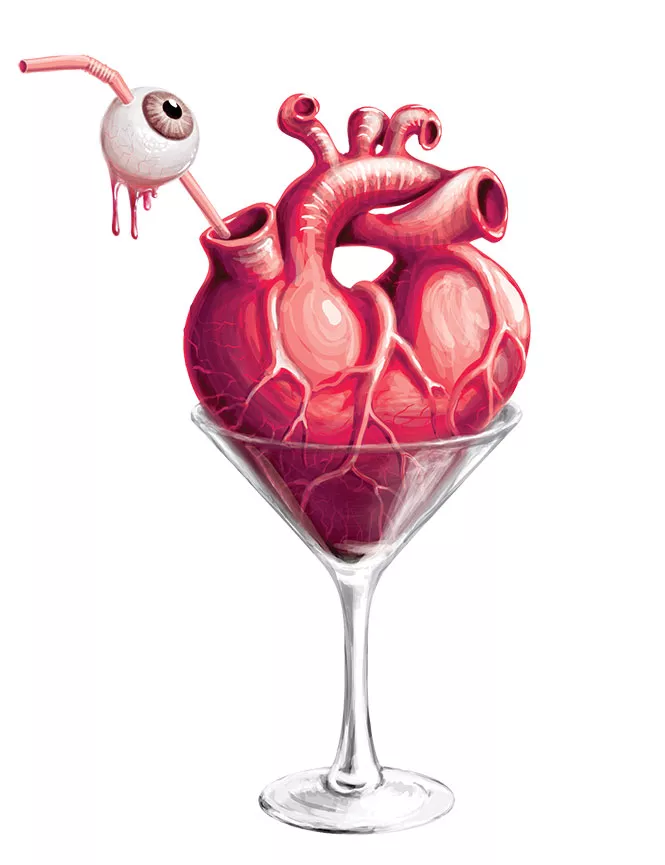 Since so much of Halloween is centered around stuff that comes from far away—costumes, decorations, candy—shouldn't we at least make an effort to give a little local love to our festive drinks of choice? Here are some tasty Halloween cocktails and punches—all of them making use of local Utah spirits—that would be hellfire on All Hallows' Eve.
The perfect seasonal cocktail for hipster mixologists, the "Bleeding Heart Martini" includes pickled beets that bleed into the glass like a wounded heart speared by a sword (the cocktail spear). For four cocktails, chill four martini glasses in the freezer until frosty. To each glass, add a half-ounce of dry vermouth, swirl to coat, then pour out and discard the vermouth (I know; what a waste!). In a cocktail shaker, add 8 ounces of Beehive Distillery Jack Rabbit Gin and shake well with ice. Strain and divide the gin among the four chilled martini glasses, placing a skewered pickled baby beet into each one, and serve.
A big bowl of punch on the year's spookiest night is just the ticket—something for adults to sip while doling out tricks and treats. Well, here is a Halloween concoction that packs a punch, called "Blood of Innocence." In a large punch bowl, combine the following: 1 liter of Sugar House Distillery Rum, 16 ounces of Ruby Port, 12 ounces of Curaçao liquor, 12 ounces of fresh-squeezed and strained orange juice, 12 ounces of unsweetened pineapple juice, 8 ounces of fresh-squeezed and strained lemon juice and 8 ounces of light agave nectar. Stir well and refrigerate for a minimum of four hours. When ready to serve, add a large block of ice, gently stir in one bottle Martini & Rossi prosecco and garnish with 1 cup of hulled and sliced strawberries, two de-seeded and sliced large lemons and a handful of mint leaves.
The name of the "Sewer Water" cocktail says it all. This frightening drink looks like sewage sludge, but actually tastes sweet and fizzy. You could even make it for kids, leaving out the vodka. Fill a rocks glass with ice, then pour in 2 ounces of Ogden's Own Distillery Five Wives Vodka, 5 ounces of orange juice and 4 ounces of Dr. Pepper, in that order. Drop in a lemon or lime wedge and enjoy.
Like I blogged this time last year, when Keith Richards arrived Stateside to promote his solo album Crosseyed Heart on NPR, he did so with cigarettes in hand and a plastic container of "Nuclear Waste." The rock star said he began drinking the unique combination of vodka and orange soda because whiskey wasn't agreeing with him anymore. "The old body couldn't take it," he said. "Brandy is a killer, and wine is best with food, so somehow I settled on this. Plenty of ice. Lovely." Richards' cocktail would make for an ideal Halloween adult beverage. Just call it "Spooky Juice" on that day. To make it, simply mix two parts Salt City Vodka with one part orange soda over plenty of ice in a large glass. Enjoy it to the sound of "I Put a Spell on You."
Although zombies get most of the media coverage these days, vampires are still iconic come Halloween. To make "Bloody Vampire Punch," combine 4 cups of Dented Brick Distillery Antelope Island Rum with 4 cups of orange juice, 6 cups pomegranate juice and a half a cup of fresh-squeezed lime juice in a big punch bowl or hollowed-out pumpkin. Refrigerate until serving time. When you're ready to serve the punch, add 1 liter of chilled seltzer water, preferably pomegranate flavored. For added creep-out factor, toss some plastic vampire fangs, gummy spiders, worms or eyeballs into the punch.
Boo!