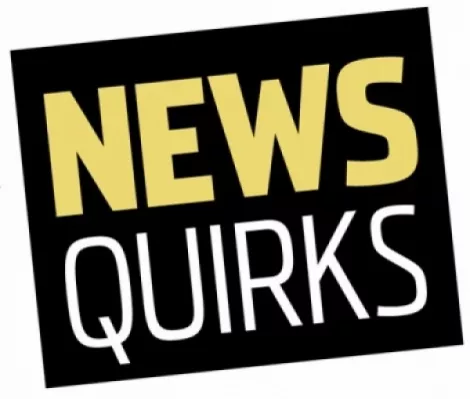 Curses, Foiled Again
Authorities who arrived at a Chicago apartment to arrest Ronald "Boobie" McIntyre, 35, for unpaid child support said he tried to evade them by jumping from a third-story window onto what appeared to be grass but turned out to be artificial turf covering concrete. Even though McIntyre broke both legs, Cook County sheriff's deputies said he continued his escape by crawling until they arrested him. (Chicago Sun-Times)
• When Nathan Wayne Pugh, 49, showed a Dallas bank teller a note demanding money and warning that he had a "bom," the teller told Pugh she needed to see some identification before giving him any money. He presented his bank debit card. When she asked how much he wanted, he answered "two thousand," so she asked for further identification. Pugh handed her his Texas ID card. She pressed the alarm button while informing him she had only $900 in her cash drawer and would get the rest from the vault. He said he'd settle for the $900, which he took, along with his debit card and ID.
As he turned to flee, Pugh noticed uniformed police officers at the bank entrance, so he grabbed a woman holding a baby, apparently to use as a hostage, according to FBI agent Mark White, who reported the woman wrestled Pugh to the ground. Officers rushed over and arrested him. (The Dallas Morning News)
Mindless Decisions
Humans are as easily duped as brainless slime mold, according to Australian researchers who experimented with decision-making in the single-cell, amoeba-like Physarum polycephalum. Presented with two food choices, one containing 3 percent oatmeal in a dark setting or 5 percent oatmeal in a bright setting, the slime, which favors dark over light, showed no food preference. When Tanya Latty and Madeleine Beekman of the University of Sydney added a third food source that was clearly inferior, containing only 1 percent oatmeal in a dark environment, 80 percent of the slime suddenly favored the 3 percent oatmeal in darkness. Latty and Beekman noted this style of decision-making, called "comparative valuation," is common among humans, who might, for example, choose a cheaper version of a product over a costlier version, until a third, much more expensive version is introduced, prompting their decision to buy the previously costlier version, believing it now to be a bargain. (Discover Magazine)
Second-Amendment Follies
A 52-year-old hiker in Chelan County, Wash., decided to move his .40-caliber handgun from its holster to a more comfortable position in his back pocket, according to the sheriff's office, but the gun accidentally fired, wounding the man in his left buttock and leg. (The Wenatchee World)
Spontaneous Human Combustion
When a witness startled a man and a woman trying to siphon gas from a Salvation Army van in Tacoma, Wash., it suddenly erupted in flames, which spread to a second vehicle. Both suspects caught fire, too, according to police official Mark Fulghum, who reported the man was able to put out his own flames and fled. The witness used a garden hose to douse the 20-year-old woman, who was taken to a Seattle hospital. (Tacoma's The News Tribune)
Slightest Provocation
Stanley Neace, 47, killed five people in two mobile homes outside Jackson, Ky., then turned the shotgun on himself when police arrived. The shooting spree began because Neace didn't like how his wife cooked his eggs, according to Sherri Anne Robinson, a relative of two of the victims. "He just got mad at his wife for not making his breakfast right, and he shot her," Robinson said. "She tried to run to tell my family, and he shot them, too, because they found out about it." (Associated Press)
The Name Game
Police investigating the murder of Samuel Boob in Centre County, Pa., arrested suspect Kermit Butts, 26. (Central Pennsylvania's WTAJ-TV)
Compiled from the nation's press by Roland Sweet. Authentication on demand.