Page 3 of 7

Michael Myers! I know you!," exclaims one of three little blond girls who'd wondered what the two strangers—packing masks, a machete and a flashlight—are doing taking pictures of their Avenues home. Don Shanks, the actor/stuntman who portrayed the glacial, stabby villain in Halloween 5: The Revenge of Michael Myers (1989), is gracious, not bothering to correct the girl. She and her sisters know a movie was filmed here, but they've never seen it. Their mother, despite having been an extra in the film, won't allow it (yet). When the girls scamper away, Shanks and I adjourn to his pickup truck, parked at the home's western curb.
Around 16 years ago, as a cub reporter, I interviewed Shanks in the parking lot of a mortgage company. As a childhood fan of the Grizzly Adams films and television series, I was elated to meet the man who played Adams' Crow friend, Nakoma. It was even cooler to hear Shanks, of Cherokee and Illini descent, talk about his adventures with wild animals on Grizzly. He told me the secret to catching rattlesnakes with your bare hands, and how to catch and put an alligator to sleep. I haven't tried these things (yet), but I feel confident that Shanks' tips are on the money (maybe that's how I'll die).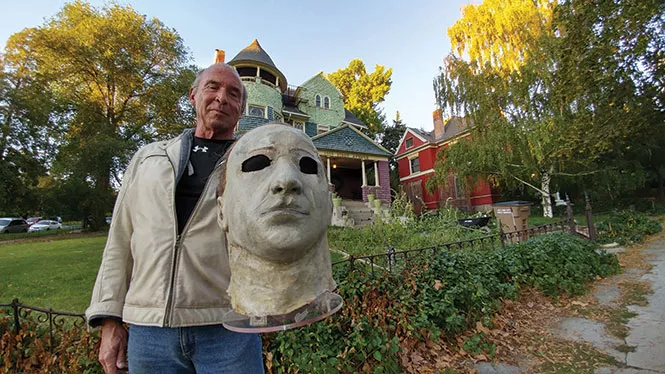 Again, the stories flow; like the time, while working on Grizzly Adams, he was asked to help on another production. The scene involved being attacked by a cougar, then falling, with the cougar, into a lake. "When I surfaced, the cougar wanted to fight," he recalls. Thrice he retreated underwater, trying to elude the big cat. Finally, gasping for air, Shanks decided to give him a fight. But "the cougar threw its arms around me and started purring; he just wanted someone to help him." Things didn't go as smoothly when Shanks, for the first Adams film, had to wrestle a bear—despite having no experience. Winging it, and thinking it was going well, he heard the bear's trainer yell something: "You stupid sonofabitch, get out of there! It's trying to kill you!"
Stunts—performing and coordinating—have been Shanks' bread-and-butter gig for 44 years, even since he studied theater at Weber State University. "Denny Arnold, the stunt coordinator on Grizzly Adams, told me, 'You'll make more money doing stunts than acting.'" So Shanks—who has experience with stage combat, including real weapons, and dance training from working with Ballet West—gave it a go.
He grew up on a farm, so animal wrangling came naturally. "I used to take down steers," he reminisces. In fact, while filming the made-for-TV movie Last of the Mohicans (1977), director James L. Conway told him that his method of distracting the serpent with one hand, dodging a strike, then snatching it with the other, "looked fake." Conway asked him to pin its head with a stick. "That's not good for the snake," Shanks responded, but he carefully did as he was told.
When Halloween 5 came along, he was hired as a stuntman. When he arrived on set, however, stunt coordinator Don Pike asked if Shanks would be OK meeting with the director, Dominique Othenin-Girard. Curious, Shanks asked what was up. "He said, 'Well, we're thinking of having you play Michael Myers.'" As an impromptu audition, Girard asked Shanks to "walk as though you are wood moving through water." He did his best, and got the job.
Since Myers takes so many falls and hits, it "was considered a stunt role," Shanks says. Besides, the character—and the mask—offered little opportunity to convey emotion. So he relied on his combat and dance training, and the wood/water instruction, to make Michael a believable evil. It was difficult at times, he says, because of how the shots were blocked and framed. "Sometimes it was like trying to kill someone in a telephone booth."
The Halloween series now encompasses eight films and Rob Zombie's two remakes. "I like his work," Shanks says, mentioning The Devil's Rejects in particular, "but I don't care for his Halloween films. He tries to explain too much."
Shanks enjoys being part of an exclusive club of actors and stuntmen who've portrayed Michael, and although he's forbidden to wear it in public, he got to keep the original mask from the film, along with the prototypes. He often attends fan conventions like Salt Lake Comic Con FanXperience and the Flashback Weekend Chicago, where he shares stories about the film and chats with fans. He also talks shop with his fellow Michaels: "We give each other tips on performing stunts." Does he bring up the snakes, cougars and bears? "Yeah, but they don't believe me."
Someone is creeping up on the truck. Shanks looks over his shoulder, and the creeper gasps. "It is Michael Myers!" It's the girls' mother—the erstwhile Halloween 5 extra.
Shanks greets her warmly and she attempts to politely excuse herself and leave us to our business. I offer to take a photo of her with Shanks, so we do. Behind them, one of the girls asks, "Can I have your autograph?"
"Do you have something for me to sign?" Shanks asks.
The girl shakes her head and runs back inside, returning several minutes later with a paper plate. I wonder if he'll write the same thing he wrote for me all those years ago: "To Randy, Trick or treat ... or die!" He leaves that part out—on this as well as the notebooks and scraps of paper her sisters bring out afterward. Gotta keep it age-appropriate, you know?
Originally, he was "kind of apprehensive" about signing autographs for youngsters. "Kids really shouldn't be watching," he says of the Halloween films. "But Michael's the kind of character everybody knows, and they're waiting until they're old enough to see it. So it's flattering."