Page 7 of 7
Horror is fun because the monster is trapped in celluloid or pixels, and can't jump out of the screen to gnaw on our bellies. That distance lets us enjoy the illusion of safety, as though there aren't monsters in our own backyard. Utah has seen its share: Ted Bundy, Mark Hacking, David Archuleta, Arthur Gary Bishop (freaky factoid: I used to deliver neighborhood grocery-store ads to that guy's house, and I happened to be his type—a young boy). Some of our local musicians have written rather disturbing stuff, and it makes you wonder if some of 'em aren't undercover Cenobites or serial killers. Eh, they're probably just harmless, out-'n'-proud horror fans. But we'll let you decide for yourselves.
DJ Shanty
"Megatheme" (feat. Red Sky Phenomenon) from Megatherium (DJShanty.Bandcamp.com)
It surely wasn't Shanty's intention for this track to sound ominous, but it does. Hitting somewhere between Goblin's Argento and Romero soundtracks and the '80s sci-fi film scores (which are now a genre, thanks to guys like Shanty and bands like Conquer Monster, Lazerhawk, Powerglove and Kavinsky), it sets a fitting tone for a mix like this.

The Pagan Dead
"Gates of Hell" from Mors Ianva Vitae et Vita Ian (PaganDead.com)
I was about 14 when I first saw Lucio Fulci's City of the Living Dead, aka The Gates of Hell. Italian horror, or spaghetti-splatter, was new to me—and you will always remember your first foray into the genre. They're like movies from another dimension, where everything about them keeps you off-balance: The cinematography, literally visceral violence, weirdly squishy scores and the odd acting, dialogue and awful English dub tracks, can be highly disconcerting. That is, until you get acclimated and they become a source of laughs and scares. SLC's premier black-metal/psychobilly mash-up artists The Pagan Dead pay tribute to Gates in this tornado of squelchy riffs, beastly double-bass and drums that sound like a skeletal march at breakneck speed. And it contains a verse about the only scene to ever cause me to almost toss my cookies. I won't spoil it for you, but here's a hint: I learned a new word from this tune. "Offal" works on two levels.
VOUR
"Mummy" from VOUR (Rest30Records.Bandcamp.com)
Until it was updated/redefined by a Brendan Fraser film a real fake wrassler, I never understood why a mummy was remotely terrifying. To me, it just looked tragically cute, like an extreme case of toilet paper sticking to your shoe. Cartoons, horror comedies and breakfast cereals sort of reinforced that belief: They very slowly chased stoners and their dogs. They were brittle—handle with care. And, on Saturday mornings, they were delicious. When I was studying mortuary sciences (for a whole semester), I learned a little bit of the inside-baseball of mummification. Like how they preserved the body in rags, seasoned it with spices and oils and beeswax and booze, and let him keep all of his loot and toys. So I still don't get it. But I dig this groovy, jazz tune from David Payne and Dolan Lucero, released on Christmas 2011.
Zombiecock
"We Come" from Zombies Love Punk Rock (Zombiecock.Bandcamp.com)
Do you really need a song? Isn't the idea of a decaying, maggot-ridden, oozing knob knocking on your front, back (or side—diff'rent strokes, folks!) door terrifying enough? Well, this catchy li'l horrorpunk nugget seems appropriate. Even though it can't last four minutes (winky face, mic drop!). Catchy tune, though.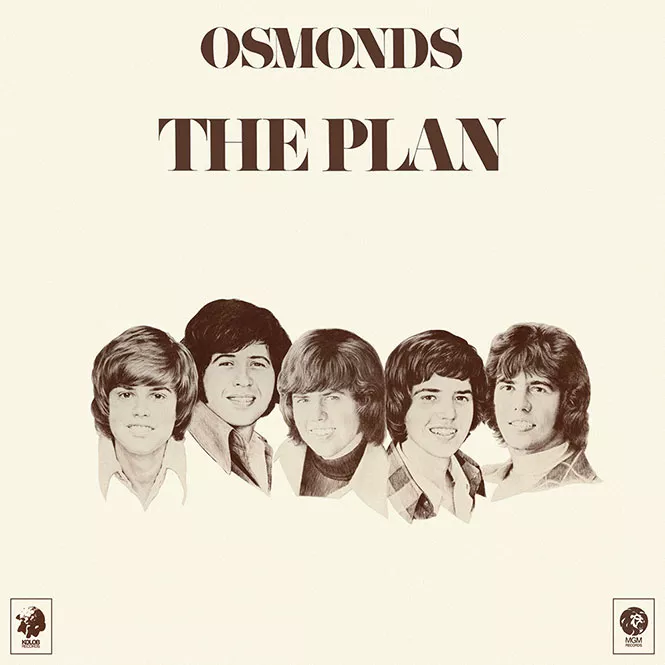 The Osmonds
The Plan (MGM, 1973)
Mormon rock. 'Nuff said? What if I told you it's a concept album built on the Latter-Day Saints' Plan of Salvation? Proselytizing in music is
only for the choir and impressionable Gentiles, and when the religious pander to the latter using the Hip Sounds of the Time, it's comical. When you juxtapose the brilliant, immaculately white smiles of very happy young men from Utah County with L. Ron-esque lyrics, it's creepy AF. (That's some internet shorthand I picked up from my daughter—it stands for "as fuck.") Here are some lyrics for ya: "Ever since we came to be/ with The Plan we learned to see/ we control infinity/ what more?"
Dark Lord
"Live @ Metro Bar" (YouTube)
It used to be that a simple pentagram, inverted cross or invocation of Satan's name was enough to put your bowels at Defcon 1 for fear of contracting a spiritually transmitted disease (possess-orrhea, look it up). In this full set from last March at the Metro Bar (now Metro Music Hall), devilish doom trio Dark Lord float-strolls onstage in black robes, lighting candles among the aforementioned knick-knacks while a spooky intro track plays. Then comes the rock and, not long into the set, a topless, cloven-hooved, black-furred beast with a swingin' you-know-what. Grotesque. And oddly titillating.
Chinese Stars
"Turn Me on Dead Man" from Dirty CD-R from the Ground (Rest30Records.Bandcamp.com)
Remember when everyone was all freaked out that Paul—you know, the guy from the Beatles—was dead because of backward messages
on songs like "Revolution No. 9"? And now he's the only living Beatle. Gotcha. That's the scary part—for Beatles fans only. Otherwise, it's just a Stooge-y anthem about necrophilia. Or something else entirely. Courtesy of local punk rock liability Dustin Yearby (Dead Bod).
Baby Gurl
"Birth Boner" from Incompoop (BabyGurl.Bandcamp.com)
You've seen Rosemary's Baby, right? That debbilbaby was messed up. So was the incorporeal voice (GEEHHHT OUUUUUT!) in The Amityville Horror. Now imagine this: The baby pops out, wild-eyed and sporting a turgid purple, uh, bass guitar string, which it plucks maniacally while looking you dead in the eye and saying, "Tsoputatuu says you gotta get out!/ ... / get out!/ gehhhht ooouuuuut!" The rest of the lyrics introduce other demonic-sounding entities like "Yusaysya," "Eeraneyah" and "Idagaba," and they'd all like you to vacate the premises. Baby Gurl's Jordan Fairbanks says the lyrics to this song change with every performance, leading to the inevitable conclusion that Tsoputatuu and friends are legion.