Too often, restaurants at ski resorts can have a cookie-cutter aspect to them. Stone fireplaces, lots of logs, Western art and décor, dead animals on the walls—the "mountain" theme can get tedious.
This is not the case with Spruce restaurant, located at Dakota Mountain Lodge, the new Waldorf Astoria property just below The Canyons in Park City. The name is pretty much the only thing "mountain" about this lodge, which includes not just Spruce restaurant but also the world-class Golden Door Spa.
Stroll into Spruce, and you'll think you've wandered into an urban restaurant in New York City, Chicago or San Francisco—not a ski lodge. And that makes sense. Spruce is the sister restaurant of San Francisco's Spruce, and shares executive chef Mark Sullivan, who spends time now at both locations. The urban ambiance I mentioned is characterized, in part, by the long white Carrera marble bar to the left as one enters Spruce, the chocolate-colored mohair walls, Baccarat crystal chandeliers and faux ostrich furniture upholstery. The feeling is definitely posh. I can't quite picture folks clomping around in ski boots at Spruce for apres ski. As I say, it's a refreshing variation from the typical ski-lodge theme.
The bar/lounge area is so sprawling and comfy, you might simply choose to dine there rather than in the more formal dining room. It seems to have become a prime spot for Park City's "ladies who lunch."
As with Spruce in San Francisco, one of the specialties at Park City's Spruce is the charcuterie, which is cured in-house, antibiotic- and hormone-free. Individual charcuterie selections run $7 apiece, but to sample the full range, you're better off ordering the Grand Selection ($22), which, during one of my visits, included coppa, chorizo, duck rillette, ciccioli, thinly sliced poached veal tongue, duck liver mousse and shaved pig's ear. It's accompanied by toasted bread points and grainy homemade mustard. Cheese lovers will also appreciate the selection of imported and domestic cheeses.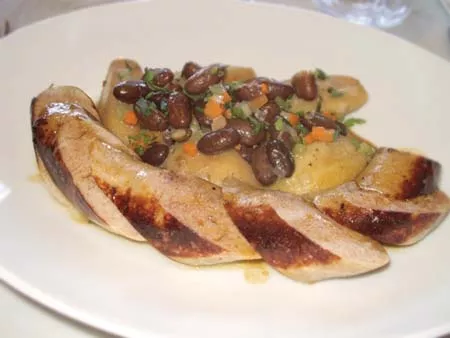 An order of boudin blanc ($16)—made in-house—was wonderful: One tender sausage with hints of nutmeg, cinnamon and clove, seared, sliced into medallions and served with roasted apples and shelling beans in a natural jus with mirepoix. Even better— nay, spectacular, if a hamburger can ever be called "spectacular"—is the Spruce burger ($16). I dare say I've never tasted a better burger, and I've tasted a bevy of bodacious burgers in my day, including New York's renowned "21" burger. It's made with all natural Niman Ranch beef, cooked perfectly medium-rare as requested, and served on a house-baked English muffin-style bun, with cheddar cheese and accoutrements such as homemade pickle slices and pickled red onions. It's almost impossible to convey the deliciousness of the Spruce burger without actually sinking your teeth into one. Plus, it comes with perfect, twice-cooked (first blanched, then fried to finish) fries. Still another terrific Spruce bar bite is the crispy duck leg confit ($19) on a bed of just-wilted greens, with Marcona almonds, stone fruit (Utah peaches, in my case) and natural duck jus.

The wine list at Spruce is extensive, although not the biggest selection around, but it's one of the most smartly conceived lists I've encountered. Wines are divided roughly into two sections: "$60 and under" and the rest. There's a very good range of both Old and New World wines, including a terrific Riesling selection—it's about time word got out that Riesling is an exceptionally food-friendly wine.

Even the dessert wine offerings leave no stone unturned. For example, all four main Madeira types—Sercial, Verdehlo, Bual and Malmsey—are available. But don't pass up the opportunity for a cocktail, either. Uber-professional mixologists such as Aurum seem to have stepped right out of Sir Harry's bar in New York's Waldorf Astoria. I thoroughly enjoyed my first-ever (I'm embarrassed to admit) Pimm's Cup cocktail at Spruce, not to mention a potent drink called a Whiskey Smash, made with High West Rye.

A top-notch management team has parachuted into Park City from San Francisco, all but insuring a flawless dining experience. Nothing is left to chance, and the managers patrol the lounge and dining room with eagle eyes. When a table is turned, the new tablecloth is even discreetly ironed with a cordless iron, assuring customers that, literally, no wrinkle in service will mar their evening. The attention to detail at Spruce is both refreshing and admirable.

Those who plan to go big will kick off dinner with a serving of American osetra caviar ($95). Others, like me, will happily settle for a generously sized appetizer (could serve as a main dish) of sweetbreads Lyonaise, seared and served on greens with a scrumptious, runny poached egg. Kudos to Chef Sullivan for having the gumption to put sweetbreads—a tough sell in Utah—on the Spruce menu.

Other excellent starters include the watermelon salad with rocket greens, goat milk Feta and Eiswein vinegar ($13), and the day boat scallops with salt cod brandade and sauce vierge ($18). As with sweetbreads, you don't find rabbit on the menus of many Utah restaurants, but Spruce's "three-way" rabbit dish with Puy lentils was simply outstanding—a plate-licking ode to bunnies everywhere. Finish dinner off with Spruce's take on a banana split, and you may never set foot in Baskin-Robbins or Dairy Queen again.

Dining at Spruce isn't cheap. But, every once in a blue moon, you discover a restaurant where you really do get what you paid for. Spruce is one of those restaurants.


SPRUCE
Dakota Mountain Lodge
2100 Frostwood Drive
Park City
435-647-5566
SprucePC.com