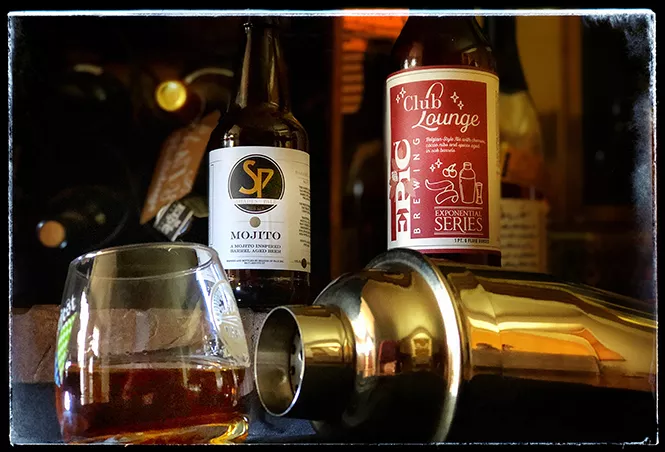 A few weeks ago, this column got into apple beers to see if they were just cider wannabes or legitimate beers that happen to use apples. I'd say we came out at about 50-50 in that overview. This week, I came across a couple beers that have strayed into a realm that most beers dare not venture: the land of cocktails.
Now, I'm no expert on cocktails, but I do know at their most basic form they must contain a spirituous liquor, water, sugars and/or bitters. Since their inception in early 19th-century America, the cocktail has taken on flavors and flair from the regions from which they hail, reaching the height of popularity during Prohibition when quality liquors were scarce and available alcohol was in much need of a bit of masking flavor to make it palatable.
Generally, booze and beer tend to stay on their own sides of the fence, only intermingling when individuals need to accelerate or decelerate their journey to a happy state of mind. A couple local breweries have formulated beers that are meant to honor two very popular cocktails: the Manhattan and the mojito. Both can trace their lineages back to the 1800s, though some historians claim the mojito goes back as far as the 1500s. Each tastes very different from beer, so I was curious as to how accurate they really are. To help attune my tastebuds, I started off with classic examples of each cocktail.
Epic Club Lounge: At first, I wasn't too sure if Epic could pull this off. If you're not familiar with the classic Manhattan, it's comprised of bourbon or rye whiskey, bitters, sweet vermouth and a cherry garnish. This beer is aged in oak barrels with cherries, cocoa nibs, sweet and bitter dried orange peels, cinnamon sticks, vanilla bean paste, clove, star anise and gentian root. The aroma is quite similar to the cocktail, without the boozy perfume. The taste absolutely screams Manhattan, but since this is 12.3 percent ABV beer, it can't come close to the heat of whiskey. The spices and adjuncts do a nice job of tricking your tongue into thinking you're swilling an effervescent version of the cocktail. Trickery achieved!
Shades of Pale Mojito: This beer is brand-new as well, inspired by the traditional Cuban cocktail of the same name. The mojito is rum-based with muddled mint, lime juice, simple syrup and club soda. Shades of Pale's beer interpretation utilizes a tart Berliner Weisse beer as its base, aged in rum barrels with added mint and lemon peel. The aroma here is full of citrus-like tartness and mint. The taste is slightly tart, with oaky white rum adding a little bite. Fresh mint then carries the beer's flavor profile to the end with a bit of rind bitterness in the finish. The beer's natural carbonation provides a nice spritz in the mouth, adding to its cocktail authenticity. Although the base is more lemon than lime, the rum and mint help sell its mock-abilty. This 4 percent ABV beer belongs with its cousin on a hot day under a big beach umbrella—refreshing and intense, like a mojito. Trickery achieved!
These are a perfect examples of how flexible beer can be in mimicking other comfort foods and drinks. I doubt you could easily reverse-engineer a cocktail to mimic a beer, though if there's a mixologist or cocktail artist out there who thinks he or she can pull it off, I'd love to be your guinea pig. As always, cheers!