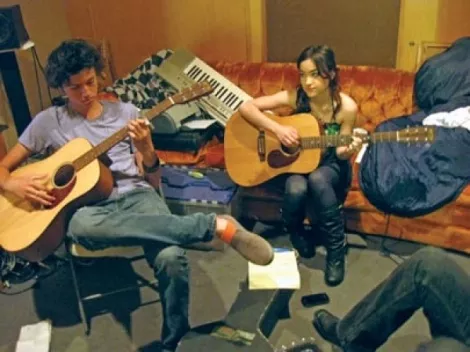 Teenage musical sensations are a dime a dozen in the landscape of manufactured success—but record labels operated by youth? Spy Hop Records in Salt Lake City is one of the few in the entire country.
The label celebrated its latest in a string of releases with a party July 29 at Kilby Court. The octet known as The Orchard debuted their original material on a self-titled CD, and the Grains of Salt compilation assembled songs from 10 local bands.
Besides the achievements of the label in releasing material, it's a remarkable program. The Spy Hop Records class, part of the Loud & Clear Audio Program of Spy Hop Productions, is a year-long program at the nonprofit youth media arts and education center. Teens learn the ins and outs of operating a record label and everything that entails, from recording to marketing and retail management and even art design. While earning a stipend, students work together to create and release four albums by local young musicians, including the Musicology class's own band.
This year, that group was The Orchard, and they blend their diverse musical influences together amazingly well, combining sounds from classic rock and pop, hip-hop, ballads and even a tinge of jazz saxophone. The band's singer/guitarist, Alex Murphy, says, "We all have very different ideas of what makes a great song, but we got involved with each other and we sound like the product of a whole rather than a bunch of individual projects."
Spy Hop seems to help students find their individual musical voices, rather than simply learn about performing and writing music in a cookie-cutter manner. This especially came across in their live performance at the release party, which also included performances by acoustic duo Come September (featured on Grains of Salt) and singer/songwriter Joel Brown, who released an album through Spy Hop earlier this year. The Grains of Salt hand-screenprinted sleeve created in conjunction with Copper Palate Press makes it an art object, as well.
The Orchard's rapper, William Palomo, completed a year in Spy Hop's Loud & Clear Youth Radio program before auditioning for Musicology. "We started with a bunch of exercises, some of which sprouted into songs," he recalls. "Then we started working on our own ideas without any prompting—taking chances and expanding ourselves musically." The result is a set of songs refreshing for its willingness to venture in different directions while remaining very cohesive.
Similarly, the Spy Hop program ties a lot of different things together.
Singer Rachel Ward says she's found that "it's interesting how closely different media works together. I've probably learned the most about communication, presentation and how to channel my creativity in a way that positively represents who I am. I've grown a lot in ways I didn't imagine possible."
"The Musicology class works on a few different levels for students," says Jeremy Chatelain, Spy Hop musical arts director, himself known as a professional musician in the bands Helmet, Jets to Brazil and Cub Country. "I think the biggest concept we all learn about is collaboration. Some of them are learning for the first time about making sacrifices and compromising while creating art, in a crash-course setting. It usually takes me two years to make an album, and these students are doing it in 10 months."
The recorded collections seem to become a kind of musical yearbook for the students but also provide encouragement for those considering musical careers. It's a document they can take to auditions or use for applying to college music departments.
"I think the albums are a great snapshot of a year in the life of these students," notes Chatelain. "We spend a lot of time thinking about the creative process and designing what the albums look and sound like. I like to think that these albums are better than some commercial music."
Palomo adds, "If this is what we're putting out now while we're young and still very early in the learning process, I can't wait to see what the future holds."