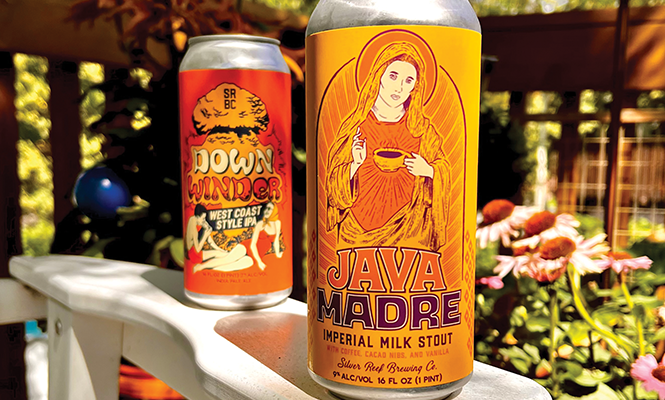 This week, we visit some of the best local beers that you may have never tried—because they're from Saint George's Silver Reef Brewing Company. Yes, there's an actual brewery in Utah's desert paradise. Silver Reef is part of a venture that includes a winery, distillery and the Ellis Island Brewery and Casino in Las Vegas. The brewery feeds Southern Utah and Las Vegas, and it's slowly making its way north toward the Wasatch Front. If you'd like a peek at what they offer, please continue.
Silver Reef - Down Winder: "Down Winder" is a term for residents who lived in Utah, Arizona and Nevada in the 1950s and early 1960s, who were victims of fallout from nuclear testing in that area. This beer pours a lightly hazed orange-amber color, with a one finger head of white foam. The aroma of the brew is rather crisp, with notes of a cracker malt mixed with a light orange and harvest fruit smell, as well as a bit of grapefruit hop. Along with the grapefruit comes notes of pine and herbal hop, and a touch of hay and mustiness.
The taste begins with a crisp cracker and bready malt, with a little bit of caramel sweetness and a touch of tangerine. Right from the start, there is a nice hit of bitter grapefruit hops, starting out rather aggressively. As the taste moves forward, other hop flavors of an earthy and pine nature begin to develop, adding a nice bit of dankness. The earthiness amps up while the tangerine fades, bringing the taste to its end, where one is left with a nice bitter grapefruit and dank, crisp, and biting 7.0 percent ABV taste to linger on the tongue.
Verdict: A classic resurrected. With all the attention IPA gets, it's easy to forget the pioneering styles and flavors that made it so popular. This is an unapologetic tribute to those West Coast IPAs of decades past—the ones that get no recognition from the trends, but live on in the memories of the knowledgeable.
Silver Reef - Java Madre: This Imperial Stout pours a nice solid three fingers of light tan head on top of a thick dark brown thick base with nice sticky lacing; the film lasts until the end. Immediately, you get some espresso and roasty notes, followed by sticky fruits and a subtle thick creaminess, with some vanilla and strong semi-dark chocolate. It's a really interesting aroma, with some more coffee notes eventually coaxed out.
Milk chocolate, coffee, then a mélange of creamy espresso, slight candied fruits like dates and a light bitterness lead off the taste. The creaminess is really tasty and interesting, blended with the chocolate and toasty caramel. There's a licorice note in there as well, but mocha drives it. Then you get a dry, creamy caramel finish. It's a bit on the sweet side, I think, but the flavor is quite intriguing. The lactose is definitely on the moderate side, which differentiates it from a typical stout.
Verdict: It seems far too sessionable to possibly be 9.0 percent ABV—really drinkable and for the style. I would say this is a stellar example, and it has a good mix of some more typical stout notes. It's definitely worth a try for the uniqueness, but I think in terms of a regular stout, I would look elsewhere. This is super smooth, though, and it would be very easy to get through a few pints of this tasty brew.
You'll be able to find these and other Silver Reef brews at their original brewery, of course, along with their new restaurant in downtown St. George. I have seen these pop up in SLC at Slackwater Pizza, and I'm sure they're showing up at other craft beer pubs as well. Stay close for updates as they roll in. As always, cheers!