I have to admit, when I saw that Post Office Place (16 W. Market St.) billed itself as a Peruvian-Japanese fusion tapas bar, my eyes rolled harder than Calvin Harris. I tend to harbor an inborn bias against swanky tapas joints, and if this place was owned by someone other than Takashi and Tamara Gibo, the proprietors of sushi rock star Takashi next door, I probably would have skipped it altogether. The fact that Post Office Place shares a pedigree with one of downtown SLC's most venerated restaurants piqued my curiosity, and I was looking forward to challenging a few of my culinary prejudices.
It was only an hour after Post Office Place opened when I walked up Market Street toward the entrance. A line of hungry sushi fans had congregated in front of Takashi, illustrating the symbiosis between Takashi and Post Office Place. Once these diners got their names on the list, they could saunter over to Post Office for a pre-dinner cocktail while waiting to gain entrance. It's not a bad plan, but it's also one that could easily go south—why invest more than the bare minimum in Post Office if Takashi is the family diva? Fortunately, such corner-cutting isn't on display here. Post Office has gone all out with its creative nods to Peruvian and Japanese cuisine, and it all starts with ceviche.
The relationship between ceviche and Japanese sushi isn't that far removed—I'd even call the pair kissin' cousins. They're both celebrations of fresh fish, and the most prominent difference comes by way of leche de tigre, a firecracker blend of spices and the juices of high-citrus fruit like limes, lemons and grapefruit which impart ceviche's more tropical notes. Basically, a talent with sushi can definitely translate to ceviche, so it's a logical gap to bridge.
The fun thing about Post Office Place is that the menu doesn't stop there—I can almost picture the creative team opening the Necronomicon of Peruvian seafood only to be overwhelmed by a raging flood of possibilities that borrow liberally from all kinds of Central American cuisine.
Starting with ceviche is the best choice here, and Post Office Place offers a few different variations. I went with the hamachi ceviche ($10, pictured above), which arrived with a pop of vibrant orange, as roasted sweet potatoes sat alongside uniform cubes of yellowtail tuna and thinly sliced habanero peppers. It's a dish that reminds you just how far an acidic citrusy tang will carry the flavor of fresh fish. The leche de tigre flavor remains on your lips just long enough to be licked off, and the peppers pack a welcome punch. From there, the menu deviates into quite a few deep cuts that gleefully exemplify the dark side of Central American food. For example, the anticucho de corazón ($10) consists of expertly grilled beef heart, and the lengua carpaccio ($12) is a carousel of grilled, thinly sliced beef tongue topped with an herbaceous chimichurri sauce.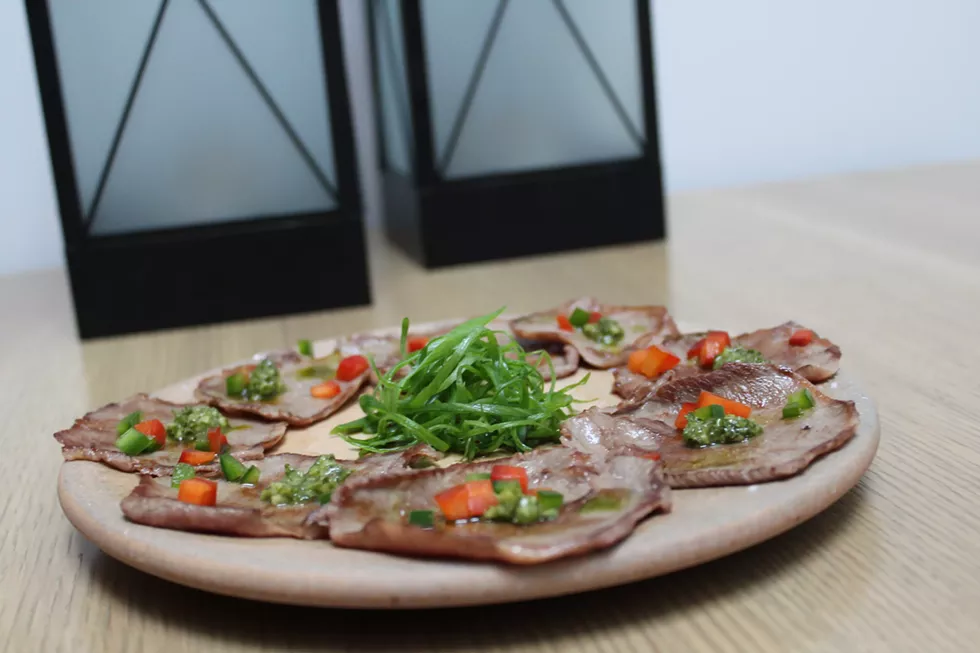 For me, the
lengua
ended up being the star of the evening. I've begun to enjoy a well-cooked bit of tongue, and this paper-thin preparation topped with a delightfully acidic
chimichurri
packs a concentrated dose of beef flavor that rivals any Sunday night pot roast. I would definitely encourage tongue initiates to start here—if this plate arrived without context, you'd swear it was tenderloin and lap it up with no hesitation.
Having found myself on a bit of an offal kick, I ordered a plate of crispy pig ears ($7). It was my first encounter with pig ears, and I'm still trying to process the experience. First of all, it's the kind of dish that can get an evening started on the right foot. The crispy texture on the outside and cartilaginous inside chew is pure conversation fodder. Flavor-wise, they land fairly close to pork rinds, but the sprinkles of cotija cheese, cooked jalapeños and a fresh slice of lime add some subtlety to the plate. It might have been the weakest link of the evening, but I have a suspicion there are worse places to try pig ears for the first time.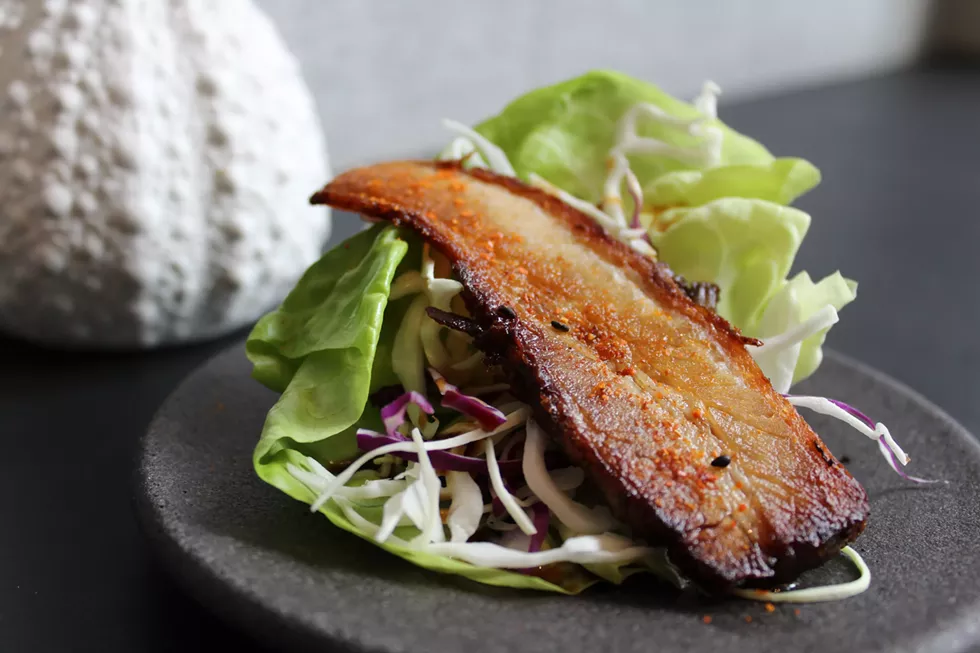 Those who are interested in getting their feet wet before taking a deep dive into POP's diverse menu will be interested in the bounty of happy hour offerings available every day before 6 p.m. and after 9 p.m. Items like oysters ($2), pickled eggs ($2) and the showstopping spider slider ($7) made with soft shell crab are on hand for some truly kick-ass prices—two bucks for six oysters is nothing short of a shot across Market Street Grill's bow. I also enjoyed the pork belly lettuce wrap ($3, pictured). For that price, I expected to be searching through cabbage for signs of meat, but it's complete with a generous slice of the melt-in-your-mouth goodness.
For best results, enjoy Post Office Place for what it is—a fresh-faced and hip nightspot designed to be the evening's launchpad, its unexpected nightcap or both. It's a welcoming, well-hosted space, and it's helped me realize I can still be friends with a tapas bar—as long as it's serving up beef tongue and pig parts, that is.


<!——StartFragment——>
AT A GLANCE
Open: Mon.-Sat., 4:30 p.m.-1 a.m.
Best bet: The Hamachi ceviche
Can't miss: Lengua carpaccio anyone?