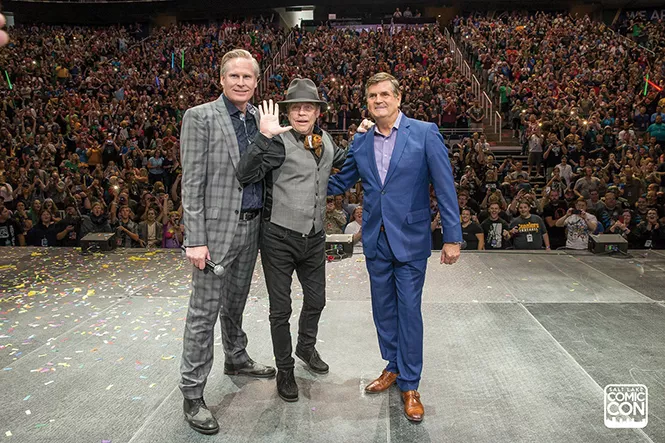 Salt Lake Comic Con via Facebook
When Salt Lake Comic Con opens its doors this week, it will feature a guest lineup of familiar celebrity names like John Cusack, Christopher Lloyd, Elijah Wood and Dick Van Dyke. By now, this influx of talent seems like an almost predictable September occasion. But how did a relatively new pop-culture convention in Utah become one of the most desirable guest destinations in the country?
According to Dan Farr—co-founder and producer of Salt Lake Comic Com—the answer is all about the underpinnings of the first event in September 2013. Farr had a background as a successful businessman and a base of working capital from his previous business—software company DAZ 3D—which had also given him initial contacts through attending other pop-culture conventions as a vendor. Yet there was still an understandable uncertainty about a start-up convention in a smaller metropolitan area. "There was some skepticism among celebrities about going to new cities and opening them up," Farr says. "Salt Lake City, being a [smaller market], might be quite a ways down the list."
Farr himself was thinking relatively small when making plans for the inaugural Salt Lake Comic Con, including initially booking Sandy's South Towne Expo Center as the venue. A first round of scheduled guests was announced—including Lou Ferrigno and Kevin Sorbo—and tickets started selling. And selling. And selling.
"It wasn't typical Utah, where people wait until the last minute to make decisions," Farr says with a laugh. "People wanted to get their tickets, and they came in early. Because they started moving, it kept building, and we got comfortable enough to go, 'Hey, let's bring in a few more guests.' And it was always comforting for [potential guests] to hear, 'We've sold 3,000 tickets and we're still three months away from the convention.'
"The fans didn't realize how much impact they had by buying tickets early," Farr adds. "That's what made it so that talent was comfortable coming."
That initial guest list kept growing—including eventual big draws like William Shatner and comic-book legend Stan Lee—but the challenge then became creating an event where guests would not just want to come a first time, but would want to come again, and would spread positive word of mouth about their experience. In part, that meant making sure guests would be financially successful—which means selling merchandise, autographs and photo opportunities. Since first-time convention guests don't always understand how autograh and photo-op sales influence whether guests want to come, Farr and the organizers distributed $200,000 worth of "Comic Cash" which attendees could use on autographs and photos.
"It was basically money out of our pocket to incentivize," Farr says, "that was then cashed in to the celebrities. It wasn't money that came back to us. It was a big investment, but many of the celebrities who were there said it was either the best show they'd ever had financially, or their best show in a long time. And that gets talked about, because the next weekend, they're at another convention: 'How was Salt Lake?' 'I killed there, it was great.'"
Farr also says that they made big investments of time and money in making those first guests feel pampered and welcome. In part thanks to a suggestion from Kevin Sorbo, Farr's wife purchased and put together a "care package" backpack full of items like snacks, hand sanitizer and aspirin. When deciding on which hotel to book for guests, they chose the fancier, more expensive option rather than paying 50 percent less. "[Co-founder Bryan Brandenburg] was riding in the transfer vehicle," Farr recalls, "and a couple of the celebrities were talking, not realizing who Bryan was. They said, "Don't these guys realize who we are? That we're just B-actors? They're really treating us well.'"
Now that word of mouth has gotten around, and the initial Salt Lake Comic Con attendance of more than 50,000 people made it an instant phenomenon, the hard sell isn't required for guests. Farr says a variety of factors come into play when putting together a list of potential celebrity attendees: sorting through Google search analytics to determine local fan interest; following comments on the event's social media; the reputation of the celebrities for being positive with fans. There is also the not-insignificant matter of finances, which makes it unreasonable to consider potentially blockbuster names like Harrison Ford, Johnny Depp or Robert Downey Jr. "There comes a point," Farr says, "where I think the celebrities themselves or their agent thinks, 'We can have you do a commercial for $3 million and you're done in half a day, or you go to a convention, and have people online say, I can't believe they charged $1,000 for an autograph.'"
The fans do keep coming, though, and Farr can't credit them enough—not just for those initial ticket sales that made Salt Lake Comic Con seem like a viable destination, but for their ongoing interactions with celebrities. He recalls a comment made by actor Edward James Olmos at one convention, who noted that "there's just something unique here ... these fans aren't jaded."
"All of the perqs could go away," Farr says, "and celebrities would still come back, because the fans treat them well."