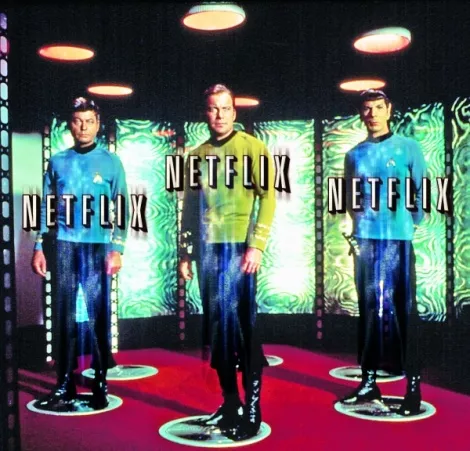 If you have any friends in your Facebook or Twitter feeds who are even half-geeky, you've probably noticed a recent explosion of status updates and tweets that have to do with Star Trek. I had no less than three people I follow—as well as myself—tweet the same quote from Captain Kirk: "There's no right way to hit a woman."

It wasn't as much of a coincidence as you would think. In a coup that is certain to cripple Internet servers everywhere, on July 1, Netflix added virtually every episode of the several Star Trek television series to its instant-streaming servers; the only notable exception is Deep Space Nine, which is supposed to be coming sometime later in the year. Every nerd, geek and Trekkie in the country started rewatching the show, and Twitter and Facebook were proof positive that I'm not exaggerating.

Watching the shows over again, I'm amazed at how much my opinions of them have been challenged. I used to be much more of a fan of Star Trek: The Next Generation. Those were the episodes that were airing every night at 10 p.m. when I was in high school. It was what I was most exposed to, and I absolutely adored it. In that era, I was as much of a Trekkie as I could be without feeling like I was cheating on my first love, Star Wars. The exploits of Capt. Picard and crew taught me plenty about philosophy and ethics, and I was riveted by their nightly adventures. I'd watched the original Star Trek in reruns as a kid, but it always seemed too dated—and, on some level, boring.

Seeing them now, it seems as though their roles have been reversed. Although I still harbor preposterous amounts of nostalgia for The Next Generation, I'm finding that the overwhelming majority of episodes are just dry and boring. Sure, there are spots of brilliance in them, and I still love them despite their dryness, but they just … sit there. The classic series, on the other hand, provides an experience that is completely exciting and engaging. The science-fiction-based ethical dilemmas faced by the crew remind me of the works of Rod Serling, Robert Heinlein and other science-fiction greats who I've come to appreciate much more at my slightly more-advanced age.

I've been watching both shows with Anakin, my 9-year-old son and geek padawan, and he can barely sit through any of Picard's tenure as captain of the Enterprise. But he will sit and go through marathons of Kirk's tenure without blinking.

The show that's surprised me the most is Star Trek: Enterprise. Enterprise was the 2001 prequel to the classic series, starring Scott Bakula as Capt. Archer of the Enterprise's prototype, the NX-01. I'd watched as much of it as I could when it was on originally, but because it was on UPN, I could never find it on TV. Bakula led an intrepid crew on the first human exploration of space, and I really couldn't be happier about how well it's held up. I'm told the last two seasons blow the first two out of the water, and I can't wait to get there. But what can I say? I'm a sucker for science-fiction prequels.

The universally maligned Star Trek: Voyager is also up in its entirety, and I'm still debating about whether or not I'll try it out again. It's there, and who knows if I'll still hate it. Anything is possible. More than anything, though, I'm looking forward to getting back into Deep Space Nine. The last four seasons of that show were some of the most epic and intense television I have ever seen.

You don't have to take my word for it. It's all available to stream on Netflix. And for less than $10 a month, getting an overload of Star Trek is more than worth it. You owe it to yourself to check it out.

Bryan Young is the editor-in-chief of BigShinyRobot.com.