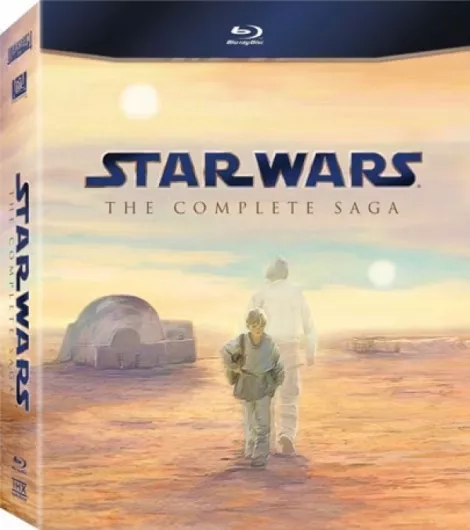 I've spent the last couple of weeks scouring every inch of the Star Wars: The Complete Saga ($139.99) Blu-ray set in order to give you an informed decision about whether or not you should buy it.

I'll warn you first that I'm an unapologetic fan of the entire Star Wars saga, and I haven't missed a single episode of The Clone Wars on Cartoon Network (see the Sept. 29 column). I wouldn't miss this box set for the world, but I know a lot of you are much more reserved about where to spend your geek dollars, especially if you've invested so much into Star Wars already. If you're a casual fan of Star Wars, is this set worth it for you?

Everyone is different, and you'll really have to ask yourself a few questions. First: Do you love having the best picture quality possible? It's true that these films have been altered further than the 1997 Special Edition and 2004 DVD release, but the picture quality is second to none. These films have never, ever looked better, a few preposterous additions to the classic trilogy notwithstanding.

Second: Can you see the bigger picture and ignore some of the changes? There are changes to these films that are absolutely necessary (better color timing, fixing bad effects, opening up Cloud City, etc.), and others that anger fans everywhere (Greedo firing his gun, not first anymore, but at the same time; the new dance number in Jabba's Palace; the new "Noooooooo!" in Return of the Jedi). They don't alter the story, per se, though they do slightly change the experience. Is that enough to turn you off of this set? (At the end of the day, if you were planning on buying this set, you were going to be paying for changes you didn't want in the first place, so a few more shouldn't rub you too far the wrong way.)

Third: Do you like deleted scenes, alternate takes and special features? The thing this set did right is the incredible wealth of brand-new material. Many people whine and moan that studios keep making us buy the same stuff over and over, but there are a solid 30 or 40 hours of special features in The Complete Saga set that has never been released digitally before. Ever. From the scenes of Biggs and Luke on Tatooine to all of the extra soap-opera-like segments on Hoth and scenes of Luke building his lightsaber in Return of the Jedi, it's all here. One of my favorite special features? Steven Spielberg directed the early "animatic" (rough mock-up) version of the fight between Obi-Wan and General Grievous, and it's presented on the seventh disc of this set in its entirety.

Fourth: Do you like behind-the-scenes documentaries and interviews? If you've ever wanted to dive into how they made the Star Wars movies in the first place, this is the set for you. In fact, there's a documentary on here I've been trying to get my hands on for 20 years, and I couldn't even get it bootlegged. SPFX: The Empire Strikes Back was the Holy Grail of behind-the-scenes footage for me, and it was nowhere to be found. I've watched it at least three times since getting this set. And they've chopped up all the rest of the audio from various documentaries to assemble brand-new, scene-specific commentaries for all six films. For a student of cinema, it's a dream come true.

On the other hand, if you don't like to know how movies are made, don't like great picture and sound quality, have no love for the more recent entries in the greatest space film saga of all time and can't enjoy what Star Wars has evolved into over the years, then I'm not even sure why you read this column in the first place.

Even if you don't buy the set, Star Wars is still a part of all of us. If you're not buying it, don't be angry about the changes—that leads to the Dark Side. Just remember fondly what Star Wars meant to you in the past and smile. Always remember Qui-Gon's wisdom: "Your focus determines your reality."

For the rest of us, we'll heed Obi-Wan's iconic words: The Force will be with us. Always.
Bryan Young is the editor-in-chief of BigShinyRobot.com.