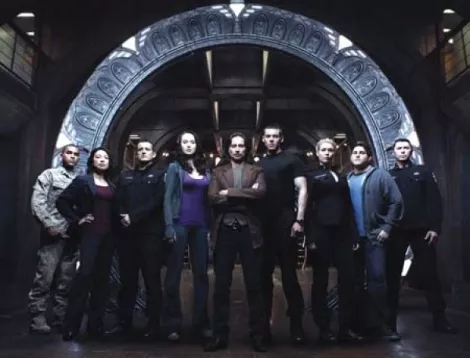 Stargate Universe
Friday, Oct. 2 (SyFy)
Series Debut: This ain't SG-1 (wackiness with a touch of drama) or Atlantis ("drama" with too little wackiness); Stargate Universe is SyFy's first real attempt at replacing the late Battlestar Galactica—and a pretty damned good one, at that. Hiring decent actors (including Robert Carlyle, Lou Diamond Phillips and Ming-Na) was a nice start, but SGU goes well beyond that with killer special effects and smart scripting that's more about characters than alien threats. The setup: A group of soldiers, scientists and civilians escape attack on a military research base through a Stargate, that familiar ol' wormhole-jumping device, only to wind up on an ancient starship hurtling through space with no food, water or means of return to Earth; capital-D Drama and Desperation ensue. If the expansive two-hour premiere is any indication of what's to come on Stargate Universe, SyFy is finally back in the serious sci-fi business (sorry, Warehouse 13 fans).
Behind the Music: Bret Michaels
All Weekend (VH1)
Yes, long before he became VH1's most successful skank-wrangler, Bret Michaels had this party-rock band called Poison (he also claims to have a "solo career," which is about as valid as his claim of having "hair"). Nonetheless, this is Behind the Music: Bret Michaels, even though it's mostly about Poison's sex, drugs and Aqua Net-fueled rise, fall and re-rise on the cougar circuit, capped with Michaels' inexplicable basic-cable explosion as a pop-culture icon with Rock of Love—remember those simpler times, before people started getting all murdered by reality-show contestants?
Three Rivers
Sunday, Oct. 4 (CBS)
Series Debut: Another new medical drama? Is the ER void that daunting? Speaking of gaping holes, NBC's Mercy is easily the season's worst new doc show, so Three Rivers has little to fear from critical corners. Here, a good-lookin' surgeon (Alex O'Loughlin, Moonlight) and his good-lookin' colleagues (including Katherine Moennig, The L Word) navigate the tricky, angst-y waters of organ transplantation: "Your dying husband's [insert vital organ here] could save this little girl's life, damn it!" Yeah, it'll be a hit.

Entourage
Sunday, Oct. 4 (HBO)
Season Finale: Worst. Season. Ever. If not for guest star Gary Cole, this sixth go-round of Entourage would have been as worthless as merchandise points on Aquaman 2. Not even the Ari-Lloyd split could liven things up— fighting over Johnny Drama's career? To get him on the new Melrose Place? That's comedy gold! Unfortunately, Entourage really has become the guys' version of Sex & the City it was tagged as years ago, and we all remember how well that series aged (and last year's movie might as well have been about zombie drag queens). Here's looking forward to next season; it can only get better … right?

Sherri, Rita Rocks
Monday, Oct. 5 (Lifetime)
Series Debut/Season Premiere: Sherri "Is the Earth Flat?" Shepard stars as a sassy black woman juggling a career, a child and a part-time comedy career after dumping her cheating husband—but with a little help from her friends, she'll be OK! It sucks even harder and more vigorously than you're imagining. Sherri rounds out Lifetime's ambitious "Comedies That Aren't Remotely Funny But at Least Star Women" programming block that includes returning crapfest Rita Rocks, starring the once-promising Nicole Sullivan as a suburban mom who starts a garage band because … is the raison d'etre really important at this point? And no, Ms. Shepard, raison d'etre is not a pastry.
South Park
Wednesday, Oct. 7 (Comedy Central)
Return: Season 13 continues with seven new episodes, presumably all about Kanye West.