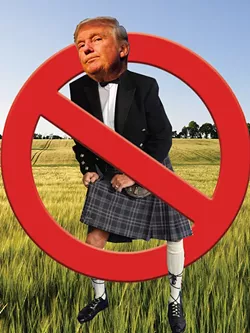 8. Pro: The Young Dubliners only come around in March.
7. Con: Local irritating "Celtic" "pub" bands work year-round.
6. Pro: Women in short kilts.
5. Con: Dudes in kilts of any length.
4. Pro: Cinco de Mayo, the fake holiday with the good food, is only seven weeks away.
3. Con: President Cheeto will probably have it outlawed by then.
2. Pro: Green coloring makes 3.2 tap beer at least somewhat festive.
1. Con: One green 3.2 tap beer could now get you an orange jumpsuit for a DUI.