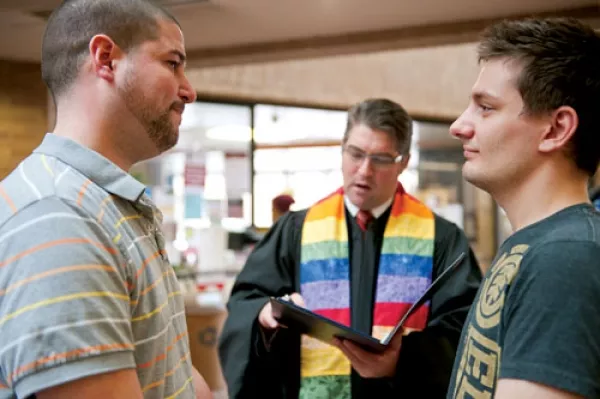 With a few keyboard strokes on Jan. 6, the U.S. Supreme Court set Utah's clock back 17 days by resuscitating the state's ban on gay marriage.

The high court's ruling marked the fifth attempt by Utah officials to pause a Dec. 20 ruling by U.S. District Judge Robert J. Shelby, who found that the state's ban on same-sex marriage was unconstitutional.

By halting the marriages—more than 1,000 of which took place—the Supreme Court did what Shelby might well have done had the Attorney General's Office filed a routine motion for a so-called "prophylactic stay."
This type of request, legal officials say, is common when jarring changes of law result from a judge's ruling, and have traditionally been granted in same-sex marriage cases in other states.

Now, same-sex couples must wait for the U.S. Court of Appeals for the 10th Circuit, in Denver, to consider an appeal—a process that will take months.

In Denver, Utah will have a steep slope to climb, having to show, in part, that during the 17 days of equal marriage rights for gay couples, the Beehive State suffered irreparable harm.

"With every marriage license that is issued, we get more evidence that no one is harmed," says Paul C. Burke, a local attorney who has filed briefs with the U.S. Supreme Court in other states' same-sex marriage cases. "In fact, our community is strengthened when all committed couples have access to marriage."

Burke adds that if higher courts end up ruling that Utah has the right to restrict marriage to heterosexual couples, he doubts that the same-sex marriages that occurred in Utah would be invalidated.

"The state of Utah is threatening that, but I think those marriages will remain valid," he says. "They were valid at the time they were entered. I know of no precedent that would allow the state of Utah to void marriages that were valid at the time that they were married."

When Shelby overturned Utah's ban Dec. 20, it was as if the judge had flipped a light switch. Same-sex couples flocked to county-clerk offices and obtained marriage licenses that, hours before, had been forbidden.

The AG's failure to seek a pre-emptive stay, which would have allowed Shelby to put his own ruling on hold while the case percolated to higher courts, has been characterized as intriguing by some lawyers, and a downright blunder by those opposed to gay marriage.

"I don't think [the Attorney General's Office] made a decision not to do it, I just don't think they made a decision," says Gayle Ruzicka, president of the Utah Eagle Forum, a conservative lobbying group that championed 2004's Amendment 3, the gay-marriage ban that was approved by 66 percent of Utah voters. "It was a huge blunder and it cost us dearly and never should have happened. I consider it incompetent."

The AG's Office acknowledged being surprised by the ruling, coming as it did a few days before Christmas. State attorneys asked Shelby for an official stay several hours after the ruling was handed down.
But by that time, the climate in Utah had changed.

On Dec. 23, Shelby listened to the state plead its first case for a stay. A key part of the state's argument fell flat: that Utah's traditional-marriage status quo needed to be preserved. By that time, the status quo in the Beehive State was that hundreds of same-sex couples were lined up waiting for marriage licenses. Saying the state failed to demonstrate that "irreparable harm" was befalling Utah by allowing same-sex couples to marry, Shelby denied the motion.

In his ruling, the judge explained that unlike in California's Proposition 8 case, where a stay was sought prior to a ruling on the law, he "had no such request from any party, either prior to the court's substantive ruling Friday [Dec. 20], or immediately thereafter. So this court did what it has done in every case … and that was to issue an order resolving the issues presented by the parties and nothing else."

Short of an explanation from the AG's Office on why no motion was filed, it's difficult to speculate. Calls and e-mails from City Weekly seeking comment from AG officials were not returned.

But according to Clifford J. Rosky, a University of Utah law professor who is also the chair of Equality Utah, there is a good likelihood Shelby would have granted the state's stay had it been sought in a timelier manner.

"In every other case—Prop. 8, whatever—the stay was requested in advance and granted," he says. "It seems like the most important factor in the district court's opinion was that the state failed to ask for the stay in advance."

Prior to Monday's ruling by the Supreme Court, Utah's quest to halt gay marriages had been denied four times, once by Shelby and three times by the 10th Circuit. In its latest denial, the 10th Circuit noted in its ruling that the state didn't stand a strong chance of winning its appeal and had failed to show that Utah was being harmed by the marriages.

This flurry of rulings sent the AG's Office scrambling for help. The state retained an outside law firm to aid in its appeal to the U.S. Supreme Court, a pricey endeavor that is expected to top $2 million.

Brian Tarbet, who was named the state's acting attorney general after former AG John Swallow resigned in November, said the year of persistent corruption allegations that dogged Swallow and the office didn't impact the quality of the state's case.

Nevertheless, Ruzicka says that she believes the gap between Swallow, whom she called a "good attorney," and the appointment of Sean Reyes as the state's new top lawyer Dec. 30, was a narrow window when the ball was simply dropped.

"It had to do with that gap and people who were filling in and obviously didn't know what they were doing," she says.

But that doesn't ease Ruzicka's lingering question of why the state failed to explore an option that may well have put gay marriage on hold much sooner.

"The question is, why didn't they do it?" Ruzicka says. "Was it because they were just unprepared?"
Twitter: @ColbyFrazierLP