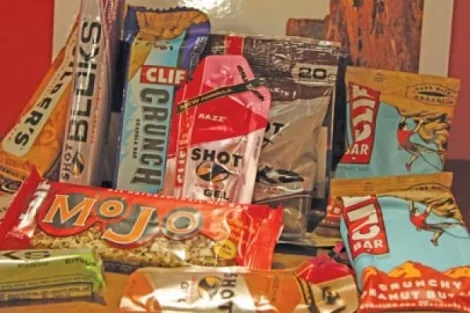 When it comes to drinks and snacks, the word "energy" is meaningless. There are so many products that do different things that the "e-word" has become a catch-all phrase for a very diverse category.

You could want simple flavored carbs, which actually do provide energy for activity. Or perhaps you've been sweating a lot and need to replenish the nutrients, like salt and potassium, that run the body's electrical systems. Maybe you're tired and want to feel more alert, so you choose something with a high dose of caffeine. Or maybe your muscles are exhausted, and you need protein.

Next, you have to decide on the form of the product. A bar takes time to eat, and must be digested; a gel can be consumed fast and provides quicker energy. Chris Randall is an expert on all of these products. He's an Ironman triathlete, and also works for Clif, the world's largest brand of performance gels, drinks, bars and snacks. He has some surprising facts about these products.

"An energy bar is best eaten a couple of hours before—as well as during—an activity," he says. "My rule of thumb is, if you're going to be active for longer than 45 minutes, start ingesting calories between one and three hours prior to activity, and eat something maybe 30 minutes in. A protein bar is post-activity, so it should be eaten afterward, within 30 minutes of finishing."

Randall advises examining labels to see if caffeine is in a bar or snack, because if it's also in your beverage, you could be overdoing it. Caffeine can be listed on a label as guarana or yerba mate. But he notes that when caffeine is ingested during activity, it doesn't have a diuretic effect, so it won't increase dehydration.

Also, look at the source that provides the lift you're looking for. "For example, check for the type of protein. Higher-quality proteins are from soy or milk based. Avoid sugar alcohol; it gives sweetness without calories, but it's an artificial ingredient. It provides no nutrients," he says.

Different companies will use different types of sugars, and it's good to know how much you're getting in a product. In an athletic event, you don't want the majority of your carbs coming from sugar. Honey is a sugar, of course, but so are glucose, fructose, lactose, corn syrup and high-fructose syrup. These sugars get used up fast, so that nice burst of energy leaves as quickly as it came, and you crash. If you're going to be active for longer than a short sprint, look for maltose, which is a starch. Starches must be converted into the sugar glucose before they can be used for energy, so they are "slow" carbs—they provide energy over a longer period of time than simple sugars.

Go for more natural products, which don't contain artificial colors or flavors. Athletes' bodies are all different, and you need to know your own body fully to make the right choice when it comes to the "energy" category. Try different things until you find a product that agrees with your system and works for you. Whatever you've been doing in training, never change it before a competition, because you don't want to introduce anything new to your body. Even if an athlete or friend raves about a gel and offers you a sample at an event, don't eat it then. You don't want to be going for a fast time on your bike if your gut suddenly decides to expel that new product.

The energy category is not confined to sports. A gel can lift you over a mid-morning slump so you're alert for an office meeting, or help with a heavy load of yard or housework after a night without enough sleep. But whether you're an athlete or a parent dealing with energetic children, make sure to focus on exactly what you need, and choose the exact product that will provide it.