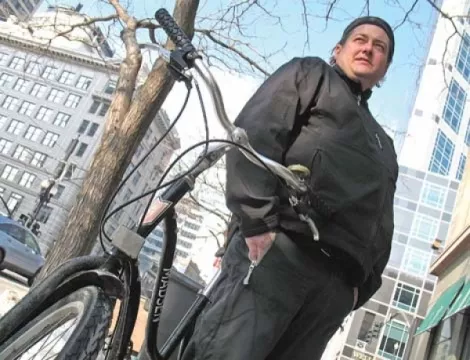 It's below freezing as Bret Cali—owner of Stick Dog bicycle food delivery—stands outside
The Robin's Nest
restaurant. The pavement is covered in ice. A few bundled-up passersby give him sideways glances, possibly thinking, "Better him than me."
"It's a labor of love, really," Cali says.
An order is boxed, and Cali steps onto a locally custom-built, 7-foot-long Madsen bike with trailer in tow. Through slush and salt, he peddles with squeaky chains to his downtown destination.
His four-person fleet is on call Monday through Friday, 11 a.m.-2:30 p.m., no matter how bleak the weather. "Oh, I've been in way worse than this," Cali says, as he peddles off into the stiff breeze. Making the delivery, he's tipped $6 on a $50 tab; the bikers, not paid by the restaurants, rely solely on tips.
Stick Dog fetches fare for customers from 15 downtown restaurants. Customers place an order with each restaurant and simply ask for Stick Dog. They'll deliver any size order—from one sandwich to catering bundles—within the delivery zone from 500 West to 500 East and South Temple to 500 South. They also sell ice cream and water during the warm season.
Stick Dog evolved from a pedicab business Cali sold recently. He can't pin down exactly why he got into food delivery, other than that it seemed interesting and eco-friendly. "It's the worst business model in the world. I don't make any money," Cali jokes. Nevertheless, he won't quit. It's a valuable service for the restaurants, the restaurateurs have become his friends, it's lucrative for his employees and it keeps delivery cars off the street.
Besides, business is growing, he says. Each week Stick Dog acquires several new customers, especially when it's just too cold to trudge down the street to eat.
STICK DOG
StickDogPediCabs.com
801-637-7036