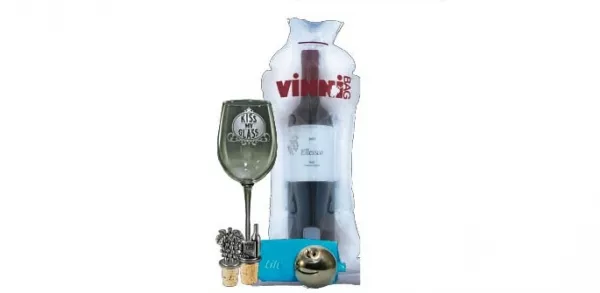 As I've mentioned in a different article, last year for Christmas, my wife bought me a wine accessory called a Vinturi wine aerator ($29.95). Frankly, I thought this gadget was bogus—until I tried it. Now, I'm sold. It works. Well, there are myriad useful and frivolous accoutrements available out there for your favorite wine, beer or cocktail enthusiast. Here are a few stocking-stuffer suggestions for this holiday season.
SoiréeHome.com sells wine and bar paraphernalia that is both innovative and functional. One very useful gadget is a new product called Tilt ($17.99-$34.99). Have you ever had to add ice cubes to your glass to chill warm wine? I have. Or, maybe you'd prefer not to have melted ice dilute your cocktail. Tilt is just the ticket: It's a pair of metal "chilling spheres" that you store in the freezer until needed. Then, using an accompanying retrieval hook, you place it in your glass and it chills perfectly without diluting the liquid in the glass. Simple, but ingenious. SoiréeHome.com also makes a useful by-the-glass wine aerator similar to the Vinturi, called Soirée, with prices starting at $25.
At CrystalImagery.com, you'll find engraved wine glasses, beer mugs, decanters and more. You can have yours customized with a personal monogram, logo or favorite slogan, or just buy a pre-made one. Glass etchings range from classic ("In Vino Veritas") to sassy ("Mommy's Sippy Cup" or "Dinner Is Poured"). You can even get engraved military emblems. Prices begin at $40 per glass, or two for $30 each.
Need help schlepping your wine around? VinniBag.com sells reusable travel bags with inflatable chambers to protect and insulate wine bottles or other bottled items such as olive oils, vinegars and toiletries. The VinniBag is also eco-friendly; the company operates a recycling program for worn-out bags. Prices start at $25 per bag. Or, if you're really serious about traveling with fine wine, check out TravelWithWine.com. Their wine-on-the-go products range from wine tote bags, coolers and picnic baskets to heavy-duty Vin-Air travel cases like the 7-bottle carrier with wheels for $339.95.
If it's made for wine lovers, it's probably available at Epicureanist.com. Wine accessories here range from inexpensive stocking stuffers like their waiter's corkscrew made of bone ($9.90) and a handy foil cutter ($7) to remove foil from wine bottle tops, to temperature-controlled electronic wine dispensers such as the Vinotemp four-bottle wine dispenser ($945). At Epicureanist, you can even purchase a silver-plated tastevin ($31.50) for your favorite sommelier wannabe.
The Beer Nut (1200 S. State, 801-531-8182, BeerNut.com) stocks not only everything you could possibly want or need for brewing your own beer, but also kits, materials and ingredients for wine- and soda-making, too. Basic home-brewing systems, with everything you need to get started on your first batch of home brew, begin at $84.95. Or, pick up a "Make Wine, Jesus Did" T-shirt for $16.99.
Every mixologist worth his/her salt has a few secret weapons behind the bar. One is a kitchen gadget that is indispensable for shaving chocolate, zesting fruits, grating nutmeg and the like: the Microplane (Microplane.com). Microplanes range in price from $6.95 for some of the classic series graters to $16.95 for professional series graters. (P.S.: They're also perfect for grating things like fresh ginger and Parmigiano-Reggiano.)
The most fun gift for wine drinkers I've seen this year is the Tipsy Wine Glass from UncommonGoods.com. It's a pair of wineglasses (two for $25) with bent stems, so the goblets lean over, giving them an inebriated appearance—an amusing stocking stuffer, for sure.