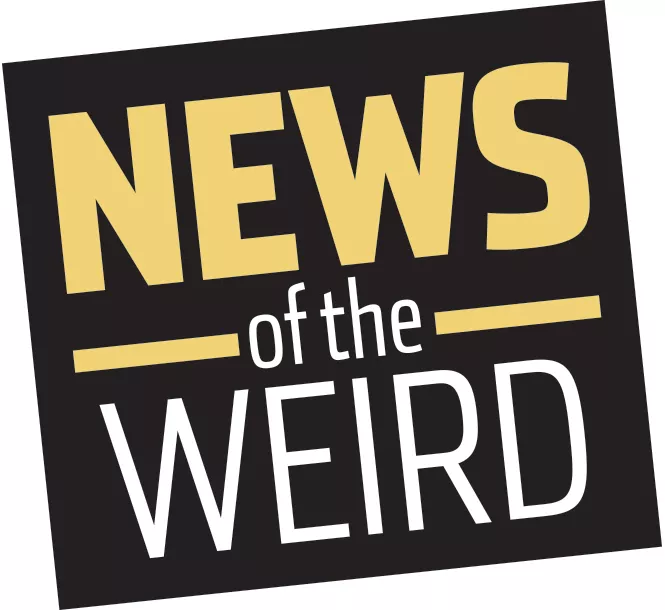 Streaming News
The "public art" statues unveiled in January by Fort Myers, Fla., Mayor Randy Henderson included a metal structure by sculptor Eduardo Carmona of a man walking a dog, with the dog "lifting his leg" beside a pole. Only after inspecting the piece more closely did many observers realize that the man, too, was relieving himself against the pole. Carmona described the work as commentary on man and dog "marking their territory."
• A recent anonymously authored "confidential" book by a National Football League player reported that "linemen, especially," have taken to relieving themselves inside their uniforms during games, "a sign that you're so into the game" that you "won't pause (even) to use the toilet."
Can't Possibly Be True
The popular Nell's Country Kitchen in Winter Haven, Fla., was shut down again (for "remodeling," the owner said) in December after a health inspector found that it had been operating for two weeks without its own running water—with only a garden hose connection, across its parking lot, to a neighbor's spigot. It had also closed for a day earlier in 2015 because of mold, roach activity and rodent droppings (although management insisted that business had immediately picked up the day they reopened).
Weird News One Can Actually Use
In November, a perhaps-exasperated Centers for Disease Control attempted once again to tout a startlingly effective anti-HIV drug—after a recent survey revealed that a third of primary-care doctors said they had never heard of it. So, FYI: Truvada, taken once a day, said the CDC, gives "better than 90 percent" protection from sex and better than 70 percent protection from HIV acquired from the sharing of needles. Truvada is the only FDA-approved retroviral drug for retarding HIV (but its maker, Gilead Sciences, has declined to advertise it for that purpose).
Oklahoma Justice
In 2004, abusive boyfriend Robert Braxton Jr. was charged with badly beating up the three children of girlfriend Tondalo Hall, 20, with injuries ranging from bruises to fractured legs, ribs and a toe. Braxton got a deal from Oklahoma City prosecutors, pleaded guilty, served two years in prison and was released in 2006. Hall's plea "bargain" resulted in a 30-year sentence for having failed to protect her kids from Braxton, and she's still in prison—and in September 2015 (following a rejected appeal and a rejected sentence modification), the Pardon and Parole Board refused, 5-0, even to commute her sentence to a time-served 10 years.
Great Art!
Mike Wolfe, 35, of Nampa, Idaho, finally brought his dream to life for 2016—a calendar of photographs of "artistic" designs made by shaving images into his back hair. He said it took him about four months each for enough hair to grow back to give his designer-friend Tyler Harding enough to work with. (January, for instance, features "New Year" in lettering, with two champagne glasses; July's is a flag-like waving stripes with a single star in the upper left.) "Calend-hairs" cost $20 each (with proceeds, Wolfe said, going to an orphanage connected to his church).
Unclear on the Concept
Jamie, 29, and Abbie Hort, 21, an unemployed couple drawing housing and other government benefits, won a United Kingdom lottery prize in December 2014 worth about $72,000, promptly spent it all (including "some" on "silly" stuff, Abbie admitted), and according to a January press report, are angry now that the government will not immediately re-institute their benefits. Abbie said, as lottery winners, she and Jamie "deserved to buy some nice stuff" and go on holiday, but that now, except for the large-screen TV and Jamie's Ralph Lauren clothes, the winnings are gone. Said Jamie, this past Christmas was just "the worst ever."
• Public relations spokesman Phil Frame, 61, was arrested in Shelby Township, Mich., after a Jan. 1 Sheriff's Office search of his computer and paper files turned up child pornography. The Detroit News reported that Frame had already been questioned about child pornography, in September, by the U.S. Department of Homeland Security, and for some reason apparently was not intimidated enough (or was too lazy) to clear out his files. (The Homeland Security investigation is still ongoing.)
Wrong Place, Wrong Time
Neighbors in Inola, Okla., complained in December and January about a Union Pacific train that had been parked "for weeks" while tracks up ahead were under repair. Not only does the train block a traffic intersection, it triggers the ringing of the crossing signal. "It's annoying, yeah," said one resident, apparently a master of understatement.
• At a ski resort in Western Vorarlberg, Austria, recently, as the ski lift was temporarily stopped (to address a problem elsewhere on the lift), one occupied lift basket came to rest directly in front of the industrial-strength artificial-snowmaking machine, drenching the two passengers in a several-minutes-long blizzard (of which, yes, Internet video exists).
Wait, What?
Fort Worth, Texas, firefighters, responding to a suspected blaze in January at a grain elevator, encountered smoke on the structure's eighth floor—along with a man "juggling flaming batons." No explanation was reported (except that the man "did not belong there"). A department spokesman said his firefighters "put (the man's) torches out."
• In December, animal protection officers in Halland County, Sweden, confiscated two cats that the officers found being "mistreated" in a home—coddled (by two women) as babies in "pushchairs" and spoon-fed while strapped in high chairs. Both cats had been encouraged to suck on pacifiers, and one woman reportedly allowed the cats to suckle her breast. The public broadcaster SVT reported that the cats were removed from the home because they were not being allowed to develop "natural animal behavior."
Undignified Deaths
A 40-year-old man driving a stolen truck was killed after a brief high-speed police chase on Jan. 14 in Alameda County, California. Police noted that the man had pulled to the side of Highway 238 to flee on foot, but fell to his death off a cliff—landing on the grounds of the San Lorenzo Pioneer Cemetery. 2. A coroner's hearing in Folkestone, England, in January determined that a 16-year-old boy had died of accidental asphyxiation from spray deodorant. According to the boy's mother, he preferred massive application of the spray instead of bathing, and police recovered several dozen empty spray cans in his room.
Update
Marie Holmes, that 2014 Powerball winner in North Carolina whom News of the Weird had reported in September rapidly running through her winnings by bailing her boyfriend out of jail (alleged drug dealer Lamarr "Hot Sauce" McDow), had already tied up $9 million on two arrests. In January, Hot Sauce was arrested again (only for "street racing," but that violated his bail conditions), and Holmes was forced to fork over another $12 million (as bond basically doubles with each violation, but Holmes would get about 90 percent back—if Hot Sauce shows up for court). (Holmes earlier addressed her critics on Facebook: "What y'all need to be worried about is y'all money.")
A News of the Weird Classic (October 2011)
Refreshing the Witness: A convenience store clerk, Falguni Patel, was giving testimony in the witness box in the September (2011) trial of a man charged with robbing her in Hudson, Fla., two years earlier when she began shaking and then passed out. A relative of Patel's approached, removed her sneaker and held it to Patel's face, without success. The relative explained that Patel was subject to such blackouts and that sniffing the sneaker often revived her. (After paramedics attended to her, Patel took the rest of the day off and went back to court the next morning.)
Thanks This Week to David Bryant and James White, and to the News of the Weird Board of Editorial Advisors.