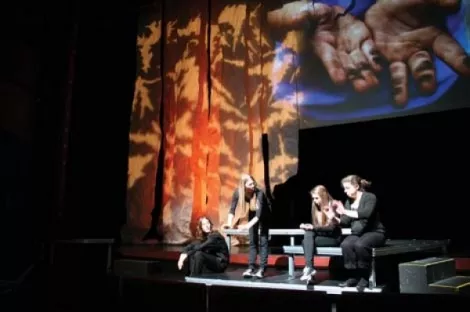 You think you've got pressure at work? Just be glad you're not involved with one of Plan-B Theatre Company's SLAM events.
In the case of the Student SLAM—one night only on Jan. 8—professional playwrights and directors have 23 hours to put up five original short plays during at 24. The casts are made up of some of Utah's finest actors between the ages of 13 and 21, representing 17 different schools from across the state.
Tickets are only $10, and proceeds benefit the scholarship program of the Theatre Arts Conservatory, a youth educational initiative of Plan-B Theatre Company.
The SLAM events (Plan-B also has a fund-raising event May 11 featuring adult actors) are a celebration of the creative process itself. Writers are given parameters, including the make-up of the cast, and are given 12 hours of midnight oil to push out a script. The casts and directors then have just one afternoon to make that script stageworthy.
I sat in on one of these marathon rehearsals a few years ago for a City Weekly story, and I can attest that the process is intense yet rewarding. Some of Plan-B's best original full-length plays have emerged from its crucible. The train wrecks have high entertainment potential in their own right, as well.
Either way, it's for a good cause. You know, for the kids.
Student SLAM @ Rose Wagner Center, 138 W. Broadway, 801-355-2787, Jan. 8, 8 p.m., $10. ArtTix.org