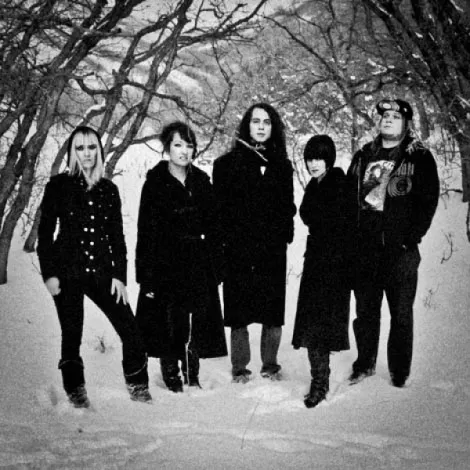 It's been a long 3 1/2 years since
SubRosa
's last official album,
Strega
, made its debut, establishing the doom-metal rockers as a Utah favorite.
The band that was around in late 2007 and SubRosa's current incarnation are two very different entities, though, tempered by tours and exposure, not to mention lineup changes that turned the once all-female quartet into a five-piece ensemble, forcing the band to examine the music that made them popular and where they are headed as a whole.
The lineup changes for SubRosa since Strega are somewhat convoluted. First, original violinist Sarah Pendleton left to tour with another band and was replaced by Kim Pack. Then bassist Leena Rinne and drummer Bonie Shupe both exited within a few months of each other. In 2008, Pack was recruited to play a wedding gig with a group including Zach Hatsis, a drummer, and his bass-playing then-wife, Rachel. At the same time Pack was talking to SubRosa lead singer/guitarist Rebecca Vernon about playing the wedding, one of Vernon's friends suggested she talk to Hatsis about becoming SubRosa's new drummer.
Just like that, SubRosa had a new rhythm section in Zach and Rachel Hatsis, and Pendleton returned, giving the band two violinists. After a successful European tour, the band returned to the States. That's when Rachel Hatsis left, replaced by Dave Jones of Oldtimer. Finally, the current lineup of Vernon, Pack, Pendleton, Zach Hatsis and Jones made their official debut at the Craft Lake City festival in 2009.
Get all that?
In mid-2009, the group teased fans with an EP titled Swans Trapped In Ice, shopping it around to record labels as a sneak peek at new works for a potential album, but they discontinued the release from circulation after its first run.
"We were never completely satisfied with it," says Vernon. "We decided to re-record two of the songs to sound better on our full-length album. We didn't print more after the initial run was gone, but it helped us learn a lot of lessons about how we wanted to make our full-length album sound."
The group proceeded to record the next album almost entirely by themselves, keeping creative control in their hands with the plan of eventually presenting a finished product to labels. They wrote most of the album during 2009 and early 2010, and recorded it in the spring of 2010. They employed Andy Patterson for the initial recording and Magnus "Devo" Andersson of Marduk for mixing and mastering. Patterson helped guide the band through the recording sessions, even tailoring a two-amp setup when the group told him how they wanted the guitars to sound.
"Andy puts you at ease right from the first take," Pendleton says of the sessions. "It takes away the pressure and makes you feel like you are there to do what you love, just making music, not trying to give birth to a perfect recording."
No Help for the Mighty Ones conjures images of a thunderous musical storm making its way across a dark landscape and tearing the listener asunder, ripping the soil of the earth apart at the strum of a chord, rain pounding with every cymbal tap and howling winds blowing across the violin strings.
The vibe is that of watching a storm roar in the distance; with the opening track, "Borrowed Time, Borrowed Eyes," you're listening and knowing that this is just the beginning of big things to come. The dramatic opening is soon overtaken a few tracks later by "The Inheritance," with its pounding drums and soul-savaging lyrics. The calm after the storm is the beautifully melodic "House Carpenter," featuring all three women with no instrumental backing singing about a character's poor decisions. They finish with the dirge-like "Dark Country," looking back at the destruction the musical storm left behind.
"I think people have been able to pick up on the emotions and power we wanted to convey on the album," says Vernon. "The most important thing, though, is that we are satisfied with it. Everyone gave it everything they had."
SUBROSA CD RELEASE SHOW
w/ INVDRS, Blackhole
The Urban Lounge
241 S. 500 East
Saturday, March 12, 9 p.m.
Free, $5 for CDs