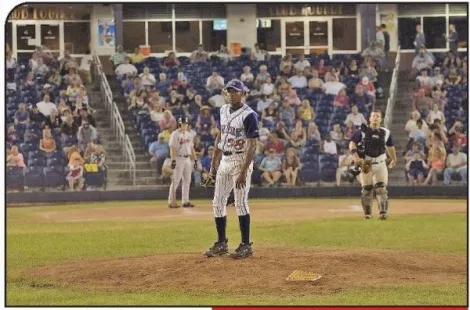 Let's not get carried away here: Ryan Fleck and Anna Boden's Sugar isn't the "baseball movie to end all baseball movies" crossed with the "immigrant-experience movie to end all immigrant-experience movies."

Hyperbole is an occupational hazard of the critical world; we can get swept up in our enthusiasms, particularly in championing the underdog. Fleck and Boden turned out a winner with their 2006 debut Half Nelson—fueled by Ryan Gosling's Oscar-nominated performance—and their follow-up Sugar was similarly hailed at the 2008 Sundance Film Festival, including by yours truly. In a disappointing dramatic competition slate, here was a movie at last worth embracing.

Now Sugar has finally made its way to wide release, and a second viewing didn't inspire the same degree of satisfaction. It's the same understated, uniquely structured character study, with the same compelling observational rhythms. But it's also more of a blank canvas than it seemed at first glance, particularly because of the character at its center.

That character is Miguel "Sugar" Santos (Algenis Perez Soto), a 19-year-old righthanded pitching prospect living at a baseball academy in the Dominican Republic. Between weekend visits to his family and girlfriend, Miguel works on the fundamentals of his game. Then the call finally comes to head to spring training in the United States, with the possibility of fame and success just around the corner. Of course, first there's the small matter of proving oneself worthy in unlikely places like a single-A affiliate team in Bridgeport, Iowa.
There are three distinct acts to Sugar, and each one offers its own unique pleasures. During the Dominican Republic-set opening, Fleck and Boden dive into the day-to-day lives of the players, including after-hours parties and English lessons that include both baseball terminology and day-to-day needs. There's a terrific sequence at a party celebrating Miguel's invitation to spring training, with various family members coming out of the woodwork to make sure that they're not forgotten by the guy who may be about to make it big. Sugar humorously and subtly captures the sense that Miguel isn't just playing for himself; he's practically playing for the economic future of his entire town.
Once the action shifts to the U.S., Sugar becomes more of a fish-out-of-water tale, and here, too, it's often pleasantly underplayed. There are amusing scenes of Miguel and his fellow players discovering the joys of hotel room porn-per-view, and finding themselves limited to the only breakfast they know how to order in English. Familiar sports-movie tropes like the "winning streak" montage feel different with Fleck and Boden's documentary-style approach, and even the potentially stereotypical characters of Miguel's Iowa host family (Ann Whitney and Richard Bull) get enough of a twist to make them feel real. As Sugar begins its turn towards a rough stretch for Miguel—including a matter-of-fact inclusion of the use of performance-enhancing drugs—it keeps offering enough surprises to remain intriguing.

What's missing is the sense that Miguel is driving this story, instead of being driven by it. At intervals, Miguel's fundamental passivity makes it feel too much like Fleck and Boden are throwing "issues" at him to which he must react—and reaction isn't the stuff of great drama. It's clear that the filmmakers are using this story to explore multiple topics at once—the way the sports system uses its young, impoverished players; the American immigrant experience; the pressure on athletes to use drugs—but Miguel too often gets lost in those topics. When he says of a friend and teammate (Rayniel Rufino) who has been released, "He's not a horse," it's hard not to feel that you're hearing two well-intentioned filmmakers talking, rather than Miguel.

It's fortunate that Sugar takes an unexpected third-act turn, one that gives Miguel a more proactive role in his fate. This is not a romanticized sports movie in which everything comes down to That One Climactic Game; the game with which it does end is particularly bittersweet, right down to the enigmatic look on Miguel's face in the film's final shot. He could have been just a bit less enigmatic, though, from start to finish. Fleck and Boden are talented enough to make all their movies good ones. They'll need to give their protagonists as much meat as they give their issues if they want to keep making great ones.

SUGAR



Algenis Pérez Soto, Rayniel Rufino, Ellary Porterfield
Rated R
Try These:

Bull Durham (1988)

Kevin Costner

Susan Sarandon

Rated R

Talent for the Game (1991)

Edward James Olmos

Lorraine Bracco

Rated PG

Half Nelson (2006)

Ryan Gosling

Shareeka Epps

Rated R

Under the Same Moon (2007)

Adrian Alonso

Kate del Castillo

Rated PG-13