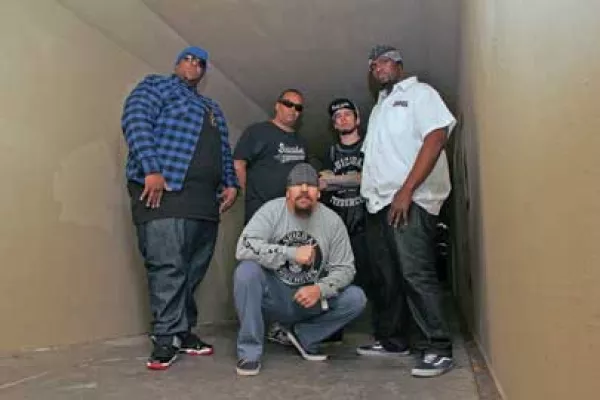 Dean Pleasants and Mike Muir's relationship didn't exactly have the most auspicious of beginnings.
Sometime around the late 1980s, guitarist Pleasants and his pal/current Metallica bassist Robert Trujillo were in a funk band together. In '89, Trujillo joined the ranks of crucial hardcore/punk/thrash outfit Suicidal Tendencies, and he and Suicidal Tendancies founder/vocalist Mike Muir began plotting their own funk project. Trujillo invited Pleasants over to play guitar with him in front of Muir, who had an especially prickly image then. In interviews, he'd talk with soft-spoken intensity. On recordings and stages, he was a separate brand of intense—now brash and loud instead of calculating. This persona probably helped Pleasants think he landed on Muir's bad side just by walking into the same room as him.
"[When I entered], Mike was just sitting in the corner staring at me with his bandana pulled down, and I was like, 'Wow, that guy just doesn't like me at all,' " Pleasants, 47, says. As it turns out, Muir's squinting was just eye trouble, and he quickly became a fan of Pleasants' work. Muir, Pleasants, Trujillo and company soon formed Infectious Grooves, a still-active funk-metal supergroup of sorts (even though many players have changed). In 1997, Muir's good opinion of Pleasants paid off a second time when the guitarist joined Suicidal Tendencies, replacing Rocky George, the group's beloved guitarist. Thanks to the many rounds of personnel musical chairs that have been played within the Venice Beach-rooted Suicidal Tendencies over the decades and the 2012 exit of longtime rhythm guitarist Mike Clark, Pleasants now officially has the longest tenure of any current Suicidal member save for Muir himself.
As a listener, the guitarist learned of Suicidal Tendencies through "Institutionalized," their raw, frightening and sprawling tale of social repression that first appeared on 1983's Suicidal Tendencies. Though he knew punk through the Sex Pistols and Black Flag, Pleasants (whose tastes fell more toward Parliament-Funkadelic, Stevie Ray Vaughan, Dio and Van Halen) was taken aback by the changing tempos and aggravated feel of "Institutionalized." It was something different.
Suicidal Tendencies' drawing power has always stemmed from the sense of danger to them. First, there's the controversy- courting name, then the raucous recordings and shows and, finally, the look. "When you saw Suicidal Tendencies, you saw a black guy, a Mexican guy, a white guy. They were thugged out, they were from the street, they were wearing flannels and in an Impala," Pleasants says, noting how this look predated rappers' intimidating looks.
Suicidal Tendencies' compelling combo of audio and visual earned them a fascinatingly diverse fan base made up of whites and minorities, punks and metalheads, street-gang members, biker-gang members and extreme-sports enthusiasts. A handful of early '90s tours with Queensrÿche, Guns N' Roses and Metallica helped up the band's profile, too, even if Suicidal Tendencies never climbed to mega rock-star status.
Since their early '80s formation, Suicidal Tendencies have carved out a respectably loyal niche for themselves, touring even though it took them 13 years to release an album after 2000's Free Your Soul … and Save My Mind. The new 13 has all the proper Suicidal Tendancies stamps over it—Muir's in-your-face presence, red-hot thrash solos, lyrics about discontent and disgust—but still, 13 years is a remarkably long time to spend between full-lengths. Pleasants chalks up the hiatus to a couple of reasons—specifically, the changes within the record industry, and the timing never being right—but even then, it feels like there's more to the story he's not sharing.
With a gap this wide, Suicidal Tendancies' status as a band that has long established their legacy couldn't possibly help matters. A band that has already written their classics will always have to contend with new work and developments being judged against the past, which might have put off Muir. Nonetheless, Pleasants is overflowing with confidence that the vocalist knows what he's doing and the band will make it out looking fine.
"Even with all the different styles of musicians he has with him, [Mike] still can make it sound the way he wants," Pleasants says. "He's aware that comparison [and] judgement is going to be there, and people are going to say, 'Well, this band isn't as good as Robert or Rocky or Clark,' so we always have to step it up. We have to be twice as good for people to go, 'Oh, OK, I get it now. This is why they're doing this. They're not some old band that should be sitting around in a wheelchair. These guys put on a show. These guys play. Listen to this record.' That's what it's all about, really."
SUICIDAL TENDENCIES
w/ Waking the Dead, Havok
In the Venue 219 S. 600 West
Saturday, April 13
7 p.m. $25 in advance, $30 day of show